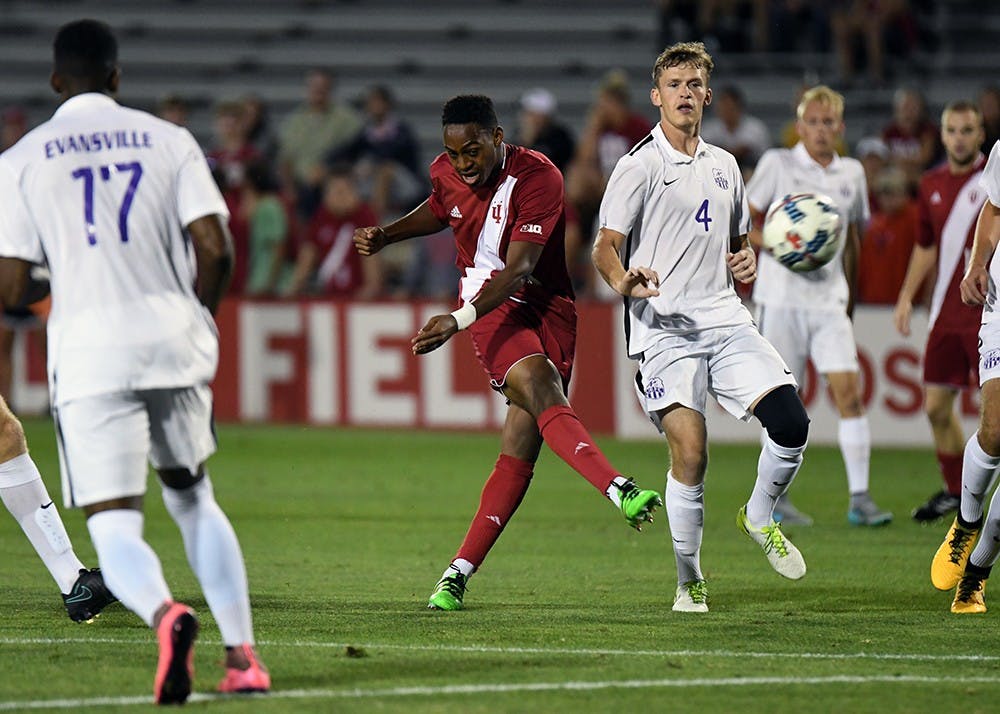 No. 1 IU's matchup against No. 21 Kentucky will be just as important, if not more, than every other matchup this season for one reason: momentum.
The Hoosiers will play their second-to-last nonconference opponent at 7:30 p.m. Wednesday night at Bill Armstrong Stadium. IU will have No. 19 Ohio State, No. 16 Butler, Wisconsin, and No. 5 Michigan State left on its schedule.
Against Penn State last Saturday night, the Hoosiers recorded a shutout on defense for the sixth time this year. IU's current shutout streak has lasted for 599 consecutive minutes.
Defense has been the most consistent component for the team this season, and IU Coach Todd Yeagley said he expects the same kind of consistency when the Hoosiers play the Wildcats.
"It starts from our shape and understanding of each other," Yeagley said. "If a ball gets through, our principles are good, and the guys recover well. We don't get many chances and Trey Muse does a good job when we do give up some shots."
Muse, the freshman goalkeeper for the Hoosiers, leads all Division I goalies in multiple categories this season. He has 10 shutouts, a .159 goals allowed average and a 93.3 save percentage.
"Our personnel have been consistent so far, but the roles and how we can be flexible is the difference with our defense," Yeagley said. "We try to be a team that's hard to play through. We want to be the hardest team to break down."
Freshman attacker Spencer Glass has started the last two games for the Hoosiers, and he scored the lone goal, which was the difference, against Penn State on Saturday night. Yeagley said Glass has shown a lot of improvement this season, and he credits that to Glass' successful spring training.
"We're happy with where Spencer is at right now," Yeagley said. "We had high hopes based on his spring training, and we knew it was only a matter of time before he came into his own, and he's grown so much as a player. He developed well in the past year, and he gives us weapons offensively. Whether he's starting or coming off the bench as a substitute, he'll help us tremendously."
As for Kentucky, Yeagley said the Wildcats bring a different kind of attacking system than other teams IU has played this season. He credited Kentucky's off-ball mobility to their success at the offensive end, and he said IU needs to be sharp offensively in order to be successful in the final third of the field.
"They're a better attacking team that we've seen this season," Yeagley said. "They're very mobile, so we have to be smart and connected when we press or sit back. We want to evolve offensively, too. We have been able to score a lot of goals so far this season, but we can improve."
Yeagley said the team scheduled Kentucky to get a look at a tournament-caliber team from a different conference, so the team will be ready when facing a team with another system the Hoosiers aren't used to. He said they wanted to build their schedule in order to separate themselves from other teams.
Junior midfielder Cory Thomas and freshman attacker Mason Toye are two players that Yeagley said he's looking forward to seeing this week against a ranked opponent. He said he wants to see the two improve even more, even though they have already made a difference for the Hoosiers this season.
"Cory Thomas is coming into his own and continues to grow this season," Yeagley said, "I'm looking at him to perform well and Mason Toye, as well. He has shown signs of what he can bring to the table, and I expect him to keep improving late into the season, and hopefully getting some more goals."
Like what you're reading? Support independent, award-winning college journalism on this site. Donate here.
Sophomore guard Bendu Yeaney is serving the Bloomington community by making kids smile.
---
IU was the only school with three players on the training camp roster.
---
New Coach Jeff Mercer's first IU coaching staff was announced Wednesday.
---
---
---