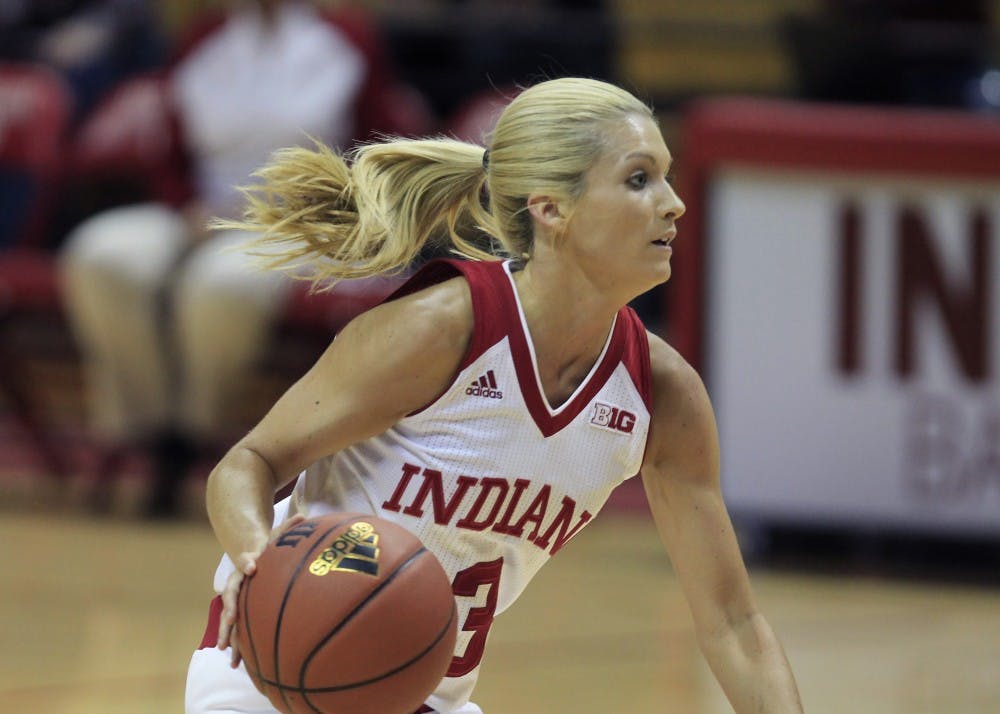 The IU women's basketball team was up 45-38 with five minutes left to go in the third quarter and the fans in Simon Skjodt Assembly Hall were up out of their seats, but not clapping their hands. They were silent.
Senior guard Tyra Buss drove in the lane and went up for a layup when a sea of blue swarmed under her, leaving her unable to break her fall and she banged her knee on the court.
A timeout was then called, and Buss got up and walked over to the bench with a limp and the fans moved their hands to their mouths.
The focus during that timeout wasn't on the promotional Bucceto's race shown on the video screen, but on Buss in the huddle.
When the team took the floor, Buss took it with them, not to IU Coach Teri Moren's surprise.
"Whenever that kid goes down, I expect her to get back up," Moren said. "I didn't even think about taking her out."
Despite staying on the floor, it was evident Buss wasn't 100 percent as she still ran the floor with a limp, but coming out of the game didn't even cross the mind of the 5'8 senior.
"I get banged up a lot," Buss said. "I just got to keep pushing through and just do whatever the teams needs me to do."
Buss said that in the moment it doesn't hurt as bad because she's out there playing, and her mind is focused on helping the team. After the moment, however, she can feel it a little more.
That was visible as she limped her way to the press table and grimaced as she sat down, but the tough guard just called it a "bruise on the knee" and moved on.
That toughness shown by the team's leader is what the team needed in its 64-49 grind-it-out win against Southern University.
There was a lot of physical play in the paint throughout this game, and Moren was happy with the way her team was able to grind out the victory.
The hard fall with five minutes left in the third wasn't the only fall Buss took. Many times, she would drive to the rim and get hit. She went to the free-throw line 11 times in the game.
"Every time I go to the basket I look to drive to the basket hard," Buss said. "I definitely never shy away from contact, and every time I go down, I just right to get right back up. That's the toughness in me— next play, keep playing."
That mentality has been with Buss all her life as she has yet to miss a game since coming to IU, making this game her 100th career start. She scored a game-high 23 points.
The "bruise on the knee" won't keep Buss down and Moren knows that. Moren said if it was bad enough then Tyra would ask to come out of the game.
She paused, contemplated it and said, "Well, probably not even then."
Like what you're reading? Support independent, award-winning college journalism on this site. Donate here.
Women's basketball struggles to defeat Northern Kentucky (1-7).
---
IU defeated Northern Kentucky, 67-56, on Saturday after another slow start.
---
IU will face Northern Kentucky at Highland Heights, Kentucky, on Saturday at 7 PM.
---
---
---