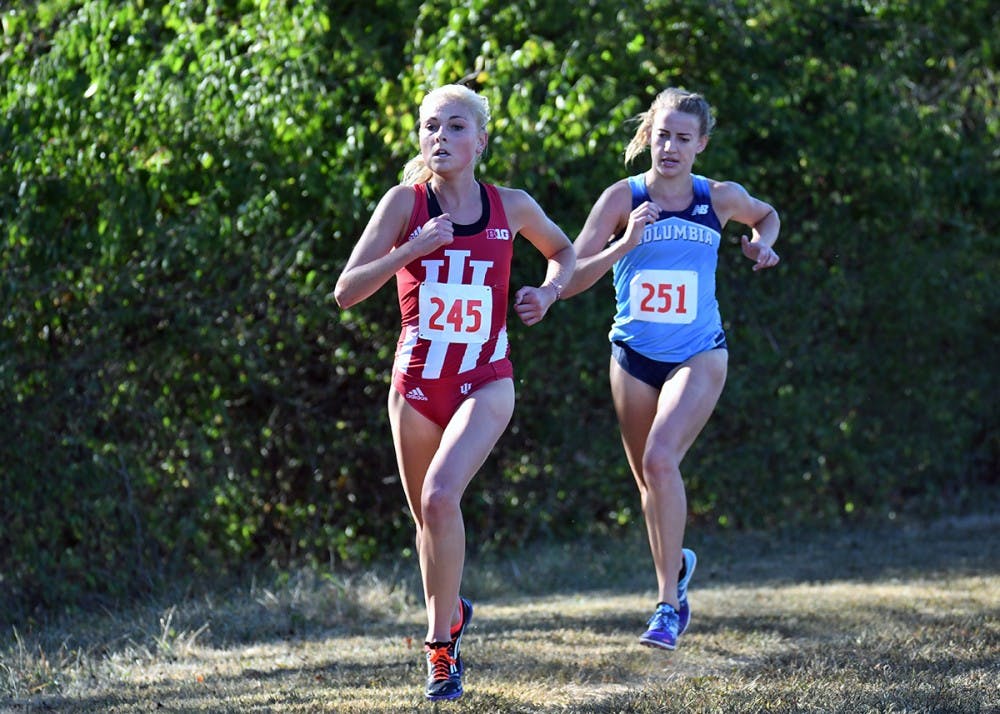 There was about five minutes of screaming when the IU women's cross-country team got the news.
The big news in question was last Saturday's announcement that the Hoosiers had qualified as one of the final at-large bids for the NCAA Cross-Country National Championship in Louisville, Kentucky, on Saturday, Nov. 18.
"I think it was more exciting because we were mostly hoping to make it in but not expecting it," junior Maggie Allen said. "I think that was a huge goal coming into the season, so it was very rewarding to finally have that goal achieved."
This came after the women's team's fifth-place finish at last week's Great Lakes Regional Championship in Terre Haute, Indiana, in which their star, junior Katherine Receveur, won the event overall with a time of 20:34.9 in the 6K race.
Even though there is a lot of excitement surrounding the Hoosiers' trip to Louisville, Coach Ron Helmer said his team needs to approach the meet like they would any other race.
"They just need to do what they've been doing all year," Helmer said. "We don't have to do anything crazy at the National meet to make a big impact because there are a lot of teams that will go in and not handle that atmosphere well. We just need to make sure that we do."
With IU's entire team set to compete, all eyes will still be on Receveur who has torn through the Hoosiers' schedule, winning all but two of the events she has competed in and setting the IU cross-country course 6K record multiple times this year.
In those two races, she didn't come out victorious, she finished second overall at the Coast to Coast Battle in Beantown in Boston and 10th at the prestigious Nuttycombe Invitational in Wisconsin.
According to Helmer, she has as good of a chance as any of the top runners to win the championship title. It will be a loaded but wide-open field for the top.
"I think she needs to do what she did at Regionals, where she just relaxed and hung out and ran really well late," Helmer said. "She could be anywhere from one to twenty in this meet. With a great race, she could be any of those places."
Meanwhile on the men's side, IU did not qualify as a team but will still be represented by sophomore Ben Veatch who qualified as an individual after his fourth-place finish at Regionals.
Veatch has talked all year about how his ultimate goal is to be an All-American. It'll take at least a top 40 finish in Louisville to do so.
"I'm going to go out there and try to represent IU well," Veatch said. "We deserve to be on the National stage. I'm hoping to go out there and show everybody what IU running is all about."
Helmer said he has plenty of confidence in an impressive performance from Veatch, who has proven to be one of the smartest runners in the Big Ten this year.
"Ben is a guy who never has a bad race and always finds himself in a good position to do well," Helmer said. "He's a very instinctive runner and has found a way to do whatever he needs to do to get what he wants."
Like what you're reading? Support independent, award-winning college journalism on this site. Donate here.
With Ian Thomas gone, the Hoosiers will have to select his replacement from a relatively inexperienced group.
---
The 29th-round draft pick will begin his professional career with the Cleveland Indians.
---
The U.S. Men's National Team will be watching this year's World Cup from home. Here are some popular bandwagons to jump on.
---
---
---