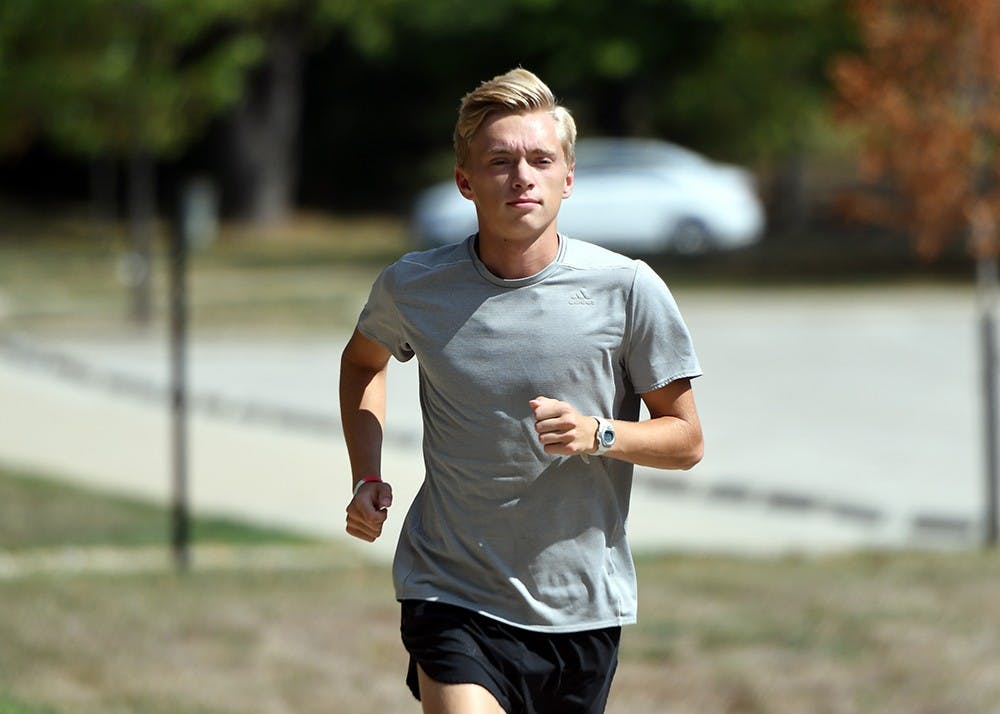 Winning the IU Open on Sept. 2 gave sophomore Ben Veatch a sensation he hadn't felt since his days at Carmel High School. After spending his freshman cross-country season at IU in the shadows of now-graduated stars Jason Crist and Matthew Schwartzer, he took advantage of the opportunity to earn his first collegiate victory right away.
Now he just wants more.
"I want to win the individual Big Ten title and be an All-American," Veatch said. "I don't really focus on that because I know as long as I focus on what we're doing as a team those individual accolades will come."
This season is full of things Veatch hasn't experienced since high school. With Crist and Schwartzer gone, he's the leader of the pack for his team once again. With that distinction comes great expectations, not just from the coaches, but from himself as well.
Big things have been expected of Veatch since his freshman year. He was unanimously voted Big Ten Freshman of the Year in cross-country and earned second-team All-Big Ten honors after an eighth-place finish in the conference meet. However, Coach Ron Helmer has seen Veatch's potential since he recruited him out of high school.
"Ben was running at a pretty elite level in high school so I expected him to come in and help us right away," Helmer said. "He competed at a really high level last year and he didn't disappoint."
Though Veatch's freshman year had its share of triumphs, it was also a year spent as an apprentice under last year's seniors to get him ready for the position he is in now. A year running alongside Crist and Schwartzer, who both qualified for the NCAA Championships in 2016, helped Veatch realize what he has to do to sustain his spot as one of the top competitors in the Big Ten.
"I wish they had more eligibility. I would have loved to run with them for a couple more years," Veatch said. "Coming into last year I had a lot to learn on how to run in a pack and how to relax during races. They showed me how to do all that and so many more little things that I never thought about before as a runner."
Even with the success and experience from last year, Helmer wants more from Veatch. He is looking to tap into even more potential that opponents have yet to see. Improvement from Helmer's top runners could prove to be monumental for his young team this year, and it starts with training.
"Ben had never trained at this high of a level," Helmer said. "That's been the biggest change for him. A year ago, he might have been running 45 to 50 miles a week. He's now up to 70 a week."
It's the team aspect that drives Veatch to get better. Not only was it a first-place finish for Veatch, it was an eye-opening victory for a young IU team which defeated multiple Big Ten opponents and swept the top-four individual spots.
"The goal is always the same and that's to win a Big Ten title," Veatch said. "We have a very young talented team. We're looking to do big things and defend our home course at the Big Ten championship. We're really excited about it being in Bloomington this year and getting the chance to show everybody what being a Hoosier really means.
Great Lakes Regional Championships, Nov. 10, Terre Haute, Indiana: How well the men's and women's teams finish in their Regional Championships will go a long way in securing an NCAA berth at the end of the year. According to the most recent coaches poll, the men's team is currently ranked second in the region just behind Wisconsin and the women's team is ranked third behind Michigan and Notre Dame. Last season, the men's team finished third behind stellar performances from the now-graduated Jason Crist and Matthew Schwartzer, while the women's team finished ninth behind a third-place individual finish from Katherine Receveur who will return looking for more this season.
Big Ten Championships, Oct. 29, Bloomington, Indiana: It is a momentous year in the Big Ten Championships for the Hoosiers as the event will be hosted at their home course of the IU Championship Cross-Country Course. The Big Ten will be loaded this year as there are currently four ranked teams on the men's side (Wisconsin, Indiana, Michigan State and Illinois) and seven ranked teams on the women's side (Michigan, Penn State, Wisconsin, Indiana, Minnesota, Michigan State and Ohio State.) For the men's team, sophomore Ben Veatch will be looking to build off of his Big Ten Freshman of the Year campaign in which he finished eighth at the championships. The men's team finished third in the Big Ten last year while the women's team finished eighth.
NCAA Championships, Nov. 18, Louisville, Kentucky: Neither the men's team nor the women's team qualified as a team last year for the NCAA Championships, but IU did have three individual qualifiers that competed. Crist and Schwartzer, the two qualifiers on the men's sid,e have both graduated but Receveur returns for the women's team after finishing 11th in last year's race and earning All-American honors. Her finish in last year's race was the best finish by an IU runner since 1989. Both teams look like they have a good shot of qualifying this year as they both continue to climb up the national rankings in recent polls.
More
IU's offense continued its conservative play-calling Saturday against Michigan State.
---
Robert Johnson and Devonte Green were the leading scorers in Saturday's scrimmage.
---
Amidst the chaos, Tyra Buss and Amanda Cahill still led by example.
---
---
---