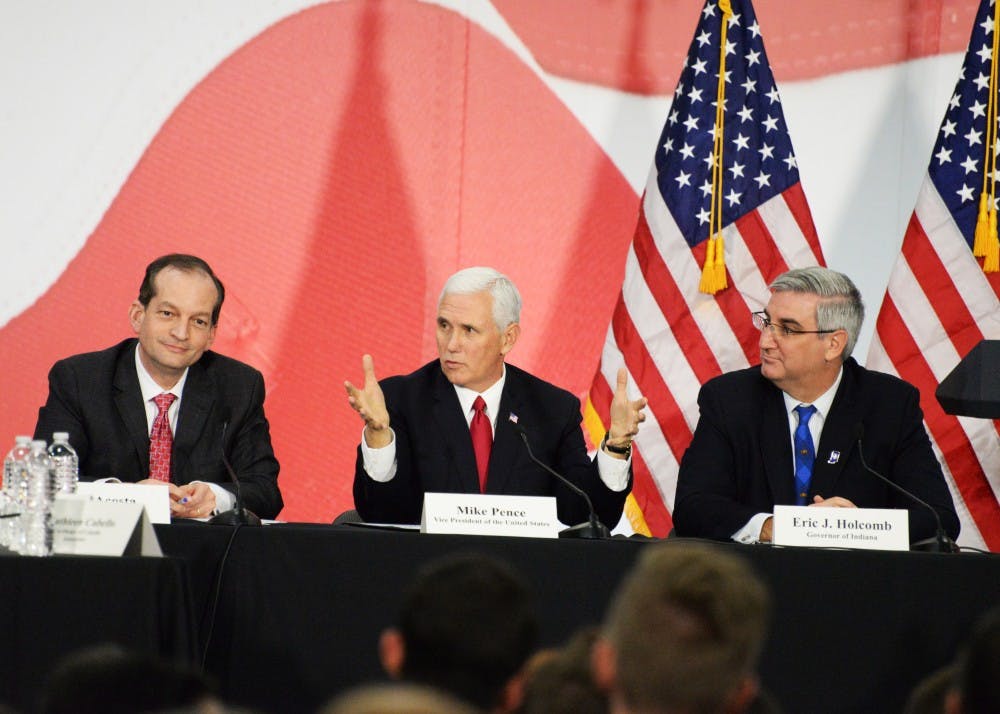 PLAINFIELD, Ind. — One day after the anniversary of his victory in the 2016 election, Vice President Mike Pence returned to his home state Thursday to push Republican tax overhaul efforts at a roundtable discussion with Indiana business owners.
Pence was also joined by Gov. Eric Holcomb, Sen. Todd Young, R-Indiana, and Secretary of Labor Alexander Acosta at TKO Graphix, a printing company in Plainfield, Indiana.
"You are the definition of what's fueling Indiana's momentum," Holcomb told the company's owner Tom Taulman.
He praised Pence's efforts as governor to lower taxes in the state, and said the support of Hoosiers was the "missing link" in getting federal taxes lowered.
The tax efforts have been marketed by the current administration as one that would benefit working families, small farms and businesses, and Pence repeatedly referred to these stakeholders in his remarks Thursday. Two separate bills, one from the House of Representatives and one from the Senate — unveiled Thursday morning — would condense the current number of tax brackets to three main sections.
The bill authored in the Senate would delay the implementation of a lower, 20-percent corporate tax rate until 2019 and reduce the estate tax without eliminating it, unlike the version authored in the house.
"As I said before, you know, there's an old saying that says that the tax code is 10 times the length of the Bible with none of the good news," Pence said, alluding to the displayed intention of the administration to fit tax filings onto a single sheet of paper.
During the discussion Young said the current tax code had crushed dreams and opportunities. He characterized the tax code changes as a nonpartisan issue, despite it being a predominantly GOP-supported effort.
"The time for action is now," Young said. "We've got to get this done."
In his closing remarks Pence alluded to Young's Democratic counterpart, Sen. Joe Donnelly, D-Indiana, saying Hoosiers needed to be able to rely on him to pass the efforts of the administration.
When President Trump visited Indianapolis in September to unveil the outline of what has now become the current tax code shift, he brought Donnelly along and threatened him with opposition campaigning if he did not support those efforts. Donnelly sent a public letter to Pence on tax reform earlier in the week.
"I know we share a strong interest in ensuring that the current tax reform effort benefits Hoosiers — particularly our workers and the middle class families they support," Donnelly said in the letter.
Pence claimed that by one estimate Hoosier workers could expect a raise of about $4,000 a year.
Though Pence's record on taxes as governor was touted by multiple speakers during the discussion, Indiana Democratic Party Chairman John Zody released a statement during the roundtable questioning the effectiveness of this record on jobs for working Hoosiers.
"Since enacting those cuts, Hoosiers' incomes have grown slower than the national average," Zody said in the statement. "The average Hoosier household saw a reduction of about $50. Top earners saw their tax bills decrease by $1,500 and taxes paid by some corporations fell by hundreds of millions of dollars."
Like what you're reading? Support independent, award-winning college journalism on this site. Donate here.
Everything you need to know for Monday, Aug. 20.
---
Students can use I-BUCKS at IMU locations starting August 20.
---
Upland's anniversary celebration featured other breweries and local vendors.
---
---
---