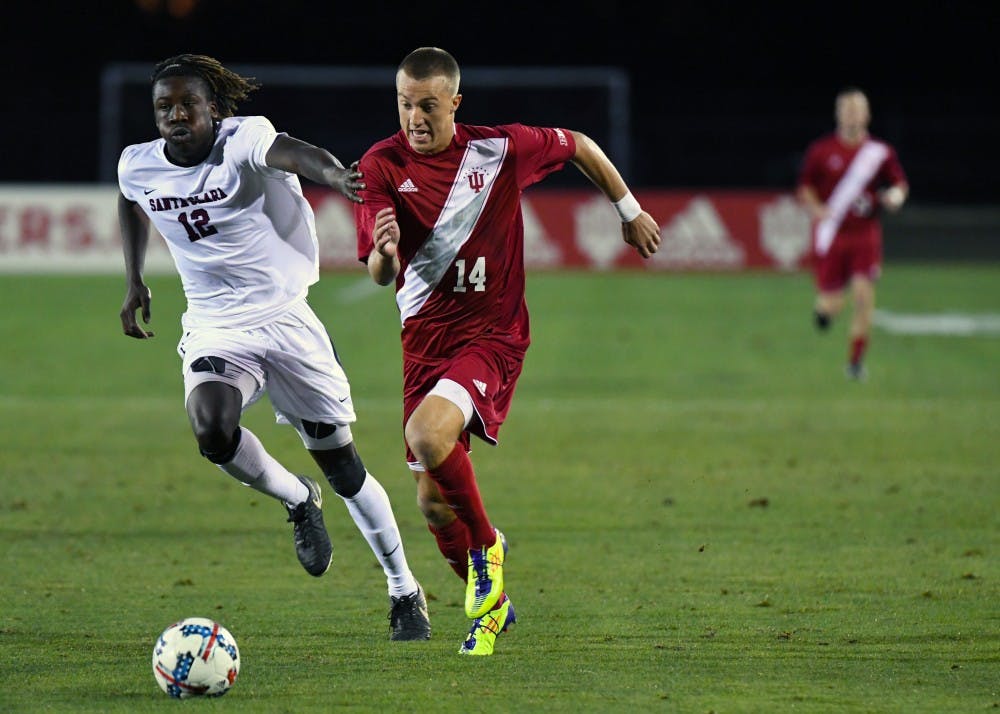 For the second straight week, the Hoosiers will welcome an in-state foe to Bill Armstrong Stadium when the Evansville Purple Aces come to Bloomington on Tuesday night.
The Hoosiers are riding high following two more wins last week against No. 7 Notre Dame and winless Santa Clara. The two wins also featured two more clean sheets for IU.
IU is riding a clean-sheet streak of 419 straight minutes. This season, the Hoosiers have allowed just two goals in over 950 minutes.
IU scored five goals against Santa Clara. Yet IU Coach Todd Yeagley said after the match, the first thing mentioned in the locker room was the clean sheet, not the five goals.
"There's a fun grit to this team," Yeagley said. "It's not a casual, carefree, it's a gritty, 'I want to win really bad and I want to take it to the other team.' That's a good feeling for a group. They're relentless right now."
When the Hoosiers take to the pitch Tuesday, they will be looking to inch closer to the longest shutout streak in IU history. The current streak has lasted more than four matches (419 minutes in total).
The longest recent shutout streak came in 2007, which lasted 607 minutes.
The 2001 team was the group that set the record. Its clean sheet streak spanned six matches. There is still a long way to go for the 2017 Hoosiers, but with the level of play they are at right now, it doesn't surprise Yeagley that this team is flirting with history.
"Our goals against average is creeping into some historical numbers," Yeagley said. "They love that. We say 'how do you put your mark on a program?' They're doing that kind of in the season. We're enjoying those moments along the way, we haven't lost sight of that."
When Evansville arrives Tuesday, the Hoosiers will have plenty of success from the past from which to draw. IU is currently riding an 18-match unbeaten streak against Evansville, which includes 14 straight wins dating back to 1992.
These two teams have a good amount of history. They have faced off in the NCAA Tournament five times, but the Hoosiers have definitely gotten more out of this rivalry than the Purple Aces , with IU recording 28 victories against Evansville. In 2017, the Purple Aces are 5-3-1, but IU will no doubt be their toughest opponent to date.
"It's been a blast," IU freshman winger Griffin Dorsey said. "I had expectations and dreams for this year, but they've been blown away. The start to this season has been awesome, the guys are awesome and the team chemistry is awesome."
Going into Evansville, however, Dorsey will not be suiting up for the Hoosiers. He was selected to the United States Under-18 National Team on Sunday for an international training camp in Marbella, Spain, running from Oct. 2-10.
The team will play matches against Belgium on Oct. 5 and Russia on Oct. 9. Dorsey has played with the U-18 team in the past.
That means Dorsey will miss IU's matches against Evansville and Penn State. The Hoosiers will be looking to replace his two goals and four assists in the short term.
It will signal a shift in the starting 11 for Yeagley's team, with IU freshman midfielder Spencer Glass being an intriguing name to look for when lineups are released for the upcoming matches.
"We are excited Griffin has the opportunity represent our National Team," Yeagley said in an IU Athletics statement. "The future is bright for Griffin and I expect more opportunities to come his way as he continues to develop and gain valuable experience during his career at IU."
The Hoosiers have a chance to get freshman forward Justin Rennicks on the pitch for the first time in 2017. Yeagley told the media he was cleared by doctors after having missed the entire season thus far due to a foot injury. He will be eased back into action as he gains match fitness.
"Justin is so ready to help," Yeagley said. "He's chomping to get out there."
Like what you're reading? Support independent, award-winning college journalism on this site. Donate here.
An official starting time will be released at a later date.
---
The former Hoosier slugger put on a show at Nationals Park, hitting 55 home runs before being ousted by Nationals outfielder Bryce Harper in the final round.
---
Wickware averaged 1.2 points and 1.7 rebounds per game in her two seasons with IU.
---
---
---