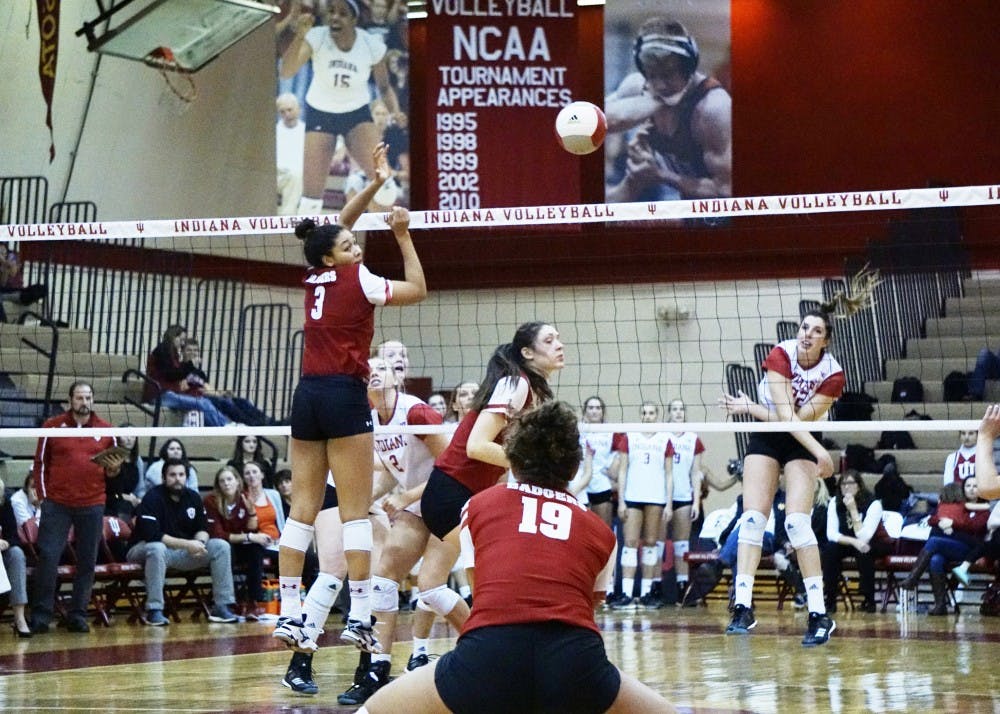 It's not about winning anymore for IU volleyball. It's about trying to take some sets off of its Big Ten opponents.
Since conference play started Sept. 20, the Hoosiers have gone just 1-15. Out of all 51 sets played against these teams, IU has won only eight, being swept in 11 matches.
Two of those sweeps came this past weekend at home against No. 10 Wisconsin and No. 5 Minnesota. Although the outcomes were the same, the matches were different.
On Friday night, IU played Wisconsin with the same aggression it did when the teams met in Madison earlier this year.
IU Coach Sherry Dunbar-Kruzan said she thought her team passed a lot better than Wisconsin did, but the attacking went in favor of Wisconsin.
The Badgers had 48 kills compared to IU's 32 and a better hitting percentage at .447 to .204.
The difference in the match wasn't the start of each set for the Hoosiers, and it wasn't the end of the set either — it was right in the middle.
In the first set, IU was tied 8-8. In the second set, IU was tied 10-10 and in the third, Wisconsin led 10-7. It was after the 10-point mark in each set when the Badgers pulled away just enough to take all three sets 25-21, 25-20, 25-15.
Dunbar-Kruzan said that it's just big runs at the wrong times.
The next night, the Hoosiers met a Golden Gopher team which had lost the previous night to No. 21 Purdue 3-1. Minnesota was not looking to pick up a second straight loss.
That was evident as the Gophers won 25-12, 25-10, 25-15 and hit .518 with 50 kills and 10 service aces.
The hitting for the Hoosiers wasn't as bad as the numbers show. Sophomore middle blocker Deyshia Lofton, sophomore outside hitter Kendall Beerman and junior right side hitter Elizabeth Asdell found open spaces against the Gopher defense.
It was the passing that was the issue.
"It'd be easier if we weren't breaking down in different things every match," Dunbar-Kruzan said. "Like I said, last night we passed better than Wisconsin, but our offense couldn't get rolling. Tonight, our offense was on fire, but we couldn't pass the ball."
In the third set against the Gophers, IU was down 11-1, but matched them point-for-point for the rest of the set. But because they got down so big at the beginning, it didn't matter.
Still, there is momentum to take away from matching the No. 5 team in the country point-for-point.
"It's hard because you want to use that momentum and everything, but you have to keep sustaining certain things and moving on to other things if you want to use it," Dunbar-Kruzan said.
One of the recent consistencies for IU as of late has been freshman defensive specialist Bayli Lebo, who has been moved to libero in the last four matches.
At the start of the season, sophomore defensive specialist Meaghan Koors was the libero, then it was freshman defensive specialist Nora Meehan, and now Lebo is getting her run.
Lebo had nine digs against Wisconsin and 10 against Minnesota. In her four starts at libero, she has dug out a total of 40 balls.
"I like her response," Dunbar-Kruzan said. "That's what we're looking at these last few weeks. We are looking for kids who won't back away right now because that's the future, and I think Bayli has that right now."
The overall record for the Hoosiers is now 12-16. Four matches remain, three of which will come against top-10 teams. Lofton said they are going to be aggressive no matter who's on the other side of the net and will continue to keep fighting despite the struggles.
Like what you're reading? Support independent, award-winning college journalism on this site. Donate here.
The Hoosiers had nine 2019 recruits make verbal commitments in five days.
---
With Ian Thomas gone, the Hoosiers will have to select his replacement from a relatively inexperienced group.
---
The 29th-round draft pick will begin his professional career with the Cleveland Indians.
---
---
---