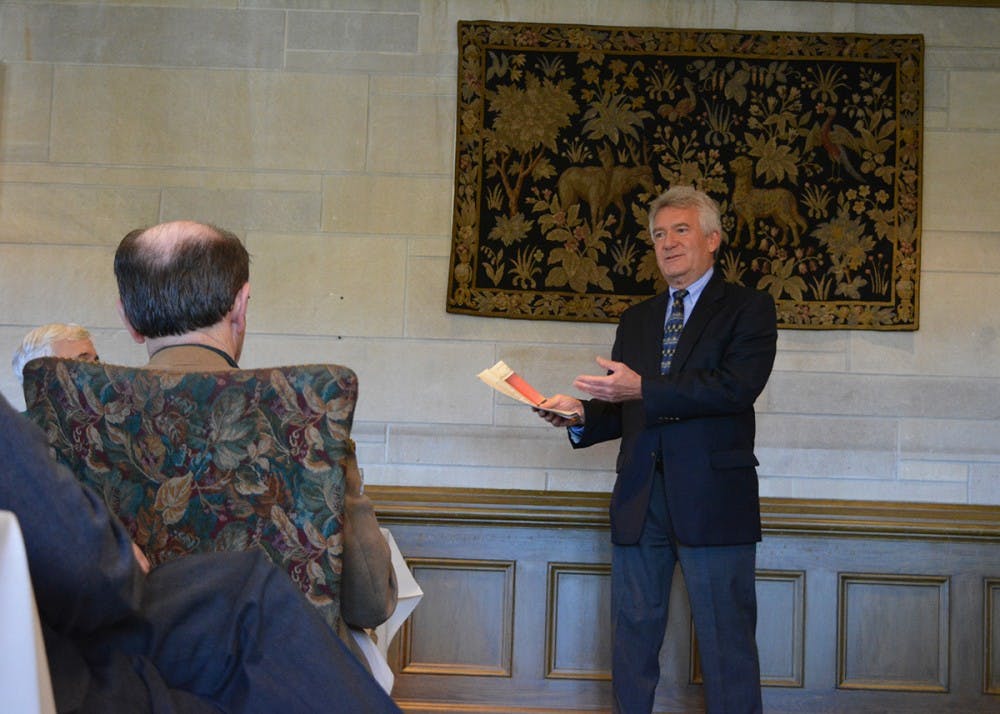 The organizers of Sunday night's Las Vegas vigil were asked to use battery-operated candles instead of bringing real flames to the courthouse to honor the victims.
In juxtaposition, IU professor Paul Helmke points out guns are not as regulated as the candles were.
"If some group wanted to have a parade down Kirkwood, they could sit on their floats with loaded AR-15s, the same gun that the Las Vegas shooter used, and it would be totally legal."
Helmke is a current professor of practice at the School of Public and Environmental Affairs, and the founding director of the Civic Leaders Living-Learning Center at Briscoe Quad. He practiced law for nearly 15 years before serving as the mayor of Fort Wayne, Indiana, for 12 years.
After leaving his seat in Fort Wayne, he became the president and CEO of the Brady Center/Brady Campaign to Prevent Gun Violence.
"I was in that position during the Virginia Tech shooting and the Gabby Giffords shooting and a lot of other shootings, and that was also the time that the Supreme Court took up the Second Amendment cases out of D.C. and Chicago," Helmke said.
Helmke was in the courtroom to hear the decisions of both the District of Columbia v. Heller case and the McDonald v. Chicago case.
Heller was a landmark case that interpreted the Second Amendment as applying to individuals and not only militias.
Justice Antonin Scalia wrote the 5-4 majority opinion, closing with "we hold that the District's ban on handgun possession in the home violates the Second Amendment."
"I still think the Supreme Court got the history wrong with regard to the Second Amendment," Helmke said. In his opinion, the Second Amendment clearly applies to the rights of militias only.
This case, however, was monumental in other regards.
In his statement announcing the case's decision, Scalia wrote, "like most rights, the right secured by the Second Amendment is not unlimited."
Helmke said this was the significant part of the decision because it confirmed that guns are subject to lawful regulation.
Helmke said in other constitutional settings, there are distinctions made between what can be done in and outside of the home. You can view pornographic content in your own home but not in public. You cannot yell "fire" in a crowded theater, but you can carry a rifle in a parade.
When discussing the recent Las Vegas attacks, Helmke said there may be hope regulations on firearms will become more comprehensive.
"I'm encouraged that at least there's some discussion of these bump stocks. There are Republicans that are saying they're willing to look at the issue, the NRA is at least signaling that maybe they ought to revisit the issue, so that's a positive step," Helmke said.
He said a bill to ban bump stocks, the tool attached to the Las Vegas shooter's guns that allowed him to fire off so many shots in such a short period of time, was proposed after the Sandy Hook shootings.
Sen. Dianne Feinstein, D-California, proposed the bill that was defeated in the Senate. Both of Indiana's 2013 senators voted against the bill.
"I point out to people too that from 1994-2004, we banned the type of weapon that the Las Vegas shooter attached the bump stock to," Helmke said.
The ban that Helmke was referring to was sun-setted in 2004.
He said that if the assault weapons ban had stayed in place, the Las Vegas gunman would not have been able to do what he did.
"Maybe he could have killed a few people but there's no way he could have fired as many shots as he did and killed as many people as he did," Helmke said.
Helmke said America's current regulation of machine guns and automatic weaponry have been successful.
"You don't see machine guns used in mass shooting or in crimes," he said.
In response to the argument that restricting guns would just support the weaponry black market, Helmke said it would set a societal standard for what the community not only thinks is important, but also what the community is willing to take action against.
"Maybe the bad guys will still get guns, but why should we make it easy for them?"
On a local level, Helmke argues there is not much that mayors, city councils or county councils can do to restrict guns. Bloomington Mayor John Hamilton wrote a column for the New York Times in July 2016 detailing this issue.
"A lot of what's going on lately is not really getting good legislation, it's stopping bad legislation," Helmke said.
He wants citizens to get more involved with the issue of gun violence. He encourages calling local legislators and letting them know that gun restrictions are important to the community, as well as talking to gun owners about supporting background checks and firmer screening.
"I've talked to people that were shot at Virginia Tech and still have the bullets in their body," Helmke said. "It's hard to go forward if you're not an optimist."
Like what you're reading? Support independent, award-winning college journalism on this site. Donate here.
A major area of concern was restoring two-way traffic on Atwater Avenue and Third Street.
---
According to the press release, people over 50 years old are at higher risk for serious illness.
---
---
---