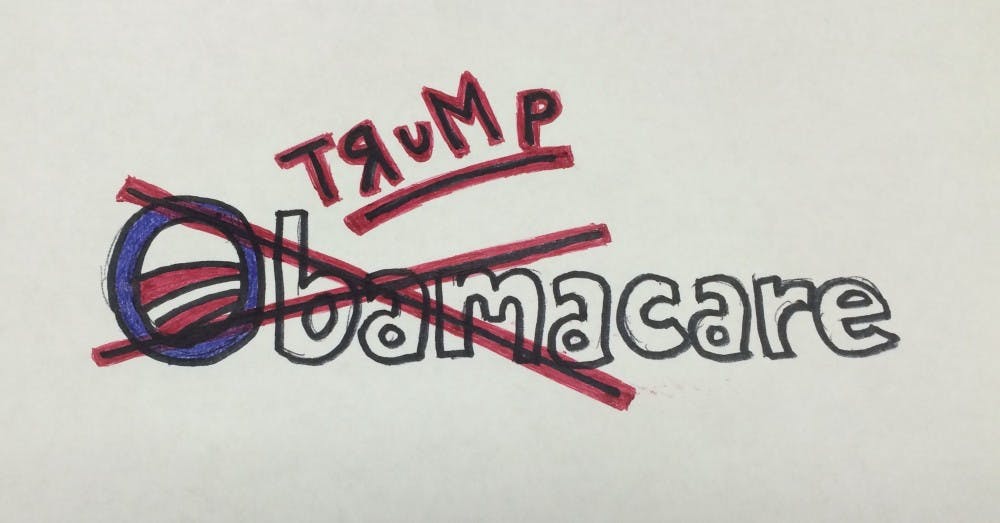 President Donald Trump has resorted to executive overreach to achieve his administration's goals on health care policy.
Trump signed an executive order late Thursday morning to scale back regulations on health insurance providers, the Indiana Daily Student reported. This order would override previous health insurance legislation passed during the Obama administration.
Trump's blatant disregard for the legislative process should not be tolerated, and Republicans should be outraged that he is hypocritically making policy from the Oval Office.
The executive order will cut off important Obamacare subsidies that reduce the cost of health care for low-income Americans across the country. Doing so will greatly threaten the stability of the Affordable Care Act's insurance markets, according to Vox.
The subsidy payments in question are cost-sharing reduction subsidies, also known as CSRs, which the federal government pays toward insurance markets operating under the Affordable Care Act. The purpose of CSRs is to help compensate participating health insurers for lowering co-pays and deductibles in order for their lower-income customers to receive baseline health insurance at a reasonable cost.
President Trump has threatened to pull this executive order for months but finally did it last week.
The effects of this executive order may seem murky. It will raise the ACA's insurance premiums approximately 20 percent by next year, according to Sarah Kliff, a health care policy expert at Vox, as health insurers will have to charge customers more to make up for lost funding.
Also, the executive order will increase the national deficit because the federal government will have to spend much more on subsidies directed toward other plans as Americans relocate to receive less expensive coverage.
The Congressional Budget Office estimates that this executive order will cost the federal government an estimated $194 million within the next decade.
Additionally, the number of uninsured Americans would rise by one million by 2018, according to the CBO. Overall, lower and middle-class Americans will lose — as will the health insurance market due to decreased stability.
After Republicans in Congress failed repeatedly to progress the repeal-and-replace initiative, President Trump has resorted to fixing the problem himself.
President Trump, the man who once blasted former President Barack Obama on the campaign trail for his executive overreach, is now resorting to the same. The president should not be legislating from the Oval Office.
Since assuming office, President Trump has slowly chipped away at Obamacare regulations in an effort to erase former President Obama's legacy.
He has cut the enrollment period in half for the following calendar year. Then he made it harder for the public to be informed of these changes by reducing the Obamacare outreach budget by 90 percent.
Now he is pursuing even greater executive overreach to destroy the law without officially repealing it.
The executive branch should not control health care. It should be legislated in Congress, like every other policy topic, to best suit the needs of the American people — regardless of socioeconomic status.
Trump is engaging in severe executive overreach that will harm the national economy in the long run. But, more importantly, he will harm the lives of millions of Americans by toying with their health insurance just because he does not like Obama's name stamped on the current law.
Republicans, even those frustrated with Obamacare, should not support the president's misuse of executive power.
Like what you're reading? Support independent, award-winning college journalism on this site. Donate here.
Fighting a despicable enemy like ISIS makes it more important than ever to avoid harming civilians.
---
Everyone, regardless of identity should join the celebrations of gay pride this month.
---
The U.S. Men's National Team will be watching this year's World Cup from home. Here are some popular bandwagons to jump on.
---
---
---