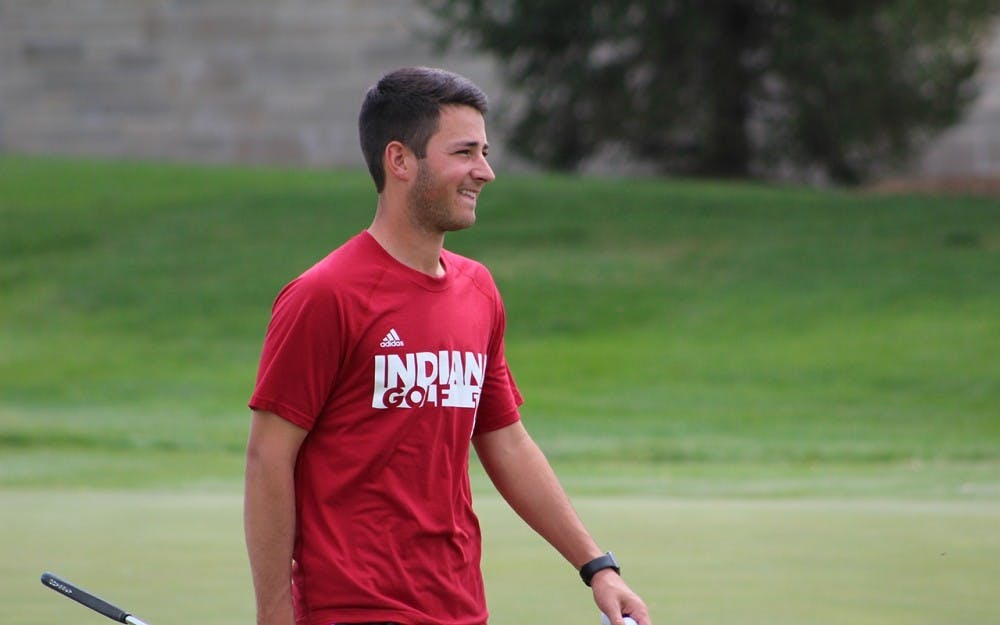 IU men's golf finished 11th overall out of 16 teams and had two players place in the top 25 at the Wolf Run Intercollegiate in Zionsville, Indiana, to begin the 2017-18 season last weekend.
The Hoosiers finished with a five-player combined final round score of 310. It was eight strokes more than the 302 they posted in rounds one and two.
IU freshman Ethan Shepherd finished tied for 18th at 10-over par for the tournament. That score ended up being the best score by a freshman for IU since 2012, when Sean Stone finished tied for 13th at the Northern Intercollegiate.
Shepherd shot a 73 in round one and 72 in round two, and he finished with a 7-over par 78 in the final round.
Two strokes behind Shepherd was IU junior Jake Brown. He finished tied for 23rd and shot 12-over par for the tournament. Brown had put together an even-par back nine on Sunday to post IU's best final round score. It was Brown's seventh career top-25 finish.
Senior Brendon Doyle finished tied for 49th at 20-over par while sophomore Brock Ochsenreiter and freshman Evan Yakubov both finished tied for 58th at 22-over par.
IU had three individual participants in sophomore Evan Gaesser, junior Trevor Ranton and senior Christian Fairbanks. Gaesser had the best tournament of the three, finishing tied for tied for 56th at 21-over par.
The Hoosiers will return to action Sept. 15 at the famous Olympia Fields Country Club for the Olympia Fields/Fighting Illini Invitational in Olympia Fields, Illinois.
Olympia Fields has twice been the venue for both the U.S. Open and the PGA Championship, along with being the venue for the U.S. Amateur in 2015 and the Women's PGA Championship in 2017.
Josh Eastern
Like what you're reading? Support independent, award-winning college journalism on this site. Donate here.
Junior catcher Wyatt Cross singled in the 10th inning to bring in the winning run.
---
Errors cost the Hoosiers in their first game in Omaha, Nebraska.
---
Five years after leaving Bloomington for Auburn, Dr. Kirk Grand returns as an assistant for the Hoosiers.
---
---
---