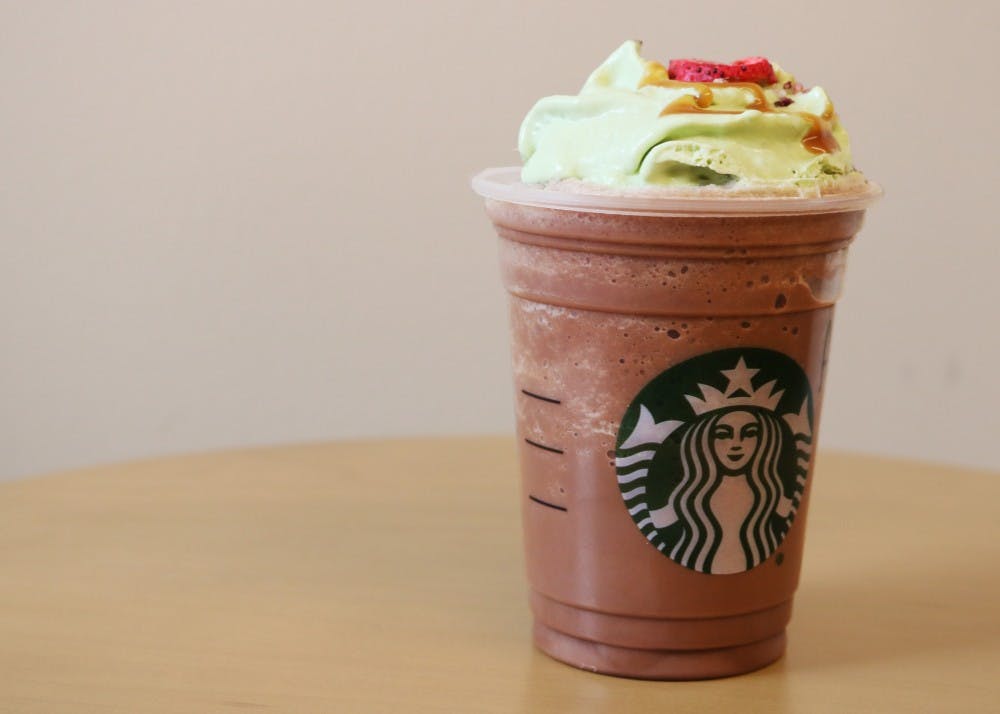 As the winter season comes around and the temperature begins to drop, people often head to Starbucks for holiday cheer.
Starbucks has a track record of cashing in on seasons and holidays. The Zombie Frappuccino was its abysmal failure for Halloween. For Christmas, Starbucks unveiled the Christmas Tree Frappuccino.
Before we discuss the mediocre taste of this holiday special, we first want to voice our disappointment that Starbucks went with the Frappuccino again.
They've done a Unicorn Frappuccino and a Zombie Frappuccino, but for the season of puffy coats and gloves we were hoping for a warm specialty drink, besides the usual peppermint mocha.
This Frappuccino did not give us a warm holiday feeling, but rather a bland peppermint mocha brain freeze. If you like Andes Chocolate Mints perhaps you'll like this drink. However, the other flavors make the taste a bit overwhelming. The ice-blended drink is topped off with matcha whipped cream, caramel drizzle, a dried cranberry sprinkle and a dried strawberry, all in an attempt to create something that looked like a Christmas tree.
While we admire Starbucks's dedication to aesthetic, we wish they would've focused more on taste. Sadly, the Christmas Tree Frappuccino is another specialty miss in our book.
Adele Poudrier and Clark Gudas
Like what you're reading? Support independent, award-winning college journalism on this site. Donate here.
From right-wing harassment to a Supreme Court opening, abortion access faces threats both old and new.
---
The Trump Administration is recognizing the years of discrimination caused from affirmative action, and universities should comply with its new policy.
---
Unless Trump moves with the sort of alacrity to replace Pruitt that he has to replace retiring Supreme Court Justice Anthony Kennedy, the November election will clearly be a referendum on environmental protection.
---
The landscape photographers explored old-school photography styles, including tintype.
---
Drop the popcorn and forget the movies.
---
Comedian Tig Notaro wrote series and specials for Amazon and HBO.
---
---
---