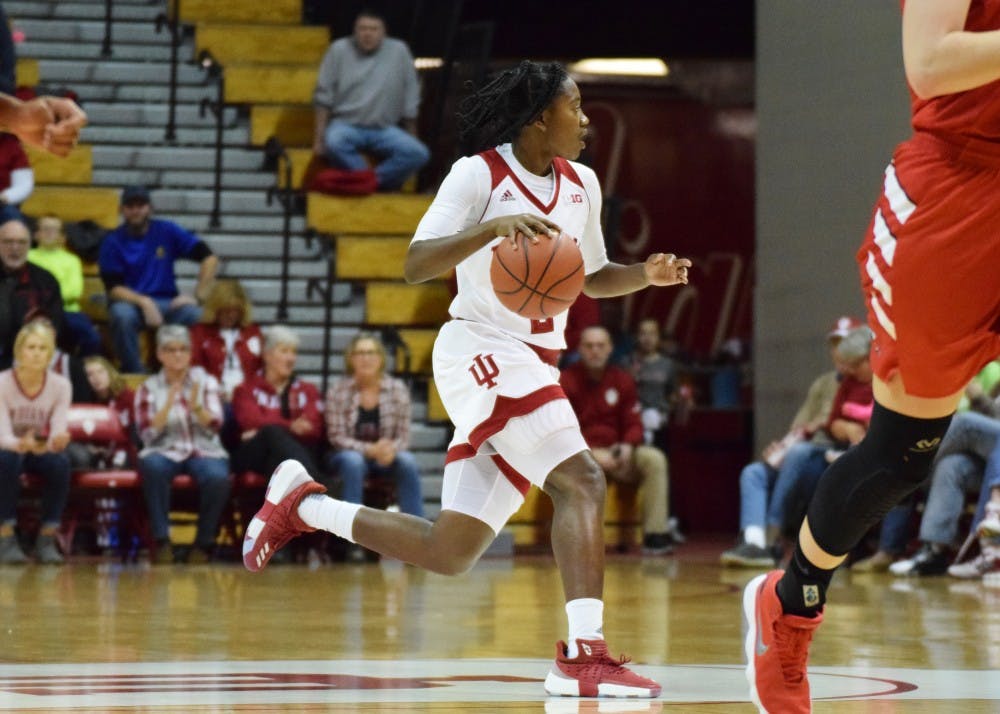 After four straight home games to begin the season, the Hoosiers traveled to Moraga, California, over Thanksgiving break to play two games in the Hilton Concord Classic.
On Friday, the Hoosiers squared off against the University of Alabama at Birmingham to begin the classic.
After a quick start from UAB, in which the Blazers hit four of six three pointers in the first quarter, IU was able to make adjustments and tie things up before the first 10 minutes were up, going into the second quarter tied, 19-19.
It was then the upperclassmen who took command the rest of the way for the Hoosiers.
Senior guard Tyra Buss dropped 22 points on the Blazers, coming up with timely baskets any time UAB started to make things too close for comfort.
Fellow senior forward Amanda Cahill came up with her fifth-straight double-double, which is the best stretch of her four-year career at IU, with 14 points and 12 rebounds.
That wasn't the only double-double. Junior forward Kim Royster got the third of her career with 12 points and 13 rebounds.
Those performances helped IU begin its trip with a 71-63 win.
The next day, IU looked to go 2-0 when they faced off against Saint Mary's College.
Like UAB, SMC began the game well and took an early 19-16 lead. In the second quarter, the Gaels began with a 6-0 run to take a 25-16 lead.
The Hoosiers cut the lead to 35-32 halfway through, but by the time halftime came around, they found themselves down 47-39.
IU began the second half on a 5-0 run to make it 47-44. Both teams exchanged basket for basket, but some three pointers made by freshman guards Bendu Yeaney and Jaelynn Penn gave IU its first lead of the game at 61-60. It didn't last long, though, as SMC took a 68-64 lead heading into the fourth quarter.
Everything looked in good shape for the Hoosiers until the 7:10 mark, when Cahill picked up her fifth foul.
The 24 points from Buss and 21 from Penn weren't enough as SMC continued to hit shot after shot in the paint to win the game 88-82, giving IU its second loss of the season.
Buss and Penn both made the 2017 Hilton Concord Classic All-Tournament Team.
This puts IU at 4-2 on the season. The team will return home for the Big Ten/ACC Challenge against Louisville on Nov. 30.
Dylan Wallace
Like what you're reading? Support independent, award-winning college journalism on this site. Donate here.
IU's home stand was reduced from 10 games to 8 games due to weather cancellations.
---
The Hoosiers now look toward series with Ohio State this weekend.
---
Louisville has won the past 13 of the 14 meetings versus IU.
---
---
---