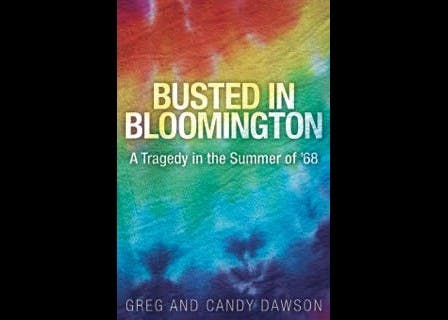 A new book, "Busted in Bloomington: A Tragedy in the Summer of '68," will take readers back in time to the "liberated" '60s, but the book explores the fact that this time period wasn't as free as people might think.
Written by Greg Dawson and his wife Candy Dawson, the book centers on a Bloomington High School English teacher Chuck Walls who was forced to hide his homosexuality because of the taboos that surrounded being gay at the time.
"Walls was a 1966 graduate of IU, and we discuss how campus life was changing during his undergrad days, segueing from the conservative '50s to the liberated '60s," Candy said.
There was both a subculture of homosexuality and a growing drug and marijuana presence on the IU campus during the 1960s. Walls was involved in both of these.
Greg Dawson grew up in Bloomington. His parents were professors at the IU Jacobs School of Music, and Dawson attended IU after graduating from Bloomington High School, as it was then called.
He ended his collegiate career after a few semesters because he already had a job with the Daily Herald Telephone. Since that first job in journalism, Dawson has gained over 50 years of experience in the field.
Greg's wife Candy graduated from Florida Atlantic University, and she said her life was as saturated with journalism as Greg's life. Her father worked for the Fernandina Beach (FL) News-Leader. Growing up, Candy wrote her own social column.
"Busted in Bloomington" was released near the end of August. The Dawsons will be coming through Bloomington during the weekend of Oct. 6 to promote the new Bloomington-centered book, speak on local radio and sign books at Barnes & Noble.
Even though it has been more than 50 years since Greg Dawson lived in Bloomington, he says he finds the town much like it was then, only bigger.
"The IU campus-- my Mississippi River where I spent weekends exploring-- is as beautiful, maybe more so, than ever," Greg said.
"Unlike most towns, B-town pretty much stays the same," Candy said.
Greg said IU looms over the story of "Busted in Bloomington," which is considered a collective memoir. The Dawsons interviewed more than 120 people to create this story of America in the '60s trying to make sense of their lives.
Candy said they loved to visit Bloomington, and when researching the area in the '60s, it became clear what they had to write about.
"I always knew I wanted to write a book about Bloomington," Greg said.
"It grew and grew when we found that so many kids, now in their 60s, had been profoundly affected by the events that happened from 1966-1968 while living in Bloomington," Candy said.
Students who pick up the book are sure to recognize some key IU settings throughout the plot. The book can serve as a historically educational experience for students to learn what Bloomington was like before they were here.
The Dawsons talked about the drug culture and what it was like to be gay in Bloomington in a time when being gay wasn't socially accepted.
To hear more about the story, "Busted in Bloomington: A Tragedy in the Summer of '68," and meet the writers who brought this story to light, students should attend the Dawson's book signing at Barnes & Noble.
Like what you're reading? Support independent, award-winning college journalism on this site. Donate here.
Brian Stack and Ryan Murphy are nominees for the Emmy Awards, which will take place in Los Angeles.
---
Beat the heat with these summer drinks.
---
Produced and hosted by Shayne Laughter, the podcast features Indiana-based literary journals.
---
---
---