Around 2 a.m. Oct. 21, an IU student and their partner painted several Palestinian flags and messages saying, "Free Palestine. Educate yourself. End the Occupation," on the west side of the bridge next to the Neal-Marshall Black Culture Center on Eagleson Avenue.
The student, who said they were not part of the Palestine Solidarity Committee when they painted the bridge, said they had been overwhelmed by the death and destruction of the Israel-Hamas War and needed an outlet to express their feelings and spread awareness of the situation. According to the Health Ministry in Gaza, the only official source for Palestinian casualties in Gaza, more than 7,000 Palestinians have been killed by ongoing Israeli strikes after Hamas' attack on Israel on Oct. 7 killed over 1,400 Israelis.
"The need to be educated on this is because they, the people in Palestine, they can't escape," the student said. "All of Palestine has been going through this for the past 75 years, and it seems like we're being iced out on campus because we believe that Palestine should be free."
While they were painting, the student said they were berated by people walking by who made derogatory remarks towards them and Islam.
They wore a mask to hide their identity while painting, and they asked to remain anonymous in this publication due to fears for their safety. On campus and in the media, they said, there is an atmosphere where it is perceived that if someone stands with Palestine, they stand with antisemitism.
"But it has nothing to do with religion," they said. "It is just about being a free land, a land that was theirs to begin with."
The region has had a long history of being held by various empires and religious groups, until the establishment of the states of Israel and Palestine in 1948. After Israel's founding, hundreds of thousands of Palestinians were forced from their homes in an incident known as the Nakba, meaning "catastrophe" in Arabic, and hundreds of thousands of Jewish people in Arab countries were expelled to Israel.
Around 2 a.m. Oct. 21, an IU student and their partner painted several Palestinian flags and messages saying, "Free Palestine. Educate yourself. End the Occupation," on the west side of the bridge next to the Neal-Marshall Black Culture Center on Eagleson Avenue.
Since then, through many wars, Israel's territory has expanded from its 1948 borders into Palestine, according to Britannica. Recently, the growth of Israeli settlements within the West Bank has ignited tensions. According to the organization Human Rights Watch, the more than 2 million Palestinians in Gaza today live under sweeping Israeli restrictions on their economy and freedom of movement.
Palestinian militant organization Hamas, which currently controls the Gaza Strip, has acted on these tensions over the years, attacking Israel multiple times since the group's formation in 1987, according to the Council on Foreign Relations. The United States declared Hamas a terrorist organization in 1997, and the group seized power in the strip in 2007.
Due to the long and complicated history of the conflict, the student said they understood there will be opposing viewpoints on a college campus. They said they intentionally left room for pro-Israeli students to express their views on the bridge.
"I didn't touch the other side of the bridge, I figured, leave that for them," they said.
About 12 hours later, the student said their painting had been spray-painted over. Stars of David and smiley faces were spray-painted on, and a message saying "from Hamas" was written above a Palestinian flag in bright yellow. Later, other messages including prayers for peace in Hebrew were added to the other side of the bridge.
"The way they responded to us was pretty hateful," the student said. "This came from our hearts; it came from us wanting to advocate."
Around 9 p.m., the student and members of IU's Palestine Solidarity Committee painted both sides of the bridge again. On the east side of the bridge, they drew Palestinian flags, and wrote messages including, "pray 4 peace," "free us" and "stop the genocide."
On the west side of the bridge, they wrote messages including, "End the occupation. End the apartheid," and "End the genocide. Pray for peace."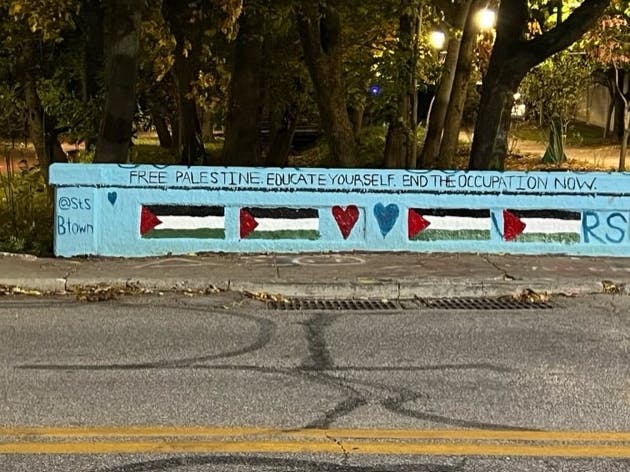 Ethan Fine, president of the Indiana Israel Public Affairs Committee and an IU student, said several of the messages written on the bridge and the sidewalks surrounding it on Monday frightened Jewish students around campus.
Fine noted the phrase, "They have sown hopelessness and they will reap tyranny," written in chalk on the west sidewalk of Eagleson Ave.
"That's a threat, and several Jewish students had seen that and were incredibly alarmed by that," he said.
This all plays into a larger theme of a rise in antisemitism after Hamas' attack Oct. 7, Fine said.
"It is undeniable that there's a newfound sense of fear, worry, an increased sense of danger on campus, and also just in America," he said.
A report by advocacy group Anti-Defamation League has shown a 388% rise in antisemitic incidents in the United States between Oct. 7 and Oct. 23, reporting 312 total incidents in the time frame. Around 190 of these incidents were directly linked to the Israel-Hamas war.
Fine said he has seen many antisemitic actions on IU's campus after Hamas' attack and the start of Israel's response, including people tearing down posters of American hostages held in Gaza and people shouting obscenities and slurs at him.
Fine said that while he did not know who spray-painted over the original message on the bridge, the PSC also painted over messages for peace on Oct. 23.
"It's important to note that on the other [east] side of the bridge, which was empty, Jewish students wrote prayers for peace in Hebrew and tried to make a memorial for the over 1,400 Israelis that have been murdered, killed, raped, kidnapped," he said. "That was actually totally defaced, and over that was written 'free Palestine.'"
IU faculty members and students are speaking out against IU President Pamela Whitten's new statement on the Israel-Hamas war for not expressing empathy for Palestinian suffering as well as for the tragedies in Israel.
He said he was made aware Wednesday of a message written in chalk by the Lilly Library containing a quote from 85-year-old Israeli peace activist Yocheved Lifshitz. Lifshitz was taken hostage for 17 days by Hamas in Gaza and was released Oct. 23. The chalk on the sidewalk quoted Lifshitz saying during a briefing with reporters that she had been treated well.
"They were very generous to us, very kind," the chalk message read. "They kept us clean – Yocheved Lifshitz on Hamas operatives."
Fine said this message attempted to justify Hamas' unjustifiable actions and noted Lifshitz's husband was still being held hostage in Gaza.
"I went through hell," Lifshitz had also said during the briefing with reporters. "Masses swarmed our houses, beat people, and some were taken hostage. They didn't care if they were young or old."
This part of her quote was not included in the chalk message.
Out of the at least 222 hostages taken by Gaza, Lifshitz is one of just three that have been released, the New York Times reported Tuesday.
The president of the Palestine Solidarity Committee, who also requested to remain anonymous due to fear for their safety, said their organization did not write the message. In addition, the PSC president said the message reading "they have sown hopelessness and they will reap tyranny," was not done under any PSC executive supervision or with their knowledge.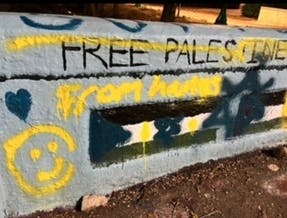 The president of IU's PSC said they did not intend for any messages to be taken as antisemitic or to make Jewish students afraid. When the PSC repainted both sides of the bridge, they said there was a multi-ethnic collaboration, including Jewish students.
Additionally, they wanted to make clear they do not support Hamas' actions in any way.
"In no way, shape or form have we advocated for violence whatsoever," they said. "We've had our words be totally warped."
This issue, they said, is also extremely personal to Arab, Muslim and Palestinian students, many of whom have family living under bombardment in Gaza and feel they are not being given a chance to grieve for their lost family members.
They said they are alarmed by the rise of Islamophobia on campus. The Council on American Islamic Relations reported it received 774 complaints of Islamophobic incidents in the U.S. between Oct. 7 and Oct. 24.
"We deserve to mourn these people," the PSC president said. "It's just so maddening. It's so maddening especially knowing my friend, 25 members of his family are now gone. We all have certain people in our lives who we'll lose — our parents, we might lose a friend, we might lose a sibling — but to lose an entire group of families is a level of trauma that most people will not experience in their life. To have to defend that, that this trauma is valid, it's so deeply offensive to Arab, Muslim and Palestinian students on campus."
Rabbi Sue Silberberg, executive director of the on-campus Jewish cultural center Hillel, said she wants to see a reduction of hateful speech, which she says is making many Jewish students feel unsafe.
"I would like to see a de-escalation of hate rhetoric and the vilification of Israel and Jewish students on campus," she said. "I think Jewish students are feeling very afraid right now and marginalized, and they don't deserve to be feeling this way."
Silberberg said many Jewish students, too, have connections to Israel through their families and religion, making the war personal for many.
"Almost all of the Jewish students on this campus either know somebody in Israel, have family or friends in Israel, have traveled to Israel and view Israel as our homeland that goes back thousands and thousands of years," she said.
Specifically, she referenced the phrase, "from the river to the sea, Palestine will be free,"— which was written on the ground in chalk on the west side of the bridge — which she views as calling to wipe out the Jewish population between the Jordan River and the Mediterranean Sea. According to the Anti-Defamation League, the phrase has been used by Hamas and other groups to call for the destruction of Israel through violent means.
In the flashing red and blue light of police cars, students in support of Israel and students in support of Palestine faced off at Sample Gates on Monday night, separated by a line of police officers. For 20 minutes, both groups waved their flags, chanted and yelled at each other — the tense culmination of a night that began with two peaceful gatherings.
On campus and around the world, many Jewish people understand the message to be antisemitic and a call for genocide. On the other hand, many supporters of Palestinian freedom, including the leadership of IU's PSC, have said they never used the message to call for violence or the forced removal of Jews.
To combat antisemitism and hate as it has risen, Silberberg said students should educate themselves to not play into antisemitic speech. She emphasized that while many have a connection to the region, students should not conflate other students with the people at war in the region.
"The reality is, Jews on this campus are not responsible for, nor influencing the Israeli government, just as the Palestinian students on this campus are not responsible for or influencing Hamas," she said "It's time to take a step back and understand that there's a lot of pain right now and a lot of suffering.