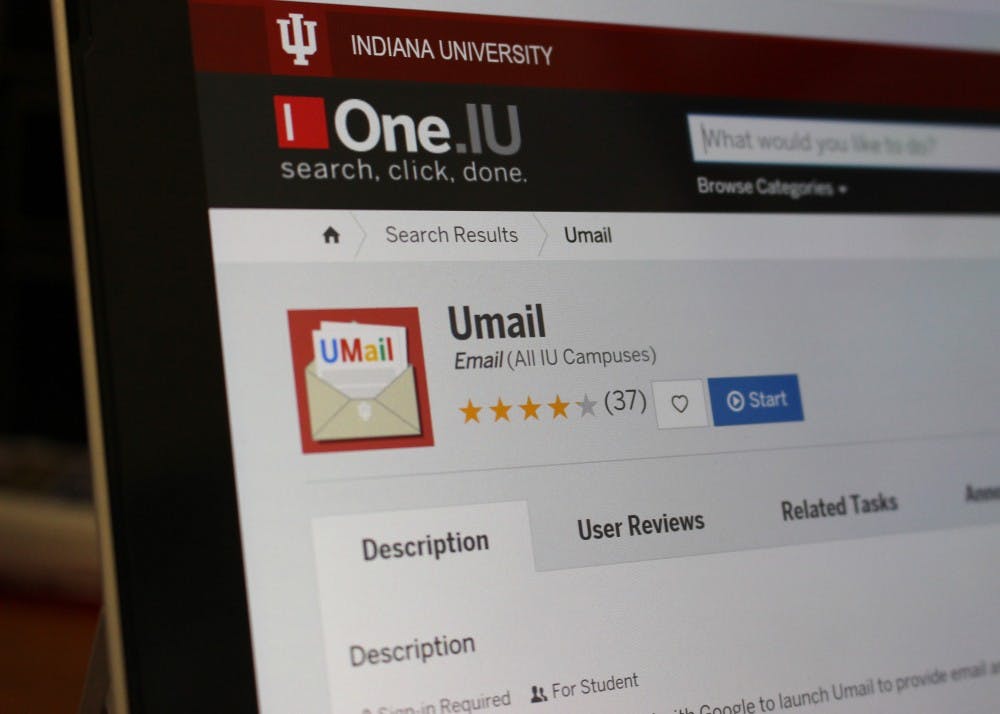 Starting March 19, students will no longer have access to their email accounts via Umail.
IU will begin the process of discontinuing Umail over spring break, so students will have to use their @iu.edu email addresses or campus-specific email addresses, according to the University Information Technology Services website.
The infrastructure powering Umail is no longer being updated, according to the UITS website. Because of this, student email is being moved to Google at IU.
The service is a newer version of Google's Gmail and will continue to be updated by Google, but the interface will be nearly identical to Umail.
What to do
Between now and March 11, students need to sign in to Google at IU, according to the UITS website. Without doing this, IU will be unable to move students' mail to the new platform.
Stop sharing your Umail email address with people. Instead, use a address or a campus-specific address such as . Notify contacts that your email address will be changing.
Transfer contacts to your new account. This UITS guide will walk you through the process. This must be done while students still have access to their Umail accounts.
If you sign in to any other social media accounts or web platforms with a Umail email, you'll need to switch them over to using your IU username.
Transfer Google Drive and Calendar items to the new platform, Google at IU. Students will have access to Google Drive and Calendar on both Umail and Google at IU until Aug. 20, 2018.
Getting your Mail
During the transfer, any email sent to a account will be delivered to both your Umail and your Google at IU Gmail account. After the change is complete, any mail sent to your Umail will be delivered to your Google at IU Gmail account.
If you already receive mail at a campus address such as , you will continue to receive mail without additional action.
Former students who left IU before March 10, 2018 will continue to receive mail at their Umail address during and after the transfer, and former students' emails will not change for now, according to the UITS website.
Like what you're reading? Support independent, award-winning college journalism on this site. Donate here.
A man told police he was sitting in his wheelchair when two men attacked him Friday.
---
One man is in jail after pushing a police officer who was trying to break up a fight Friday.
---
Police are working to locate a suspect in the case.
---
---
---