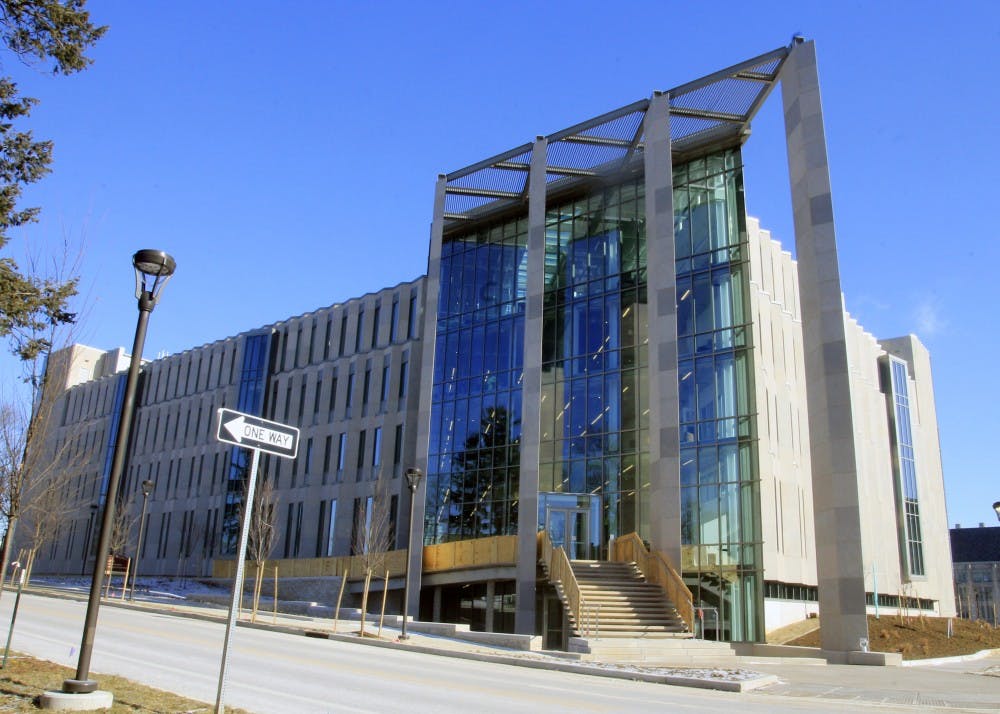 Faculty and students are optimistic about the newly constructed Luddy Hall, which will be open for classes at the start of the 2018 spring semester at IU.
The state-of-the-art facility will serve as a center for the IU School of Informatics, Computing, and Engineering, including the departments of Intelligent Systems Engineering and Information and Library Science.
The facility, near the intersection of North Woodlawn and East Cottage Grove avenues, will include a 3,500-square-foot innovation and entrepreneurship center known as the "Shoebox". The center was named in recognition of IU alumnus and donor John Shoemaker.
The Shoebox will serve as a space where students and faculty can work on their innovational and entrepreneurial ideas.
James Shea, senior director of planning and communications for the department, said the Shoebox is an especially valuable piece of the project.
"That will be a valuable resource for the campus as well," Shea said. "Other people besides our school can use that space. There are some members of the Bloomington entrepreneurial community who are excited about that space."
Some notable features include a 1,500-square-foot fabrication lab, a 160-seat collaborative auditorium, a 1,360-square-foot student community center and a variety of classrooms and labs, according to a 2015 IU press release.
Shea said the term spectacular was frequently used to describe the facility.
The guiding architectural principle was "share the light," Shea said. At the top of the stairway there is a 1,360-square-foot skylight, and other windows and glass allow for light to enter the building.
"You're not going to be sitting in the middle of Luddy Hall and not have access to natural light," Shea said.
The building planners are seeking a LEED Gold certification for the building for its focus on sustainability.
"The feel of the building is really warm in innovation," Shea said. "When you walk in there you feel like this is cutting edge."
When construction on Luddy Hall broke ground in 2015, planners were only anticipating accommodations for the then-IU School of Informatics and Computing.
The building was originally planned to be three floors, the Department of Intelligent Systems Engineering was created after initial planning took place, architects later included a fourth level.
The Department of Computer Science is leaving Lindley Hall, while the Department of Information and Library Sciences will be moving out of the Herman B Wells Library. All four departments will now share a common home base in Luddy Hall.
"Campus wanted those spaces for other purposes and we wanted, the school wanted, to bring all the departments together in one place because we were spread out around campus in four different places," said Erik Stolterman, the senior executive associate dean of the School of Informatics, Computing, and Engineering.
Some students like junior John Schuchhardt are excited about the move, which will hopefully keep many of his classes in the same building.
"Before there were so many different buildings around campus I had to go to for my classes and meetings, which made it hard to figure out where I needed to be," Schuchhardt said. "With Luddy Hall, everything is basically all together in one building."
The official dedication of the building will take place April 13, Shea said.
IU alumnus Fred Luddy will be in attendance for the ceremony, Shea said. Luddy donated $8 million to the project and planners named the hall in honor of his gift and his family.
Luddy is the founder of ServiceNow, "a Silicon Valley-based company that delivers cloud-based, automated IT help desk services," according to the 2015 press release. He also serves as a member of the Dean's Advisory Council at the School of Informatics, Computing, and Engineering.
Despite the vast majority of the school's students not yet having stepped foot in the building, Stolterman is hopeful about the future of Luddy Hall.
"I think this is really the first time we will see the school come together as a school," Stolterman said. "I think the building will have a tremendous impact both on faculty and teaching, but even more for students. They will find that this building is gonna draw everything together and is gonna be an identity."
A previous version of this article had multiple fact errors. It was removed from our website early Saturday morning to give editors an opportunity to meet in person with the story's reporter.
The article was re-posted Sunday evening after extensive fact-checking between the reporter and multiple editors. The caption for the above photo, written by a photo editor, has also been updated.
Errors of this nature are rare and below the high standards we set for ourselves to seek truth and report accurately. These inaccuracies have prompted a new fact-error policy that will be implemented beginning this week.The IDS regrets these errors.
Like what you're reading? Support independent, award-winning college journalism on this site. Donate here.
IUPD officers estimate the driver caused between $10,000 and $25,000 in damage.
---
An Allen County man has been arrested after leading police on a 100-mph chase through three northern Indiana counties.
---
A male transgender teen is suing to use the men's restroom in Evansville schools.
---
---
---