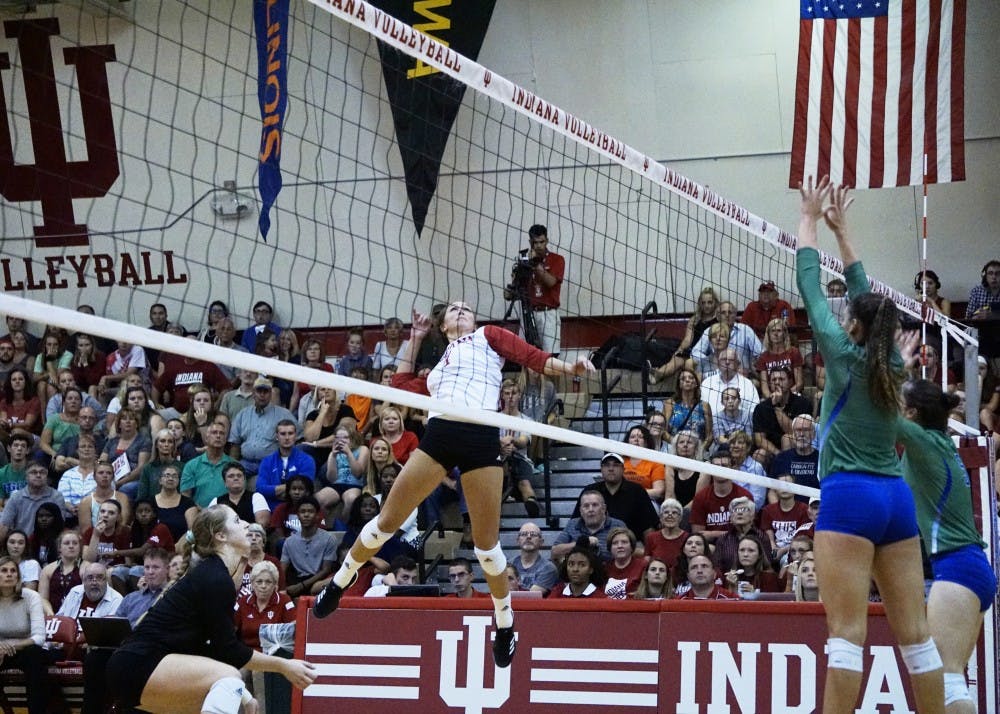 The seats were sold out when the Hoosiers faced the No. 19 Purdue Boilermakers for the second-straight match Saturday.
Despite the different location and improved play by the Hoosiers, the box score read the same: Purdue 3, IU 0.
This was the fourth straight loss for the Hoosiers, all since conference play started. Not only are they 0-4 in conference, but they haven't won a set, either.
That almost changed Saturday night, though.
Purdue had the upper hand over IU when it came to blocking and hitting, but the Hoosiers played to their strengths, their serve and pass games.
In the first set, IU Coach Sherry Dunbar-Kruzan said she thought her team had better serving and passing than Purdue, which allowed IU to take a 20-18 lead.
The Boilermakers then went on a 5-1 run to take a 23-21 lead. A kill by sophomore outside hitter Kendall Beerman and an error by Purdue helped IU get back in it, tied at 23. Junior defensive specialist Samantha Fogg, one of IU's better servers, prepared to serve.
She sent it over the net, followed by a set from senior setter Ashley Evans to junior outside hitter Sherridan Atkinson, and with the help of her 6'5" frame, Atkinson was able to rise up over the block and find an opening on the court to set up a match point for Purdue.
IU controlled the serve from junior defensive specialist Brooke Peters, but as sophomore Hayden Huybers ran behind sophomore setter Victoria Brisack for the kill, she wasn't able to get enough of it, sending it into the net, allowing Purdue to take the first set, 25-23.
"It was a little frustrating to end that set with two errors," Dunbar-Kruzan said. "It was good to get ourselves into that position, but we have to finish them."
IU continued to get in its own way following the tough first-set loss. Mix that in with Purdue's hard-hitting offense, and a 25-13 second set loss ensued.
Purdue got off to a 13-6 start in the third set, but the Hoosiers got back into their serve and pass games. They battled, but the slow start was too much to overcome, and they dropped the set, 25-19, ending the match.
Despite losing 3-0, the Hoosiers played much better than they did in the Sep. 27 loss in West Lafayette, Indiana.
"I think we really followed the game plan we put in place," junior right side hitter Elizabeth Asdell said. "Also, I think we were more aggressive. We just went for it, but in the end, we needed to execute better."
IU made successful defensive adjustments to try and slow down Purdue's outside hitters, but it was the defense after the block that IU struggled with.
"I didn't like our defense around the block," Dunbar-Kruzan said. "We forced them into some tips and lulls that we didn't pick up, and we needed to do a much better job in block defense away from the block."
The Hoosiers do not have a mid-week match this week, creating a longer break than they've had since the Big Ten Conference season began. They will play again on Oct. 6 against Northwestern in Evanston, Illinois.
"Every game we're learning," Asdell said. "At this point, it's win or learn. We are going to keep going forward. We are on board and so are the coaches. We are going to take these mistakes and change them for the next game."
Like what you're reading? Support independent, award-winning college journalism on this site. Donate here.
IU women's basketball all-time scoring leader signs a contract with Sporting Athens.
---
Multiple tight ends could see playing time for the Hoosiers in 2018.
---
Taylor Swope, Kelsey Giese and Ciara Girouard chosen to represent IU in the All-Big Ten preseason team.
---
---
---