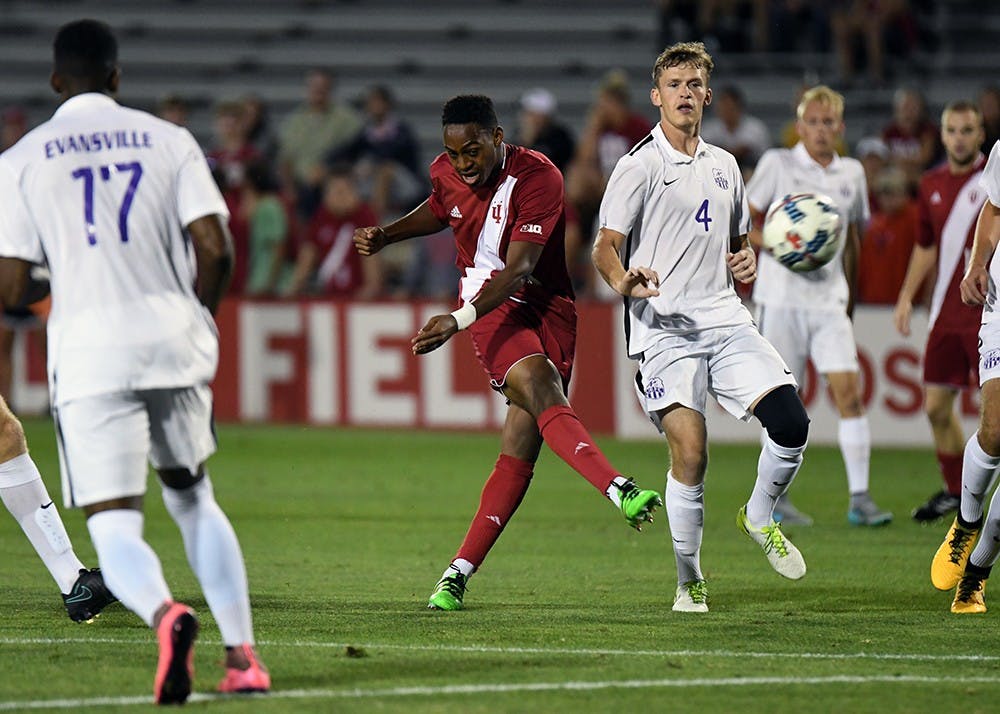 Things have been going quite well for the Hoosiers in 2017.
They are the No. 1 team in the country, have allowed only two goals in 11 matches and have scored more than once in seven different matches. However, almost all good teams experience adversity during a season.
In 2017, the Hoosiers' challenge will be playing without junior midfielder Jeremiah Gutjahr for the rest of the season because of a knee injury.
With IU freshman winger Griffin Dorsey — who is on international duty with the United States U-18 Men's National Team — also out for Tuesday's match, the Hoosiers still showed how dominant they can be with a 4-0 win over the Evansville Purple Aces.
"We did well," IU Coach Todd Yeagley said of playing without Dorsey and Gutjahr. "The group, they're so happy for Griffin to get the call-up, and they're excited for him as tough as it was to leave ... Jeremiah, the first thing they wrote on the board tonight was it was kind of a dedication now with his injury. They want to honor Jeremiah and what he means."
Even without one freshman phenom in Dorsey, the freshman class still showed its quality. Freshman forward Mason Toye was able to take the team lead in goals by scoring in the sixth minute.
With the Hoosiers' backline, the one goal was all they needed, but they kept up their goal scoring ways.
It stayed 1-0 through halftime, and until the 58th minute when IU junior defender Andrew Gutman was left alone at the back post on a corner.
His header not only gave IU a 2-0 advantage, but it also temporarily tied Gutman with Toye at five goals on the season. However, before the final whistle, Toye bagged IU's third goal of the night. It was his second of the night and sixth of the season.
"We're just trying to help the team in anyway we can," Toye said. "Obviously he (Gutman) is having an amazing year, but I feel like I need to keep scoring because I can't have my left back score more goals."
The Hoosiers were in control of the match for most of the 90 minutes. However, Evansville put a good amount of pressure on IU. The Purple Aces had a few chances near the penalty box but were only able to record five shots. IU freshman goalkeeper Trey Muse had two saves but was more important than the stats showed.
Without Gutjahr, junior midfielder Trevor Swartz was tasked with a more box-to-box role.
Without Dorsey, freshman winger Spencer Glass played right wing with junior midfielder Austin Panchot getting a start to fill the void. The Hoosiers' depth played a major factor in the win and allowed Swartz to go back to a role he is familiar with from last season.
"For most of the year I've been playing the ten, and I'm just dropping into the eight," Swartz said. "I played the eight last year, so it's not a big deal for me as a player."
The Hoosiers will have to keep moving forward without a player Yeagley called one of IU's smartest. Their depth will be tested in the midfield, but they have quality players who should be able to step in and keep it going.
"Jeremiah embodies all of the great character values of IU soccer," Yeagley said. "They really care for Jeremiah and know how important he is to this team. I think if they can play with his focus and determination and resolve, that's the best way they can honor him."
Like what you're reading? Support independent, award-winning college journalism on this site. Donate here.
An official starting time will be released at a later date.
---
The former Hoosier slugger put on a show at Nationals Park, hitting 55 home runs before being ousted by Nationals outfielder Bryce Harper in the final round.
---
Wickware averaged 1.2 points and 1.7 rebounds per game in her two seasons with IU.
---
---
---