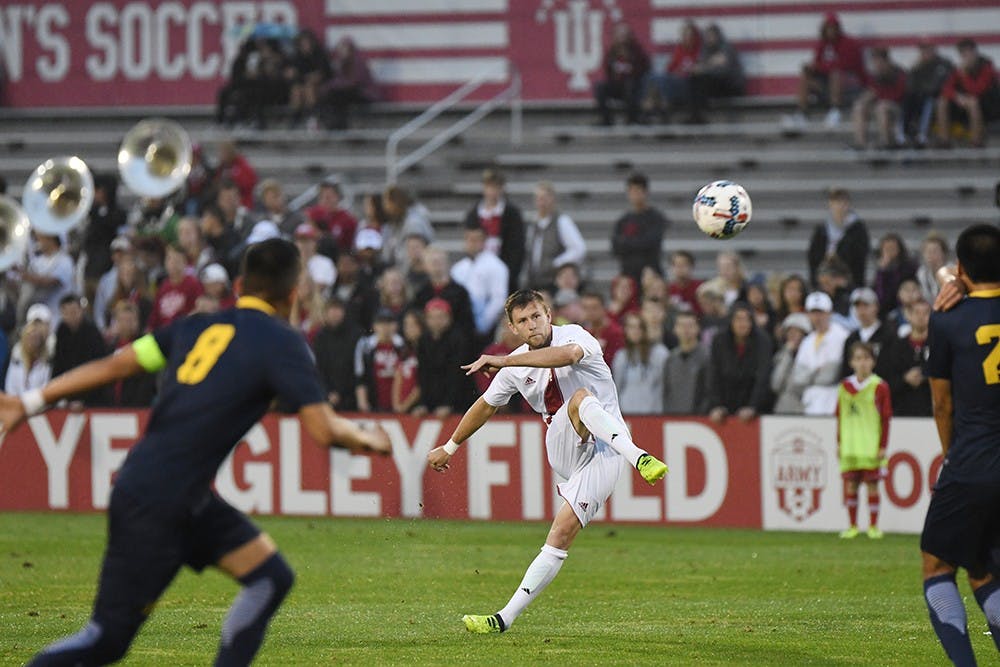 Since "The Godfather" Jerry Yeagley started the IU men's soccer program in 1973, the Hoosiers have seen 40 All-Americans take to the pitch in cream and crimson.
Of those 40 players, 11 have been defenders. It may seem like a smaller number at just over 25 percent, but winning eight national championships doesn't happen without stout defense.
It may not have necessarily have been the identity of every IU team in the past. However in 2017, led by another All-American in senior defender Grant Lillard, the Hoosiers defense is the heart of the team.
"I think team defensively, it's always a strength," IU Coach Todd Yeagley said. "We work on it. Our shape is good. We make it predictable for the players around us. Our principles are excellent, and we have really good defenders in back half of the field."
This season, the backline could be one of the best in the country. The Hoosiers return three starters from a season ago in junior Andrew Gutman at left back and junior center back Timmy Mehl, along with the aforementioned Lillard. A season ago, IU still featured one of the best backlines in the country as it allowed just 16 goals in 21 games while posting 11 clean sheets.
They were a tough group to break down.
Before this season, the only hole was at right back vacated by Billy McConnell due to graduation. McConnell was a player who consistently gave the Hoosiers good minutes on the pitch throughout his four years in Bloomington. The guy to step up has been sophomore Jordan Kleyn. He seamlessly slotted in from the beginning of the season and the backline hasn't missed a beat.
However, Kleyn was injured in the Michigan game, but shouldn't be out an extended period of time. He redshirted last season after starting as an attacking player.
"At first it was a little nerve-racking because you have Grant Lillard, preseason All-American, and Gutman being second All-Big Ten last year and then Timmy getting big time minutes last year," Kleyn said. "Knowing that I have those guys around me gives me confidence to do my role well and knowing that I have them to communicate and knowing that if I do make a mistake, I can count on them to recover, help me out."
A player who experienced a similar role to Kleyn was Mehl a season ago. He was the new guy last year to step into the squad, and he's been able to help Kleyn along the way.
It's a group that has been able to build chemistry over the course of the season. That's an important thing for a defense.
"If they're locked in and focused like they are 99 percent of the time, I'm very confident," Yeagley said. "That's why we've only given up a few goals. More importantly, we've given up few chances."
Teams have mostly been ineffective at putting shots on goal against the Hoosiers this season. Against, then-No. 3 Maryland, IU did not allow a shot on goal. They went nearly 207 minutes of game time and three matches, from the South Florida match to the Michigan match, without allowing a shot on goal.
To start the season, the Hoosiers went 211 minutes without allowing a goal. They finally cracked in the 21st minute of the 5-1 win over San Francisco. This defense could be on a historic pace, but Yeagley isn't necessarily looking at the balls that cross the white line.
"I think goals can come and you can't always look at the number because there might a glory goal or an ugly goal, it happens, it's part of the game," Yeagley said. "To me it's the chances given up and the goals itself, if you look at those two separately, but then together, I think we are doing well."
Since last season, the leadership of the backline on the field has come from Lillard. He is the All-American and the true leader of the group. Off the field last year, it may have been former defender Derek Creviston, but the torch has been passed to Lillard. He was named a captain this season for the Hoosiers and said he has hoped to become the captain of the squad since his freshman year.
Now as a senior, Lillard has the opportunity to lead this defense. Leading the defense could mean carrying the team to its best finish since the 2012 season.
The NCAA Tournament Round of 16 is the farthest IU has gone since 2012. That quest for a ninth title seems within reach in 2017. It's the last call for Lillard to take the Hoosiers to where they want to go. His goals for the season were pretty cut and dry when asked before the first match in August.
"I want to win a Big Ten regular season championship, I want to win a Big Ten Tournament championship and I want to win a national championship," Lillard said.
He continued by saying he is putting a bit more pressure on himself this season being his last to lead the defense.
"I take pride in that every single year," Lillard said. "This year is going to be nice, we're much more dynamic team going forward. We have a lot of guys that play different roles that we haven't had in the past, so I'm hoping for a good year this year."
Alongside Lillard on the left is Gutman. The junior was named to the All-Big Ten second team in 2016 and has made strides in many facets coming into 2017. His final ball in the final third has improved, his shot on goal has been special to watch, and he fits the system IU wants to play to a tee. As a full back, he gets up the flanks and into attacking positions, causing havoc for defenders.
Through Sept. 22, Gutman has three goals, which is tied for the team lead. In 2016, he had just one goal on over 40 shots. It's been a change in mindset for Gutman, but also a lot of hard work honing in on some skills that would make him a more dangerous player. People are noticing.
"I think this summer I really worked on keeping the ball on frame and just working hard," Gutman said. "Last year I created a lot of offense, but it wasn't smart offense. It was just using my pace. This year I feel like I'm a lot smarter with the ball, I'm sharing the ball better."
A reason why the defense has been as successful as they have is partly due to the experience this group has. Gutman, Lillard and Mehl have all played in big matches for the IU defense. However, after last season, both goalkeepers Christian Lomeli and Colin Webb graduated. There was some uncertainty as to who would be the goalkeeper this year, but that was quickly solved.
IU freshman goalkeeper Trey Muse was a late signee to the IU freshman class. He signed during the summer and seemed like a bit of an afterthought in the preseason. IU sophomore Sean Caulfield and freshman Jacob Gruber were the only keepers who got time during the three preseason matches. Caulfield also impressed during the spring season. Then, almost out of nowhere, Muse was named as the starter for game one against Cal Poly.
Muse has come in and hasn't given Yeagley a reason to take him out. The freshman has spent some time with the US U-18 Men's National Team along with playing with the Seattle Sounders Academy. Yeagley has said Muse has good maturity about him and that is helping the rest of the defensive unit.
"It was a tough decision, and that's a good thing," Yeagley said. "I thought Trey's game management was really good, he has a good feel for that. I think being in the professional environment that he was in, in regards to watching and seeing Seattle and training in that environment, has pushed him."
The saying is, "defense wins championships." With the backline IU puts on the pitch, it should come as no surprise they are right in the thick of things when it comes to NCAA favorites. The Hoosiers will be tested throughout October and into the postseason.
Yeagley says they make it hard for teams to get good opportunities, and they take pride in that. If the defense plays like they have of late, led by Lillard, the Hoosiers could find themselves in Philadelphia, Pennsylvania, come time for the College Cup in December.
"It starts in the front, we have great team defending," Lillard said. "Everyone has good principles, we know what we're doing defensively, we have a lot of experienced guys from the backline, midfield and we work well together. We compliment each other well with our strengths."
Like what you're reading? Support independent, award-winning college journalism on this site. Donate here.
A number of IU alumni are playing in different leagues throughout the professional baseball ranks.
---
Dunbar-Kruzan was inducted into the Monroe County Sports Hall of Fame on July 13.
---
The seven-time MLB all-star will serve as the Hoosiers' director of player development.
---
---
---