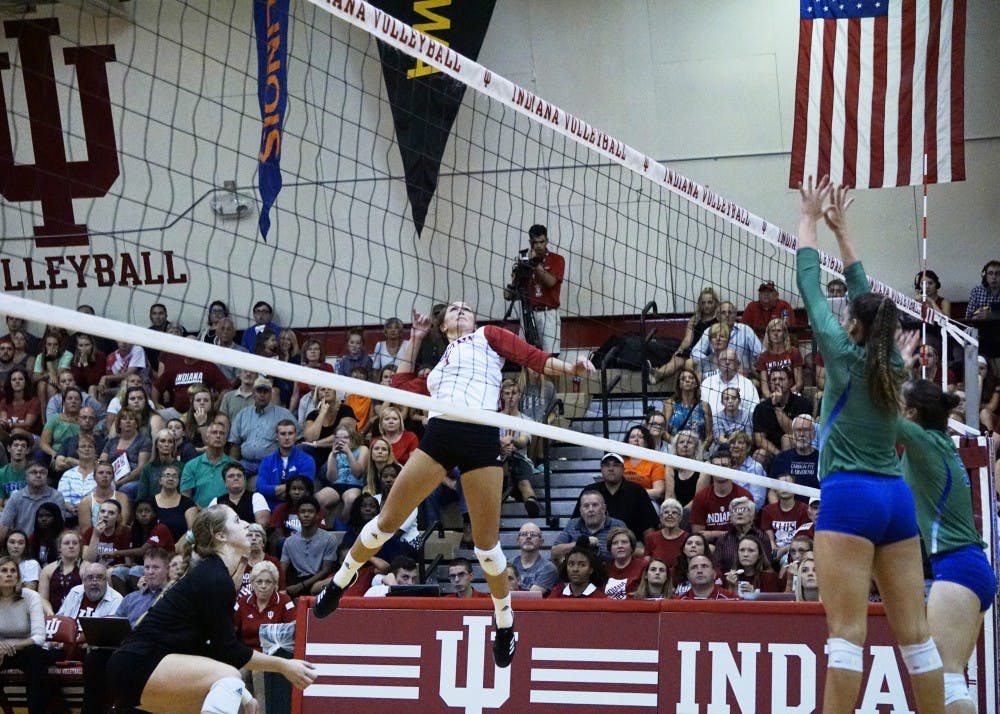 Illinois played the role of spoiler Wednesday by defeating the Hoosiers 3-0 in IU's Big Ten opener at University Gym.
IU has now suffered 12-straight losses to Illinois dating back to 2011. This match continued another streak between these teams as well, as the Hoosiers have not won a set against Illinois since the 2012 season.
It was only IU's second loss of the season, 11-2, but the first time they got beat in straight sets.
The first set was a close one.
No team led by more than three points the entire way. The match was tied at 23 and sophomore defensive specialist Meaghan Koors was up to serve.
Koors went for a low and short serve but didn't get enough of it as it went into the net for a service error. An error by sophomore setter Victoria Brisack followed that play, which cost the Hoosiers the set 25-23.
After that, IU never looked the same, dropping the next two sets 25-17 and 25-15.
"The first set was a great set," IU Coach Sherry Dunbar-Kruzan said. "I thought we got down on ourselves after losing that set, and then were never able to get back on our game plan."
Sophomore middle blocker Deyhsia Lofton said she thought that if the team could have won that first set, then the momentum and outcome of the game could have been different.
The outside hitters for the Hoosiers performed well, specifically sophomore Kendall Beerman with 12 kills and freshman Kamryn Malloy, who had 11. However, that was about all the offense the Hoosiers could really generate throughout the game.
"I thought the outsides did a really nice job and did exactly what we asked them to do," Dunbar-Kruzan said. "We are going to have to find a level of play though that gets everyone to do better at contributing."
A lot of Illinois' points came from Hoosier errors. At times, there was a lack of communication between the players on the floor that cost them some points that could have been prevented.
Dunbar-Kruzan said she wants the team to work on looking each other in the eye and having a talk on the court to improve their connections.
"We have written on the board every day at practice that effort plus enthusiasm equals execution," Dunbar-Kruzan said. "We have to have that enthusiasm whether we are down or we are up, we have to have the effort all the time and we have to focus on the execution."
The team has time to work on all of that, as this was only its first Big Ten match of the season. The Hoosiers will play their second Big Ten match Saturday night at home against Maryland.
Like what you're reading? Support independent, award-winning college journalism on this site. Donate here.
Junior pitcher Jonathan Stiever got more than enough run support en route to his second win of the season.
---
Crean spent nine seasons as IU head coach before being fired last March.
---
IU defeated UT-Martin in the first round of the NIT behind freshman guard Jaelynn Penn's career-high 25 points.
---
---
---