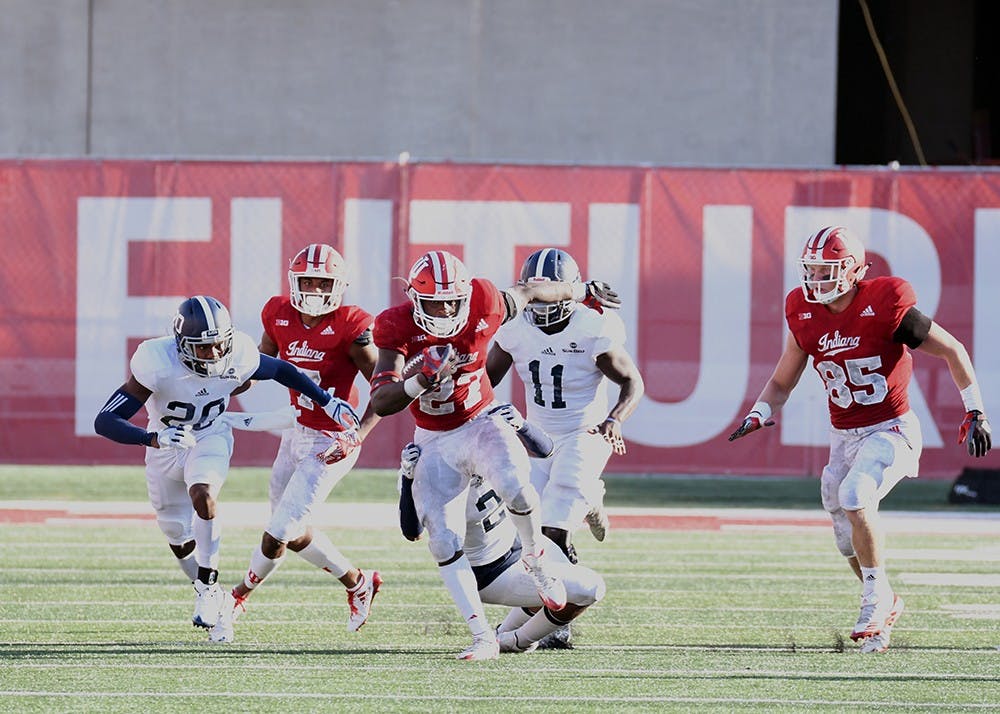 Offensive Coordinator Mike DeBord has seen each game this season as its own story.
In a loss to then-No. 2 Ohio State, IU (2-1) and DeBord went pass heavy as senior quarterback Richard Lagow set a school record with 65 pass attempts. In a road win at Virginia, DeBord balanced the run and pass games, and the Hoosiers finally established their ground game with 282 total rushing yards during Saturday's drubbing of Georgia Southern.
"We're doing different things every week," DeBord said. "We don't just say here's our offense definitively. We game plan every week for what we feel like is best against that defense."
If IU's game at No. 4 Penn State (4-0) this weekend is a new story waiting to be written, the premise appears to closely mirror a David-and-Goliath situation.
The Nittany Lions have dominated their way to four straight wins by allowing just 33 points all season. IU Coach Tom Allen said he couldn't think of a better duo in the country right now than Penn State's senior quarterback Trace McSorley and junior running back Saquon Barkley.
The Hoosiers have played elite competition already this season, and they are confident they've learned from it.
"When you play Ohio State, it's week one, and you have a lot of things that you think are a certain way, but you're not really sure," Allen said. "We're a football team now that has a much better understanding of who we are and where our strengths lie."
In one game or another, nearly every positional unit has gotten a chance to shine this season for IU. Lagow and freshman quarterback Peyton Ramsey have shown the passing game can be successful, with 802 yards, seven touchdowns and three interceptions between the two this season. The wideouts, led by junior Simmie Cobbs, have looked equally strong on the receiving end of Lagow and Ramsey's throws.
Freshman running back Morgan Ellison's 186 rushing yards against Georgia Southern appeared to answer the final question for IU's offense after the Hoosier running backs struggled through two games to start the year.
Against Penn State, it will likely take a complete performance for the Hoosiers to pull off an upset and beat the Nittany Lions for the first time since 2013. But DeBord is confident that with each passing week, his team has become increasingly more comfortable with its versatility and the new schemes he introduced when he took over the offense this past offseason.
"Whenever you bring a new system in, your players continue to learn that system," DeBord said. "I think they've got a great grasp of that right now, whereas three or four weeks ago, they were still in the learning process."
Allen and his defense will be tasked with stopping McSorley (1,037 passing yards and 12 touchdowns) and Barkley (874 yards from scrimmage, six touchdowns), but the Hoosiers could be missing a few key players.
Senior defensive lineman Nate Hoff, sophomore husky Marcelino Ball and sophomore cornerback A'Shon Riggins were all injured against Georgia Southern, and Allen said their statuses are in the air for this weekend. In addition, senior cornerback Rashard Fant missed Saturday's game and remains questionable for the Penn State matchup.
Regardless of who suits up on defense this weekend, Allen will be looking for his team to replicate the complete performance IU delivered in a 34-17 win over Virginia in its only road game so far this season.
DeBord says each game is a different story, but Allen would love for that one in particular to repeat itself.
"We've gone on the road, and we've played well, and we're now expecting to on the road again and play well again," Allen said. "We have that first road trip under our belt, and we are ready to go attack it again."
Like what you're reading? Support independent, award-winning college journalism on this site. Donate here.
Senior Cory Thomas scored in the 58th minute.
---
IU field hockey will look to rebound from a 6-13 campaign last season.
---
With a week until its regular season opener, IU field hockey played its Cream and Crimson scrimmage.
---
---
---