11:01: Thaaaaat's all, folks! I'm working on turning all of these random thoughts into a cohesive review of tonight's show. Thanks for following along!
10:55: I've been binge-watching "30 Rock" lately and I'm getting too emotional right now. He's back, he's funny and he got the entire audience to stand for him. That's a beautiful color for a jacket, to boot.
10:54: TRACY MORGAN TRACY MORGAN TRACY MORGAN
10:45: "The only thing that separates women of color from anyone else is opportunity." Viola Davis never fails to deliver beautiful acceptance speeches. She's beautiful, graceful and it's an honor to watch her work.
10:40: Get ready, everyone: Greg and Brody are going to get hella hype about the fact that Jon Hamm walked away with the trophy. (In all fairness, it was about damn time.)
10:31: Michael Kelly didn't win for "House of Cards" and I'm in shock.
10:20: Uzo Aduba is making me emotional right now. She is a beautiful person.
Unrelated side note: Did anyone else see an O'Charley's commercial about free pie with any entree on Wednesday and think "I need to go to O'Charley's this Wednesday"?????
10:06: Kudos to everyone at TDS for basically dominating the last couple of categories. Also THANK YOU Jon Stewart for making a "Titanic" reference. I'LL NEVER LET GO, JON.
10:04: Can we just take a minute to talk about how much Colin Hanks looks like his dad? It's unnerving.
9:53: OK, so I was really, really wanting Stephen to win that category, but at least Jon took it home. My feelings:
9:40: LOVING that they're sending this "in memoriam" piece out to Stephen Colbert singing. I'm still feeling feelings about the end of the Colbert Report.
9:36: I'm still reeling from the fact that David Oyelowo was snubbed at the Oscars, so naturally I'm going to be a little miffed that he couldn't even get an Emmy. Now, I've not seen "Olive Kitteridge," but my pal Brody said it was good, so I believe him. (Also, let us never forget that suit Oyelowo wore at the Oscars.)
9:25: YAAAAASSSSSS BILL MURRAY
9:09: I need everyone to know that Kathy Bates is everything to me. She was perfect as Molly Brown in "Titanic" and, therefore, she is my spirit animal. But it's nice to see Regina King win this Emmy. We've been hearing a lot about how diverse this group of Emmy nominees is, but we're an hour into the show and it's still been pretty whitewashed. I'm glad her talent isn't being overlooked.
9:06: Taraji looks good. End of story.
9:04: James Corden somehow makes presenting the folks from Ernst & Young to us interesting. Kudos, broseph.
8:54: REALLY?! 16 NOMINATIONS FOR LESLIE KNOPE AND AMY DIDN'T GET AN EMMY?!
8:50: I laughed harder than I should have at the Shonda vs. Lorne "Best Boss" joke. Not taking away from anything Lorne has done for TV, but Shonda is phenomenal.
Unrelated side note: anyone feel like "Grandfathered" is going to be a terrible show?
8:42: Please don't let that be the legit envelope. If I were Jeffrey Tambor, I'd be angry if someone took the envelope, cut it up and then put my name in their mouth. Especially Jimmy Kimmel. *eye roll*
8:39: Nice speech by Jill Soloway. "Transparent" is a hell of a show, from what I hear (*adds it to list of shows to watch STAT*). Also, Jon Stewart's beard is giving me life.
8:37: I refuse to let anyone throw shade at the classic Jimmy Fallon/Queen Latifah collab, "Taxi." One of my guilty pleasure movies — not Fallon's best film ("Fever Pitch" all the way) but it's timeless
8:28: Okay, so I'm 1/2 on picks for the major categories now, but 50% ain't bad. And Tony Hale is a wonderfully talented human being, so that's not bad.
8:25: 1) I totally called it on Allison Janney (if you haven't seen "Drop Dead Gorgeous," PLEASE go watch it) and 2) I really do love Ricky Gervais, so everything about his babbling before presenting makes my heart happy.
Unrelated side note: anyone else pay attention to commercials and can't wait to see "Black Mass"?????
8:15: GUYS. AMY POEHLER LOOKS GORGEOUS.
8:13: Maybe it's just me, but there was nothing special about that monologue. What do you guys think? Tell me in the comments!
8:06: First impression: I laughed way too much at the "Les Miserables" bit during the opening. And about the monologue: Cosby jokes? Jared jokes? Falling flat. Too bad. And we're stumbling over jokes about diversity and wage/age gaps. Sheesh.
7:59: Hey all! Ready to watch the Emmys? I've been listening to red carpet coverage on a network that will not be named (but makes a lot of money off the Kardashian family) and so far there have been a lot of crap questions to women and not a lot of substance. But that's to be expected. Hopefully the show will be better. Here's what I'm looking at so far:
COMEDY
Outstanding comedy series: I'm not going to lie, and you can go ahead and judge me, but I'm a die-hard fan of "Modern Family." I know other people running blogs right now (*cough*GREG*cough*) have already expressed their opinions about the idea of "Modern Family" taking the prize, and I feel that. I mean, basically everyone feels that. They've been around forever and generally dominate the comedy categories, nominee-wise. My love of MoFy aside, this award is going to "Parks and Rec." No brainer.
Outstanding lead actor in a comedy series: Jeffrey Tambor. Easy.
Outstanding lead actress in a comedy series: If you didn't watch "Grace and Frankie," you're doing it wrong. Incredibly witty writing, great performances all around. Notice how Lily Tomlin is nominated and Jane Fonda isn't? It's because Lily Tomlin is the queen of comedy and killed it with G&F.
Supporting actor in a comedy series: Tituss Burgess. I might have listened to Pinot Noir on repeat for about a week. Gold.
Supporting actress in a comedy series: Allison Janney, hands down. I've never seen her in something I didn't enjoy, and "Mom" is certainly hilarious.
DRAMA
Outstanding drama series: Give it to Mad Men, please.
Outstanding lead actor in a drama series: I love Kevin Spacey, but someone, for the love of all things holy, throw Jon Hamm a bone. It's like Leo DiCaprio with the Oscar — give this man an Emmy already!
Outstanding lead actress in a drama series: If nothing else, Taraji P. Henson deserves an Emmy for giving us all perfect Cookie reaction gifs.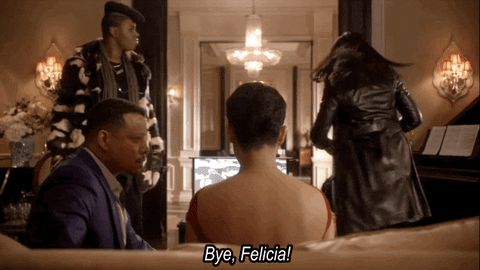 Outstanding supporting actor in a drama series: Michael Kelly. (spoiler alert) This season of "House of Cards" was a lot of Doug, and I complained for about five minutes. He's wonderful.
Outstanding supporting actress in a drama series: Uzo Aduba. Enough said.
Shhhh, the show is starting. Let's do this!
---
Comments powered by

Disqus