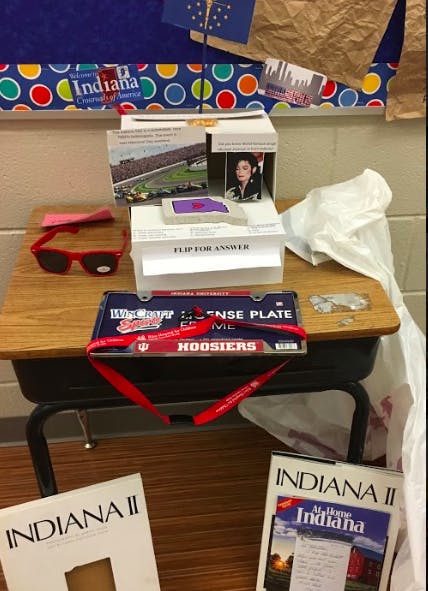 Dear people of the great state of Indiana,
This past February, my third-grade students wrote letters to small-town newspapers around our country. The letters asked people in each state to send items of interest that the student might include in their final State Fair project.
My students were thrilled as packages started arriving from all over the country! They received books, newspapers, postcards, maps and many unique items from the wonderful and generous people of the United States of America. Below is a picture of my student's final project. Please note that this is just one view of their Indiana State Fair Float, as many items are attached to the sides and back of the float, as well.
This project could not have been the success that it was without you! I've had several parents indicate that their family would be taking a trip to the state that their child learned about this school year to see the beauty and unique qualities first hand. From the bottom of my heart, I thank you.
Most sincerely,
Mrs. Bozorgzad
Like what you're reading? Support independent, award-winning college journalism on this site. Donate here.
Conspiracy theories about Trump and Putin only encourage hostility between the world's two major nuclear powers.
---
An unpaid internship is the resume booster you need to open up career doors.
---
By wasting $225,000 on an armored truck when the city has much more pressing concerns, Mayor Hamilton and BPD have failed in their mission to efficiently protect Bloomington.
---
---
---