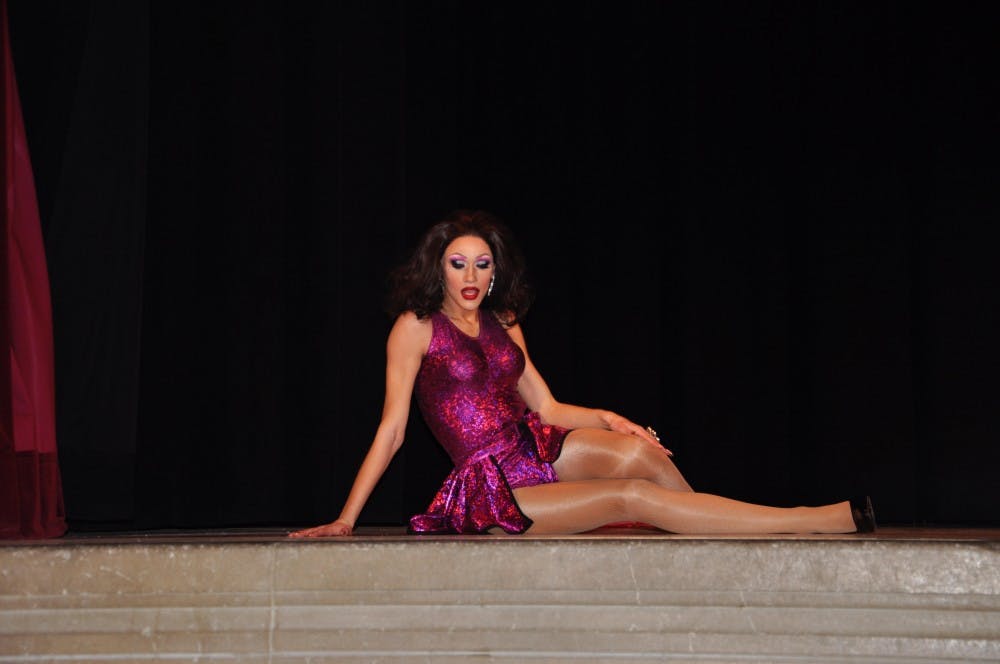 The heels were towering, the hair was larger than life and the cheekbones could've — should've — cut glass.
IU's own drag queens took the stage Saturday night in Life's a Drag (Race), a student-organized drag show, swathed in velvet, sequins, and even trash bags.
The night, which took place in Alumni Hall at the Indiana Memorial Union, drew a crowd of over 450 to watch the queens dance and lip sync to artists like Lady Gaga and Nicki Minaj.
Many in the crowd donned their drag finest, from mesh tops and glittery faces to velvet shoes.
From the time Demi Lovato's "Sorry Not Sorry" started pulsing through the speakers, the audience was rowdy, dancing in the aisles and cheering for their favorite queens.
The event was the second of its kind, organized by sophomore Rylan Deer and hosted by his drag persona, Gaia Ciccone. Ciccone is the 'drag mom' of one of the other queens who performed, Taera Ciccone.
"A drag performance is not something most parents approve of," Ciccone said. "Thankfully, I'm not like other moms. I'm a cool mom."
Ciccone sashayed on stage after the first act in a royal blue sequined floor-length gown and a red bob wig. Deer said his queen, Ciccone, was wearing a corset as well as silicone hips to get the curves she wanted for the night.
He started getting ready for the event at 10 a.m. and finished around 6 p.m. after hours of makeup and hair removal.
Each queen has her own persona. With names like Ima Wreck, Jenna Talia and Mary F. Kills, the queens all cultivated performances around their stage identities.
Kade Padgett, known as Ima Wreck, said his queen persona came from an alias his grandmother wrote under in her church publication.
Padgett said Ima Wreck is the personification or mental illness.
"She's not meant to be pretty," he said. "She's meant to make a statement."
Many of the queens said the show "RuPaul's Drag Race" inspired them to explore the drag culture.
Freshman Ethan Tinsley did his makeup for the first time on May 12, 2017, after starting to watch the show as a freshman in high school.
Tinsley said he never thought he would try drag, until he put makeup on. His queen persona is named Jenna Talia, and she's a party girl.
Talia likes pink, she said. Tinsley does not.
Freshman Ashton Murray went to his high school prom in drag. He also credits RuPaul's Drag Race for inspiring him to explore the art.
Murray's persona, Taera Ciccone, is the daughter of Gaia. Saturday was Taera's debut on stage, and she was the race's runner-up.
A total of four death drops, a dance move where the dancer falls backwards to the floor, were executed on the stage. The move is characteristic of drag performance and culture.
Some of the queens gave theatrical performances, some were choreography-focused and others used props to convey their stories.
Six queens total performed during the event along with a special intermission show from last year's winner, Avasa. 2017 was the first year Deer arranged the show.
As the queens stomped across the stage throughout the night, wigs were lost, fake blood was spilled and dollars were thrown to the queens.
"We should've practiced tipping," Ciccone said when queens kept leaving cash on the stage. "We did a shoes rehearsal — that was stunning — but we should've done tipping."
Five audience members were chosen to judge the competition and crowned Ima Wreck the winner with a rhinestone-encrusted tiara at the end of the night.
Drag often involves dancing, the removal of clothes and tipping from the audience, but performances are more focused on the queens' personas.
Ciccone was surrounded by fans at the end of the night for photos. No one measured up to the queen, who stood six feet and three inches in her heels.
After months of planning, Deer could finally take off his wig cap and call it a night.
"Life's a Drag (Race)" will be held again next year, Deer said. He's already secured Alumni Hall for the event.
Like what you're reading? Support independent, award-winning college journalism on this site. Donate here.
The conference will focus on musical improvisation from the Middle Ages onward.
---
Tickets start at $35 and go on sale in August.
---
The group will make its way to Bloomington for a show at 9 p.m. tonight.
---
---
---