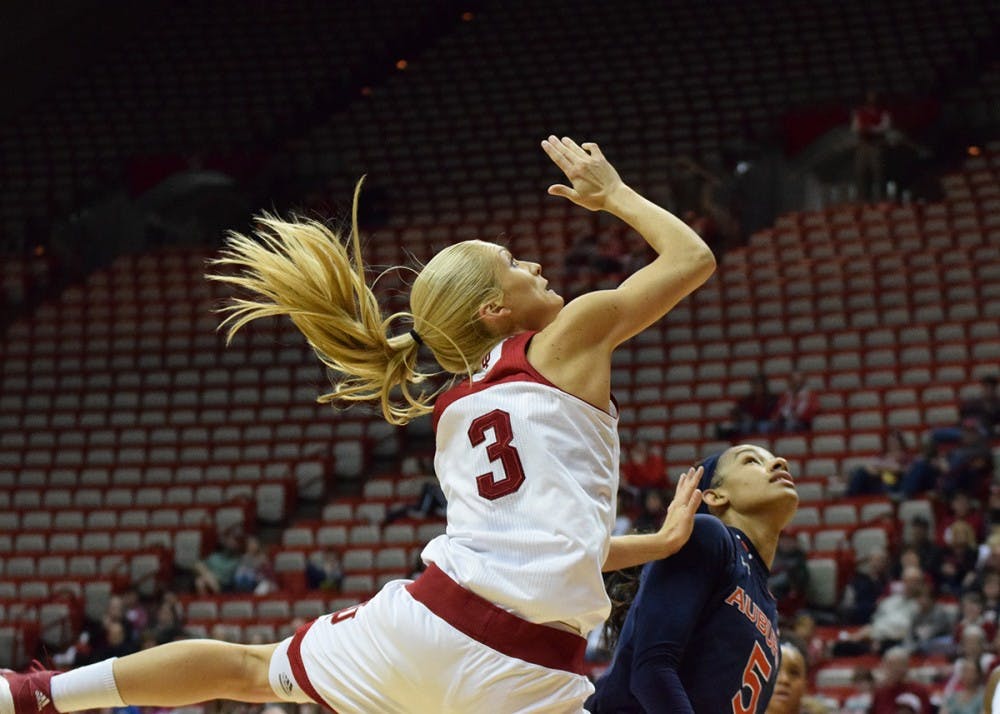 The last two weeks have been a struggle for IU Coach Teri Moren and the women's basketball team.
In the last 10 days, the Hoosiers have lost all three of their games.
Saint Mary's presented the first loss for IU on Nov. 25, in a game where senior forward Amanda Cahill fouled out early in the fourth quarter. This made it harder for IU on both ends of the floor, losing the game, 88-82, to end a tournament in California.
Then, the Hoosiers fought No. 4 Louisville but couldn't hang on and lost, 72-59, at home.
Lastly, against Auburn on Sunday, IU got off to a slow start that created too big of a hole for the Hoosiers to climb out of, resulting in a 65-53 loss at home.
The problem isn't the energy for IU. It's the execution.
The constants in this three-game losing streak have been too many turnovers and defensive breakdowns for the Hoosiers.
In the most recent game, the team turned the ball over 23 times, allowing 25 points to Auburn off those turnovers. IU Coach Teri Moren said you aren't going to win many games if you do that.
With just a two-day turnaround before its next game, the team looks to watch some film and get in a hard day of practice before a 7 p.m. game Tuesday against North Texas.
Even though the transition from play in practice to play in game hasn't resonated on the court for the Hoosiers lately, they have a chance to redeem themselves against North Texas.
North Texas is 6-1 on the season, but haven't played a true road game yet.
Tuesday will be the first road test for the Mean Green. North Texas presents the Hoosiers with a swarming defense, something they have been all too familiar with in the last few games, and something they have struggled with as well.
IU gives up 65.4 points per game, while UNT scores 61.4. The difference is that even though IU averages 69.5 points, the UNT defense only allows 45.6, forcing 21.6 turnovers a game. IU is averaging 16.1 turnovers a game.
"I don't think we are making the easy plays," senior guard Tyra Buss said following the Auburn loss. "Our skip passes weren't strong enough and we just weren't making the right passes. It's frustrating because we've been doing a good job of taking care of the ball in practice."
Moren said she is looking to get her team ready and focused for UNT to avoid a fourth-straight loss. Despite all the struggles, Moren said it's still only early December, and there's a lot of basketball left to play and lessons to be learned.
Like what you're reading? Support independent, award-winning college journalism on this site. Donate here.
Dunbar-Kruzan was inducted into the Monroe County Sports Hall of Fame on July 13.
---
The seven-time MLB all-star will serve as the Hoosiers' director of player development.
---
An official starting time will be released at a later date.
---
---
---