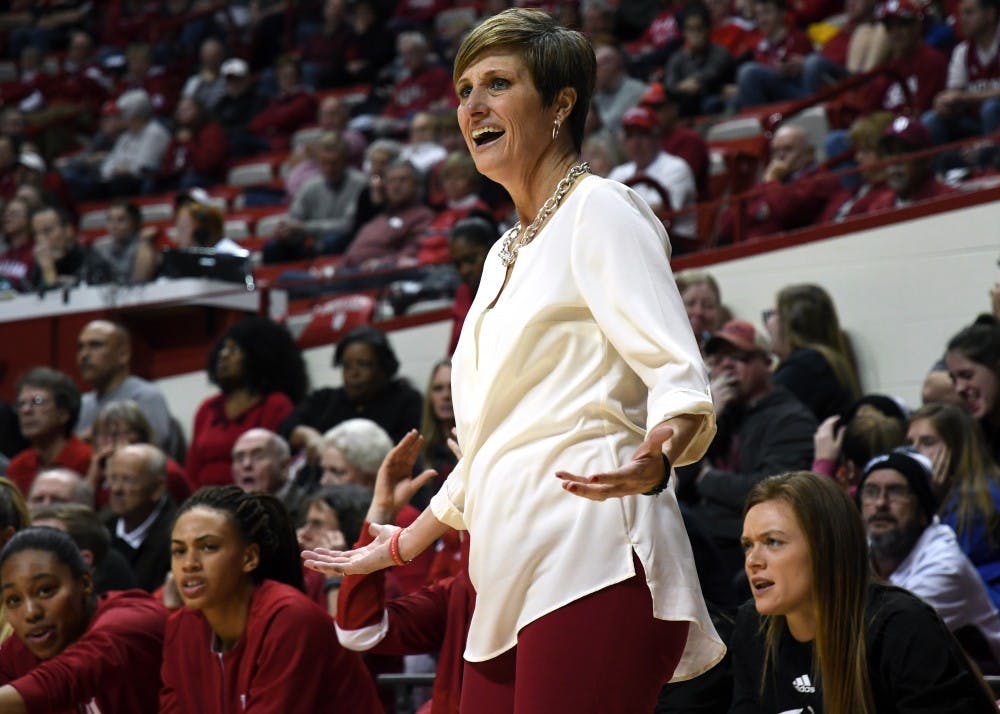 Before the start of the season, IU Coach Teri Moren wanted her team to play fast and up to this point, it has worked well.
The only problem was that the No. 4 Louisville Cardinals like to play that way, too.
The Cardinals finished with an average scoring possession of 15 seconds, half of the time allotted on the shot clock, in their 72-59 win against the Hoosiers on Thursday night at Simon Skjodt Assembly Hall.
Even after IU would make a basket during the game, Louisville would push the ball up the court and create fast-break opportunities to score quickly.
This led to problems on offense for IU as well.
"When you look at that first quarter and see that they shot 65 percent, it didn't seem like they missed a lot," Moren said. "You're able to get run outs when they miss, and you get the board and go. What they do is make baskets and slow down and that's the reason you didn't see as many runouts."
Even though the Cardinals used a full-court press against IU most of the time, Moren said she thought her team handled it well.
It wasn't the press that caused the 13 turnovers for IU in the first half, it was mainly the half-court offense of IU and the physicality of Louisville.
"We knew that this was going to be a physical game," senior guard Tyra Buss said. "One of the main things we wanted to do was take care of the ball."
The Hoosiers did take care of the ball in the second half with only three turnovers, but they began the half down nine points.
During most of the second half, IU was down by double-digit points, but there were stretches when the Hoosiers were able to cut the deficit back to nine and gain momentum.
At the 8:22 mark in the fourth quarter, Buss hit a 3-pointer to cut the Cardinal lead to seven, but that was the closest IU would get for the rest of the game.
"I think one of the big things was offensive rebounding," Buss said. "We couldn't keep them off the boards. We couldn't come up with the rebounds or the loose balls so when it comes down to it, we need to buckle down and box out to get those boards."
Buss finished with 12 points, her lowest point total so far this season. She said that Louisville did a good job on packing the lane and that prevented her from attacking the basket the way she usually does.
Buss didn't shoot any free throws in the game.
Although Buss struggled, the freshman guard duo of Jaelynn Penn and Bendu Yeaney continued its success.
Moren said that Yeaney was her defensive player of the game as she held Louisville junior guard Asia Durr to just nine points, 10 fewer than Durr's season average of 19.2 points.
Penn, born and raised in Louisville, Kentucky, took it to her hometown team with 17 points, five rebounds, three assists, two blocks and one steal.
"I've been practicing my shooting before and after practice to boost my confidence," Penn said. "I just go out there and do what I know I can do and be over-aggressive."
The loss dropped IU's record to 4-3 on the season with its next game coming at 2 p.m. Sunday at home against Auburn.
Moren said Thursday's game will help her team get ready for Auburn, but she said she hopes that just because the Tigers don't have a ranking next to their name, it won't affect the energy of the Hoosiers come Sunday.
"I loved our fight," Moren said. "I thought we played extremely hard for 40 minutes, and I'm just proud of how hard they played and fought. Every game is a learning opportunity and we are going to better come Sunday."
Like what you're reading? Support independent, award-winning college journalism on this site. Donate here.
Dunbar-Kruzan was inducted into the Monroe County Sports Hall of Fame on July 13.
---
The seven-time MLB all-star will serve as the Hoosiers' director of player development.
---
An official starting time will be released at a later date.
---
---
---