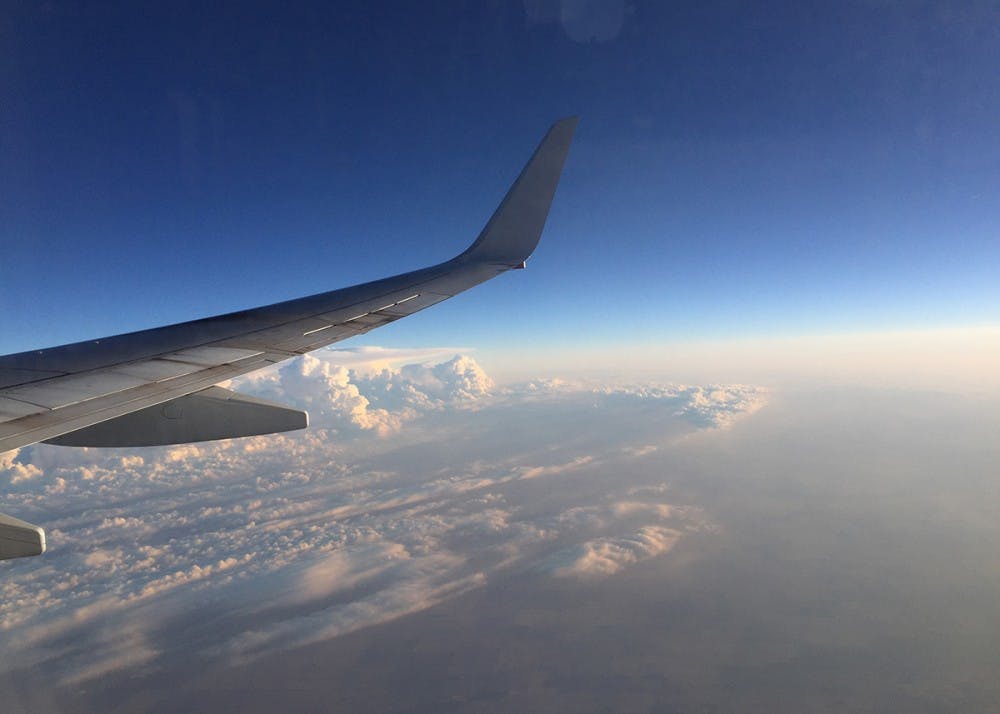 My travel itinerary for returning to the United States was forged in hell.
Figuratively speaking, after all I was one the who picked these flights five months ago. That was before I knew just how long 37 hours of airport travel time really was.
Those 37 hours were made almost unbearable by an almost 14-hour layover in Sydney, Australia. To put that in perspective, my flight from Sydney to Los Angeles only took 13 hours.
And the Sydney Airport, while a major hub, has ridiculously poor facilities if you're a cheap exchange student on a budget who doesn't want to book a hotel.
I was kicked out of the International Terminal at midnight and lost my precious power outlet. I, and maybe two dozen others, made our home in a small area by the train depot.
There were no vending machines or other services. Restaurants and cafes had closed by the time I landed. I also wasn't able to check into my flight until around 9 a.m.
My only entertainment was my charged phone, a book and a few guys playing guitar in the corner.
And that's where I waited until the terminal reopened at 3 a.m.
This gave me some time to reflect. In coming to Australia, I had the chance to report on the same-sex marriage survey and controversy that swept the nation during my time there. I learned slang terms like "tracky dacks," which still makes me laugh.
I was able to explore New Zealand and its history and politics.
Finally, I got to see and hear exactly how people from overseas feel about the United States. Much of that feeling is like the exasperated emotions for a cousin or older sibling who always seems to get him/herself into trouble. Mark Twain once said that travel was fatal to "prejudice, bigotry and narrow-mindedness," and after spending almost five months away from the U.S., I have to agree.
But none of that made the time spent waiting for my flights any easier.
My playlists felt stale after about five hours in Sydney, and my guitar heroes in the corner of the waiting area gave up their entertainment attempts after about an hour. And the ultimate indignity: the public Wi-Fi was so poor to be almost nonexistent.
By the time I got on the plane to Los Angeles, I was prepared to suffer anything to get out of Sydney.
How Sydney, Australia, maintained its 2017 SKYTRAX rating as the No. 23-ranked airport in the world, I do not know. In my experience, it did not even compare to the small but highly rated Indianapolis airport, which was the end of my journey.
The next two flights and 20 hours seemed to pass quickly, and the five separate movies I watched on the plane helped.
To skip ahead, when I finally landed in Indianapolis, I was ecstatic, if exhausted. I fell asleep almost immediately when I got home.
So to sum it up: flying itself is wonderful, and my time across the world in Australia and New Zealand was a great experience in gaining perspective, but I am glad to be back in Indiana.
Also, airports are pits, and if you have the money to find a hotel, a hostel or something, do it. Especially if you're spending more than 12 hours in Sydney.
Like what you're reading? Support independent, award-winning college journalism on this site. Donate here.
Bill Clinton and James Patterson team up for a fast-and-furious new thriller
---
Inward stoicism helps John William's protagonist survive a grim life.
---
There are many state and county fairs you can attend before the summer ends.
---
---
---