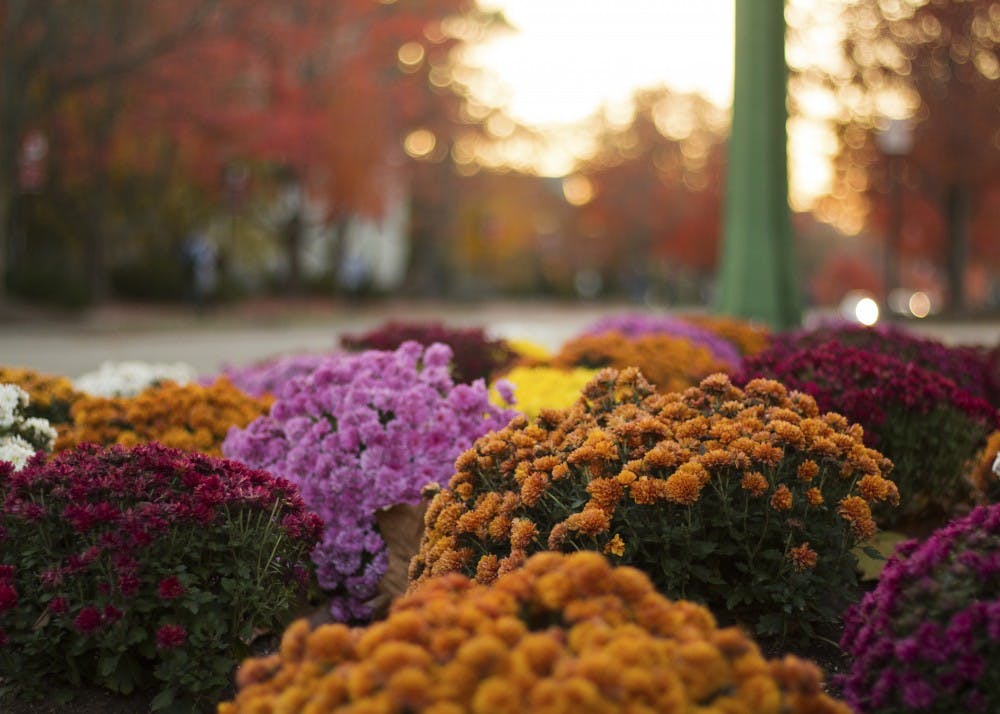 IU's Central Heating Plant, located on North Walnut Grove, will provide more than just heat for IU's buildings and water. In early summer 2018, green fertilizer will be collected from the building.
Stephen Glaholt, a professor and researcher in the School of Public and Environmental Affairs, and Mark Menefee, assistant director for utility services at the Central Heating Plant, are co-leading a project to turn greenhouse gases released from the central heating plant into fertilizer using algae.
This project is funded by a $50,000 grant from Duke Energy.
"We're really just taking photosynthesis and applying it in an artificial, human-induced way," Glaholt said.
Glaholt said the tool they are using to convert the gases into fertilizer is a photobioreactor, which is located outside of the heating plant. It is made from large transparent tubes containing algae and is connected to the Central Heating Plant by PVC pipe.
Glaholt said the photobioreactor will be built in spring 2018, and it will start producing fertilizer around the end of May.
The conversion of the heating plant's steam to fertilizer will reduce three greenhouse gases.
"We took a waste and made something from it," Glaholt said.
He said the water vapor is emitted from the Central Heating Plant as steam and gets condensed as water to fill up the tubes. He said the nitrogen and carbon dioxide released bubble in the water.
"For the algae, we needed water, nutrients and a carbon source," Glaholt said, adding the algae would get the light they need from the sun.
The algae absorb the carbon dioxide and nitrogen compound. This allows them to thrive in the tubes and replicate themselves, providing a buildup of algae.
From there, the researchers put the algae into a tank, pumping out some of the excess water. Landscape services will then put it in water wagons, barrel-like structures that administer the fertilizer, and apply it to the landscape.
"They will apply it just like they normally would," Glaholt said, adding that the same people will be administering it using the same machinery. "It should look a little green."
Mike Girvin, manager of landscape services, said the fertilizer will be used on select flower beds and grassy areas around campus before it is widely used. Landscape services currently use a combination of fertilizers for the grass and Miracle Gro for the flower beds, he said.
"Initially we will try it on test beds and test turfs to see how it reacts," Girvin said.
Using the fertilizer in IU's flower beds alone would save around $4,000 per year, Glaholt said. The only cost would be in handling and application.
Glaholt said the only concern is the smell of the new fertilizer because they don't know how it will react when placed on the landscape.
"Many say the smell is fruity," Glaholt said.
This project stands apart from other research collaborations because it is uncommon for faculty and utilities employees to work together as their jobs have different focuses, Glaholt said.
Glaholt said the Net Impact Group, a group of four students from the Kelley School of Business, worked with the researchers to find funding for their project. The Net Impact Group founded the Duke Energy Foundation. He said they submitted the proposal, and Duke Energy was excited about the project, offering them financial support.
He said it will initially take two weeks after turning the system on to produce fertilizer. After that, they will harvest every three days.
The organic algae will give the plants a jolt of nutrients quickly like Miracle Gro fertilizer would, Glaholt said, but the algae will continue giving the plants nutrients long term.
"Inorganic fertilizers give a boom and bust," Glaholt said, "Plants are starving at some point in the middle."
Girvin said this provides an opportunity for landscape services to try something new.
"We're constantly looking for more environmental ways to do our job," Girvin said.
Like what you're reading? Support independent, award-winning college journalism on this site. Donate here.
A male student asked to be excused from his class, then returned with two handguns.
---
Indiana Gov. Eric Holcomb is enroute back to Indianapolis from overseas.
---
One victim threw a rock hitting a suspect. Another suspect responded by firing a round from a shotgun.
---
---
---