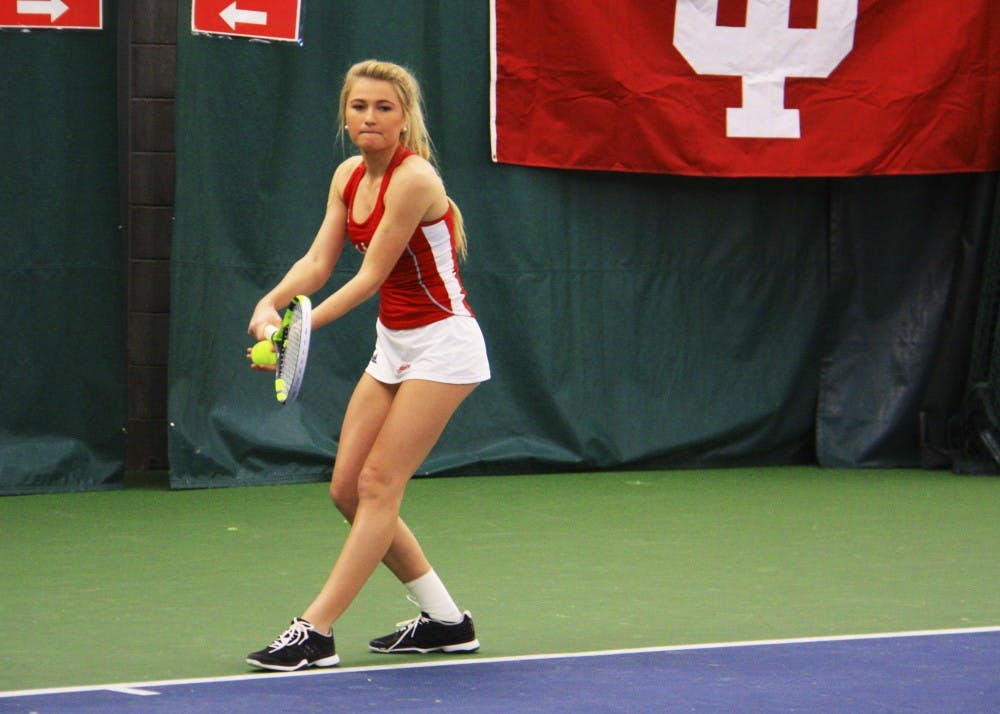 Unlike the start to the 2017 season last spring, IU women's tennis was able to immediately get outside this past weekend as part of the Hoosier Classic.
The Hoosiers opened the fall season at the IU Varsity Tennis Courts in Bloomington last Friday through Sunday. The weather cooperated and all three days of the tournament were played outside, making it easier for the matches to be played faster since there are more courts outdoors than inside the IU Tennis Center.
Cincinnati, Western Michigan, Eastern Michigan and Eastern Kentucky were the four teams that came to compete against the Hoosiers.
Junior Madison Appel, who was IU's No. 1 singles and doubles player last year, went 3-0 in singles play and 4-0 in doubles play.
"It's nice to get back into the competitive spirit," Appel said. "We want to be ready for January so it feels good to be out here grinding and playing some matches."
Appel's partner last year for doubles was Kim Schmider, who graduated. No doubles teams that played this weekend were official, but junior Natalie Whalen was the teammate that went 4-0 with Appel.
Whalen also went 3-0 in singles play and said it was exciting to get back into playing matches against other teams.
Last year, Whalen was only able to practice twice a week and couldn't compete in numerous matches due to injuries. She played all three days of the tournament this week.
"Not being able to practice a lot last year made my confidence go down pretty low," Whalen said. "So far this summer I've been working really hard and keeping up with the rehab. I feel a lot better and my confidence has steadily increased because I've been able to play more matches and practice more."
All ten players on the roster picked up wins in either singles or doubles.
IU Coach Ramiro Azcui said he saw a lot of potential this weekend from all of his players. Since it was only the first weekend after just three weeks of practice, the play wasn't going to be perfect.
"Tournaments like this just give us the information and feedback on what we need to improve," Azcui said. "We made a lot of careless mistakes. I like what we did in doubles and everyone responded pretty well."
Up next, the Hoosiers will compete in the Intercollegiate Tennis Association Regional on Oct. 12-16 in Murfreesboro, Tennessee.
Like what you're reading? Support independent, award-winning college journalism on this site. Donate here.
Sophomore guard Bendu Yeaney is serving the Bloomington community by making kids smile.
---
IU was the only school with three players on the training camp roster.
---
New Coach Jeff Mercer's first IU coaching staff was announced Wednesday.
---
---
---