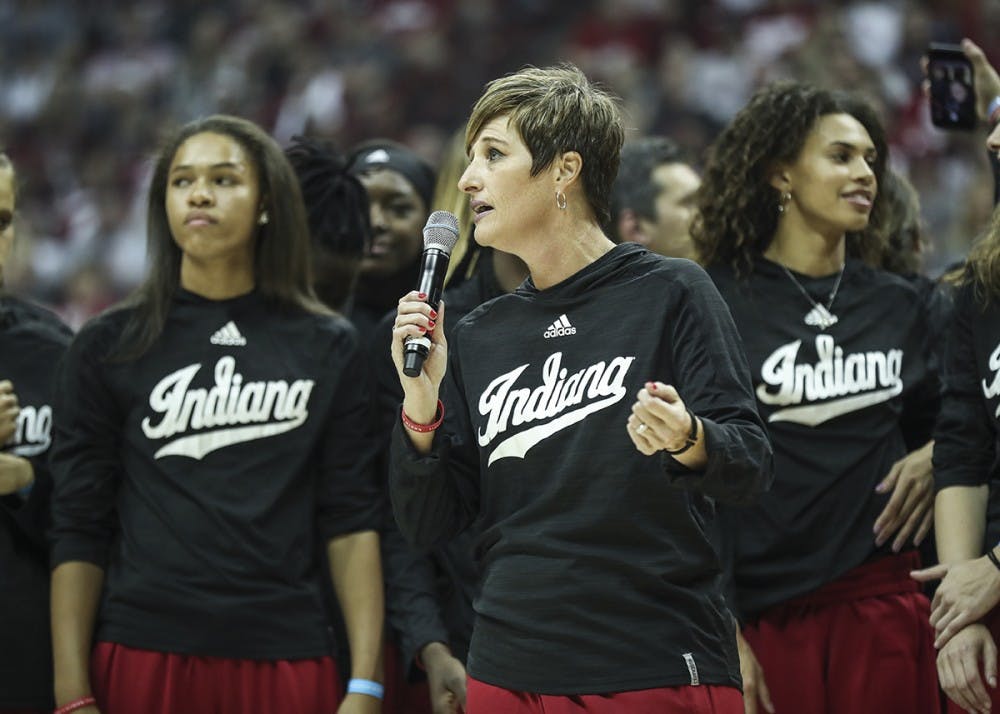 When official practice for the IU women's basketball team commenced in early October, it was nothing new for Coach Teri Moren and her players.
The drills were still demanding, sweat still poured from the exhausted players' faces and the coaches were still as intense as ever, but there was something different about the aura surrounding this year's team.
Perhaps it was the fact that starters from last season like Alexis Gassion and Jenn Anderson had graduated and weren't there practicing.
However, the different vibe was likely a result of all the new faces looking to step in as replacements for those now-departed seniors.
One thing is certain about the Hoosiers' roster this year. With only four returning players from last year's group, seniors Tyra Buss and Amanda Cahill, junior Kym Royster and sophomore Bre Wickware, the team's makeup will be much different than last year's.
The rest of IU's 12-player roster features five freshmen and two transfers who will sit out the 2017-18 season due to NCAA transfer rules. Because the Hoosiers have only 10 eligible players, the new freshmen will have to grow up quickly and contribute early.
"They're all going to have to play," Moren said. "It's just a matter of them all getting comfortable with what we're asking them to do."
There will be a lot of athleticism coming in with this freshman class. Moren said the team's offense strategy will be tailored to players' skill sets, which means keeping it basic, pushing the ball up the court and playing more freely.
Moren said a focus will be getting veterans like Buss and Cahill the shots they need.
"For some of these young players, the less thinking, the better off they are," Moren said. "We have to allow them to play freely. They're all tremendous athletes, but they all have different skill sets. We don't want to pigeonhole them to where they only have one thing they can do because they can do a lot of different things."
Of Moren's new players, the standout might be guard Jaelynn Penn from Louisville, Kentucky. She comes into Bloomington as the No. 39 recruit in the country and the first five-star recruit in program history.
Guards Bendu Yeaney and Keyanna Warthen both averaged more than 20 points per game as seniors in high school, while 6-foot-1 forward Alexis Johnson and 6-foot-3 center Linsey Marchese bring height and post presences.
With a thin roster, the freshmen will have to develop quickly to provide IU with depth and scoring options when Buss or Cahill are off the floor. The early practices in October will be time for them to get accustomed to their new roles, new teammates and Moren's system.
"Right now I'm just trying to learn and adjust to Coach's system," Penn said. "I think later on I'll get more comfortable with it and have a bigger role, but it's been good so far."
An offseason trip to Italy in which IU went 3-0 in exhibition games also served as an opportunity for the team to become comfortable both on and off the court.
"We had a lot of fun with the girls and bonded really well there," Penn said. "I think that trip helped us have some really good chemistry."
For Moren and her staff, the Italy trip wasn't just about team bonding. It was also an important first step in building a foundation to be ready for the first day of practice.
"We had a tremendous preseason," Moren said. "We're in great shape. We have a little bit of a foundation. We don't have the solid foundation yet, but we do have one that I think we can build off of each day."
After just three games overseas and a few practices under their belts, there are still a lot of uncertainties surrounding the Hoosiers. Starting spots are up for grabs, and freshmen and veterans alike are jockeying for them.
Moren said she is excited to see what comes next for her young team.
"I have a tremendous amount of optimism for this group," Moren said. "There are certainly challenges because we're not playing at the pace we practiced at last year yet. As far as our kids being interested, wanting to learn and being coachable is what excites me."
Like what you're reading? Support independent, award-winning college journalism on this site. Donate here.
Dunbar-Kruzan was inducted into the Monroe County Sports Hall of Fame on July 13.
---
The seven-time MLB all-star will serve as the Hoosiers' director of player development.
---
An official starting time will be released at a later date.
---
---
---