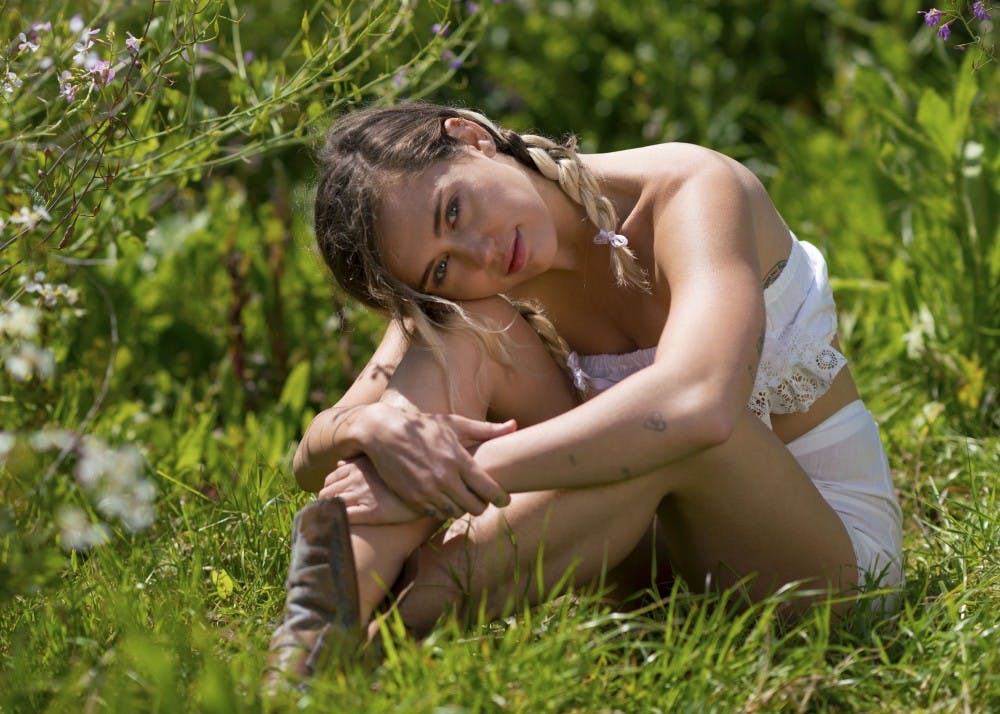 Miley Cyrus has gone back to her country roots with the release of her sixth album that is titled "Younger Now."
Cyrus has been in the media's eye since the release of the hit Disney Channel TV show, "Hannah Montana." In 2013, Cyrus released "Bangerz," the album that changed everyone's perception of her.
Suddenly, she was no longer wearing a blonde wig on TV with her dad. Instead, she rode around on inflatable hot dogs at concerts and twerked at the Video Music Awards.
"Younger Now" brings back Miley. Not Miley Cyrus, but Miley Stewart from Hannah Montana. This album is young, as the title says, and some of the songs sound like they could have been featured on Hannah Montana.
The album showcases her pop and country roots and features artists like her godmother, Dolly Parton. It is full of powerful songs about love and loss and showcases Cyrus' powerful and soothing vocals.
"Younger Now" opens with the line, "Feels like I just woke up/Like all this time I've been asleep."
The song is about the lack of regret Cyrus has for who she was in 2013 and touches on subjects like change and growth. Booming beats make their way through both this song and the entirety of the album.
The first single from the album "Younger Now" was the song "Malibu," which Cyrus released along with a very pure and fun music video. During the song's media prime, Cyrus was seen performing it dressed in all white, giving her fans the first glimpse at the "new" Miley.
"Malibu" sounds like a beachy love song, and although it gives a different vibe from the rest of the songs on "Younger Now," it fits well with her album.
Cyrus returning to her country roots may not be a surprise, but every song on the album sounding the same might be. A similar beat and guitar thread their way through nearly every single song, almost making the album sound like one long track.
Every so often, there is a break with a slower song, like "I Would Die For You," but then the same sounds pick back up with songs like "Bad Mood."
Perhaps the most out of place, "Bad Mood" sits at number eight on the 11-song album. It has generic guitar riffs, and more beats that the listener can tap their feet to. The powerful vocals mixed with the instruments give it a "Bangerz" feel.
The lyrics are just as generic as the guitar, and the song is great to zone out to. However, when zoning back in, listeners may find themselves pressing "next."
For most artists, it is difficult to nail every song on an album, and, while this was the case for Cyrus on "Younger Now," standouts like "Malibu," "Younger Now" and "A Week Without You" will end up as classics as the years go on.
For the playlist this week, I decided to go on the more pop side of Cyrus' new album. I added some Harry Styles, Demi Lovato and Lorde and kept the playlist light and fun.
I added my three favorite songs from "Younger Now" that, in my opinion, are some of Cyrus' best work. The playlist is only 45 minutes and is best suited for a pop-nostalgic mood. Listen to it here.
A previous version of this story referred to Cyrus' performance at the Grammy Awards. It should have said Video Music Awards.
Like what you're reading? Support independent, award-winning college journalism on this site. Donate here.
Brian Stack and Ryan Murphy are nominees for the Emmy Awards, which will take place in Los Angeles.
---
Beat the heat with these summer drinks.
---
Produced and hosted by Shayne Laughter, the podcast features Indiana-based literary journals.
---
---
---