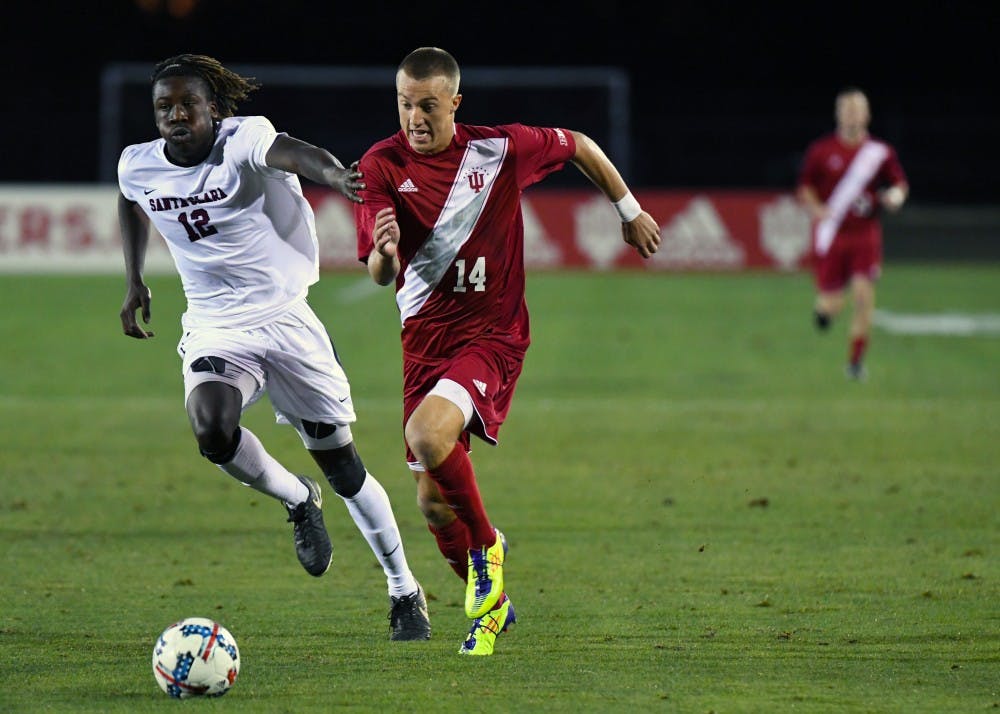 On the heels of a home win over Ohio State, eight Hoosiers were included on Top Drawer's midseason rankings and awards list.
Three Hoosiers were included in the Upperclassman Top-100 rankings, including senior Grant Lillard and junior defenders Timmy Mehl and Andrew Gutman. Lillard is ranked at the No. 3 spot in the list, while Mehl sits at 74 and Gutman at 82.
All three have gotten on the scoresheet this season, with Gutman putting five goals in the back of the net, which is enough to be the second-highest goal-scorer on the team so far. Mehl has three goals on the season, with two of them coming from set-piece free kicks. Lillard just recently nabbed his first goal of the season against Santa Clara in a 5-0 victory.
The trio of honored Hoosiers have been the backbone for IU's defense this season, which has posted a program-record eight straight clean sheets to this point and is arguably the best defense in the country.
It wasn't just the upperclassmen who were recognized by Top Drawer. The online soccer hub also listed its top 100 freshmen as well, which included five IU players who were a part of the No. 2-ranked recruiting class this past year.
The star-studded freshman class had three players listed in the top 25 of the rankings, including winger Griffin Dorsey at No. 3, striker Mason Toye at No. 12 and goalkeeper Trey Muse at No. 22. IU is the only school in the nation to have three freshmen ranked in the top-25 of this list as well.
Dorsey and Toye have combined for 10 goals on the season, with Dorsey adding five assists to his stat line as well. Muse has posted 12 clean sheets this season and has 35 saves through 14 games.
Two other Hoosiers were honored in the freshmen top 100 freshman list, and both of them have been the foundation for the strength of IU's bench this season.
Midfielder Spencer Glass, who scored his first career goal against Penn State, was listed in the No. 52 spot, while his teammate and attacker Thomas Warr sits at No. 57.
Michael Ramirez
Like what you're reading? Support independent, award-winning college journalism on this site. Donate here.
With Ian Thomas gone, the Hoosiers will have to select his replacement from a relatively inexperienced group.
---
The 29th-round draft pick will begin his professional career with the Cleveland Indians.
---
The U.S. Men's National Team will be watching this year's World Cup from home. Here are some popular bandwagons to jump on.
---
---
---