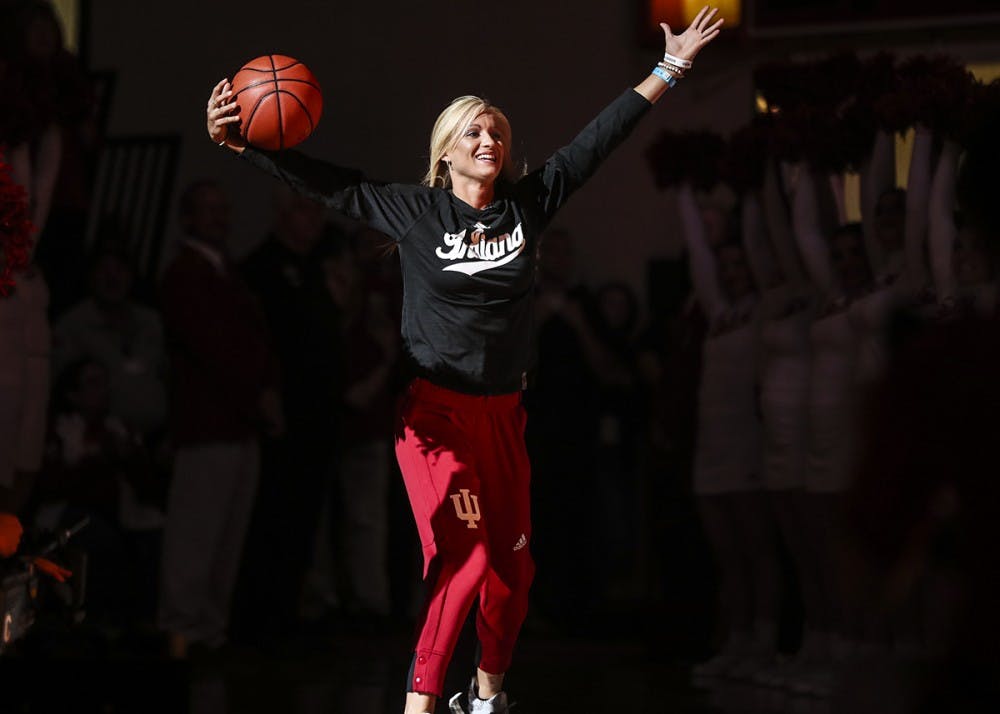 One might think senior guard Tyra Buss would want to go out with a bang in her last Hoosier Hysteria appearance at IU.
Instead, it was rather grounded.
When the IU women's basketball team was introduced player-by-player to kick off the night, Buss was the last one to be announced.
There were no hoverboards or back handsprings like Hoosier fans had grown accustomed to seeing from the guard in the past couple of years. There was just a little dancing to the tune of "Shut Up and Dance" by Walk the Moon and then she proceeded to join the rest of her team on the sidelines.
In fact, there wasn't nearly as much dancing or show from any of her teammates, compared to their male counterparts introduced shortly after them.
It was fitting that they followed Buss' lead, considering she and fellow senior Amanda Cahill will be called upon to be leaders on the very young IU team.
There are only four upperclassmen among the 10 eligible players on the roster, while the rest are just freshmen.
"The newcomers are really easy to lead," Buss said. "That makes our jobs a lot easier. We just tell them to calm down and have fun, and they've done nothing but that so far."
Buss wasn't the only one that was all business for IU.
Coach Teri Moren strolled out of the tunnel to Tom Petty's "Last Dance with Mary Jane" in reference to her Seymour, Indiana, roots. Her speech at center court wasn't just meant to hype up the crowd but to stress what she wanted and expected from her team this season.
"We've put together a really competitive nonconference schedule that's going to get us ready for Big Ten play," Moren said. "We've got a really young group, but we also have an all-conference guard and forward as well. I'm confident and optimistic."
However, even though the night was approached with an all-business mentality, the players were still able to enjoy themselves. Notre Dame transfer sophomore Ali Patberg, who will sit out the 2017-18 season, teamed up with men's basketball senior point guard Josh Newkirk to take down the duo of Buss and men's team senior guard Robert Johnson in the 3-point contest.
Meanwhile, the freshmen got their first real taste of the Indiana basketball experience.
The magnitude of the crowd came as a bit of a culture shock to the freshmen new to the college basketball scene.
"I have never been in a front of a crowd like that," freshman Alexis Johnson said. "We had heard from the coaches and the returning players that the atmosphere is amazing. You could just feel the energy."
The experience was also a bittersweet one for Buss and Cahill, who Moren said will go down as two of the greatest players in the history of the IU women's basketball program.
"Amanda and I were talking about how crazy it was that this was our last Hoosier Hysteria," Buss said. "This is the last time we are going to get introduced in front of this many fans. Hoosier Nation is just the best and it was good to see all the younger players experience that."
It may have been their last Hoosier Hysteria, but Moren said she believes there is much more to be accomplished by Buss and Cahill this year.
"I'd like to ask all of you to come out at some point and see this team play," Moren said in her mid-court speech. "I would also ask you to come out at some point and witness records be broken because that's going to happen."
Like what you're reading? Support independent, award-winning college journalism on this site. Donate here.
With Ian Thomas gone, the Hoosiers will have to select his replacement from a relatively inexperienced group.
---
The 29th-round draft pick will begin his professional career with the Cleveland Indians.
---
The U.S. Men's National Team will be watching this year's World Cup from home. Here are some popular bandwagons to jump on.
---
---
---