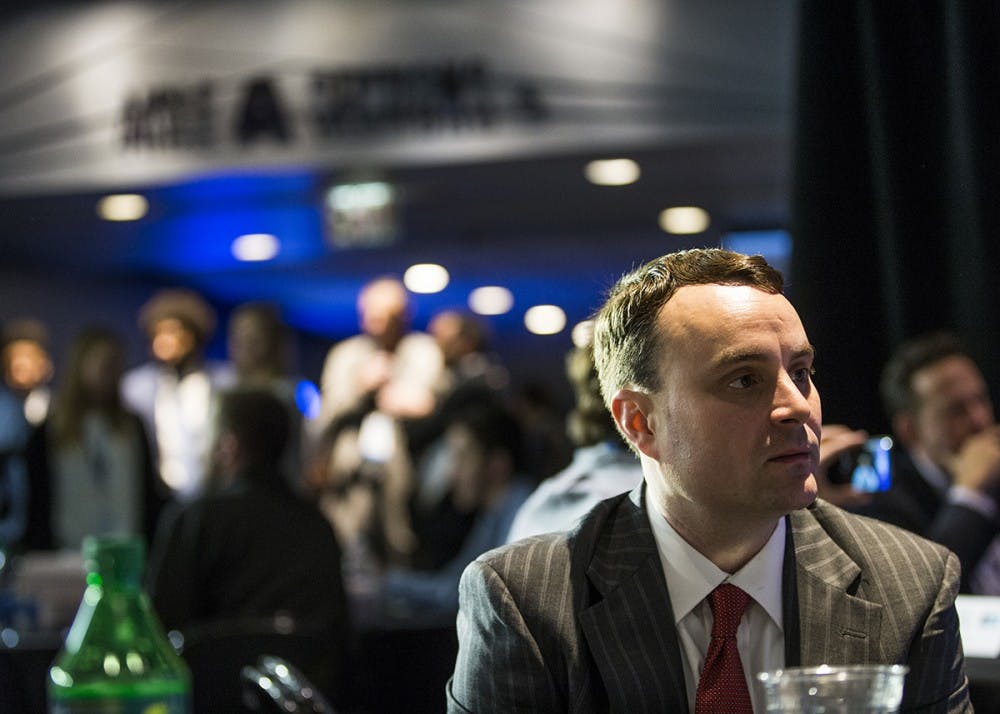 NEW YORK – Beginning next season, men's basketball teams in the Big Ten will play 20 conference games each year, the conference announced Thursday.
This shift in schedule format, starting with the 2018-19 season, means each team in the Big Ten will play seven conference opponents twice per season and six opponents once. Big Ten teams currently play 18 conference games each season.
Big Ten women's basketball teams, which are on a 16-game conference schedule, will move to 18 Big Ten games starting next year.
"We needed to control the number of quality games," Big Ten Commissioner Jim Delany said. "We felt we could add quality games in basketball."
The conference also announced that IU and Purdue will be one of three in-state rivalries guaranteed to play each other twice each season. This season, IU and Purdue are scheduled to play just once, Jan. 28 in Bloomington, for the second time in three seasons.
IU Coach Archie Miller said he spoke with Matt Painter, his counterpart at Purdue, in the spring about the importance of the rivalry. Miller said Painter emphasized how much each school benefits from the exposure and competition when playing each other.
"As I got the chance to kind of figure it out myself and look at our administration and their feelings, it's a great thing for the Big Ten," Miller said. "As we get started, to be able to be on the forefront a couple of times a year is unbelievable for the state."
According to a release from the Big Ten, there will also be a "regional component" to scheduling that increases the frequency of games played between teams in similar geographic areas.
Delany said a factor of adding two more conference games was the success the Big Ten has experienced since the league moved from eight to nine conference games in football each season. The quality of schedules for Big Ten football teams has risen as a whole, Delany said, and he expects the same for basketball.
"Albeit, we will lose two nonconference games, but we think in general people respond more to the conference games than the nonconference," Delany said.
To accommodate the change in conference schedules, Delany said that conference games will begin in December, similar to the structure of this year's schedule.
Delany said spreading the conference games out will be an experimental process but said he felt it will improve the overall presentation of Big Ten basketball.
"We just thought playing against each other more was good, and good for the Big Ten and for college basketball in general," Delany said.
Like what you're reading? Support independent, award-winning college journalism on this site. Donate here.
The Hoosiers had nine 2019 recruits make verbal commitments in five days.
---
With Ian Thomas gone, the Hoosiers will have to select his replacement from a relatively inexperienced group.
---
The 29th-round draft pick will begin his professional career with the Cleveland Indians.
---
---
---