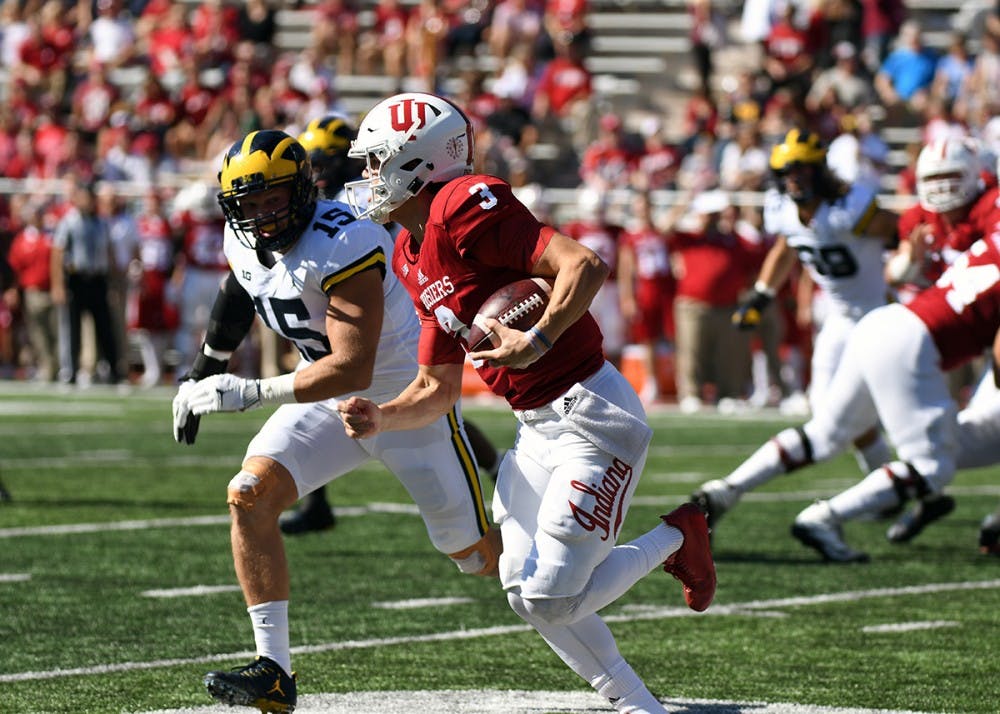 Tom Allen's right palm struck the podium.
The IU coach punctuated the end of his postgame press conference with a dramatic gesture, one that symbolized both his anguish and pride at the events that had just unfolded.
IU's 27-20 overtime loss to No. 17 Michigan was an emotional affair.
Multiple moments during the game saw Allen leap for joy on the IU sideline, only to chuck his headset onto the Memorial Stadium turf in anger moments later.
He watched as IU had an interception and a successful onside kick recovery called back due to a penalty and an out-of-bounds call.
"I understand how this all works," Allen said. "We have to earn the right to get those breaks, period."
But despite those calls, IU was still in the game following a sluggish start.
The run game on offense wasn't working. Freshman running back Morgan Ellison found little success against Michigan's three-three formation.
The run game on defense wasn't finding success either. Michigan junior running back Karan Higdon terrorized the IU defense, extending the Wolverine lead to 13-0 with a 12-yard rushing touchdown early in the second quarter.
"I thought we shut the run down for parts of the game," senior safety Chase Dutra said. "We got to do it throughout the entire game."
Higdon would finish the game with 200 yards rushing and three touchdowns.
IU freshman quarterback Peyton Ramsey had difficulties in his first Big Ten start. Pressure from Michigan's defensive linemen and linebackers forced Ramsey into hurried and inaccurate throws.
Ramsey had to leave the game for a few plays in the second quarter after he was sandwiched by a pair of Michigan defenders. Trainers fitted his left knee with a brace as senior Richard Lagow took over under center.
All of this contributed to IU's first-half woes. The Hoosiers had just two first-half drives that lasted longer than five plays.
The first came in the first quarter and saw senior kicker Griffin Oakes have a 51-yard field goal blocked. The second came late in the second quarter, as Oakes was able to convert from 32 yards out to trim the Michigan lead to 13-3 at halftime.
The second half saw the IU offense at both its best and its worst.
IU's first possession in the third quarter was an efficient six-play touchdown drive. A 31-yard run by Ellison put IU deep in Michigan territory, before the freshman capped the drive with an eight-yard scoring run.
"They (the coaches) just said 'be patient,'" Ellison said. "'Just trust it. Keep going. Keep going. Keep going.'"
IU then went three-and-out on its next five drives. Then, Ramsey threw an interception.
All the while, IU's defense kept the game close. Four of Michigan's first five second-half drives were three-and-outs.
An explosive 59-yard touchdown run from Higdon early in the fourth quarter made it a 20-10 game.
After IU's next two drives ended in a punt and an interception, it looked like time had run out for the Hoosiers.
But when junior wide receiver J-Shun Harris returned a punt to the Michigan 20-yard line with four minutes left, hope was renewed. Less than a minute later, the deficit was down to three after freshman wide receiver Whop Philyor caught his first touchdown pass from eight yards out.
Allen elected to gamble on the ensuing kickoff. Oakes hammered an onside kick attempt into the turf, seeing the ball bounce up and over a Michigan defender and into the arms of junior wide receiver Simmie Cobbs Jr.
Memorial Stadium exploded in celebration.
The screams of joy turned into chants of frustration after officials ruled, then confirmed through video replay, that Cobbs did not complete the catch of the football in-bounds.
"He had a foot in-bounds with the ball and he had it controlled," Allen said. "So they didn't see it that way."
Instead having the football and more than three minutes to erase the deficit, IU only had 65 seconds when it got the ball back.
It was just enough time. Ramsey led the IU offense from its own 35 to the Michigan 28-yard line, setting the stage for Oakes to try and tie the game.
From 46 yards away, Oakes sent the ball through the uprights as time expired to force overtime.
"I would have traded that field goal for a touchdown every day of the week," Oakes said.
For a game with twists and turns around every corner in the second half, the ending came abruptly.
Higdon scored his third touchdown of the game on a 25-yard run on Michigan's first play of overtime.
IU reached the one-yard line on its overtime possession, but no closer. The Hoosiers lost yardage on two plays and Ramsey threw an incompletion to set up fourth and goal from the three-yard line.
Ramsey took the snap on fourth down, ran to his left and encountered a swarm of Michigan defenders.
His hopeful lob into the end zone was intercepted, bringing IU's upset hopes to an end.
"Life isn't always about getting everything you want," Allen said. "My heart breaks for these guys, because they have worked so hard and they believe so much, and they deserve the opportunity to come out with a win. And that's why I hurt for them."
Like what you're reading? Support independent, award-winning college journalism on this site. Donate here.
The Hoosiers lost, 1-0, on Wednesday night.
---
There will be a number of exciting sporting events in Bloomington this fall.
---
IU volleyball's message of "The New IU" will start in the same old stadium.
---
---
---