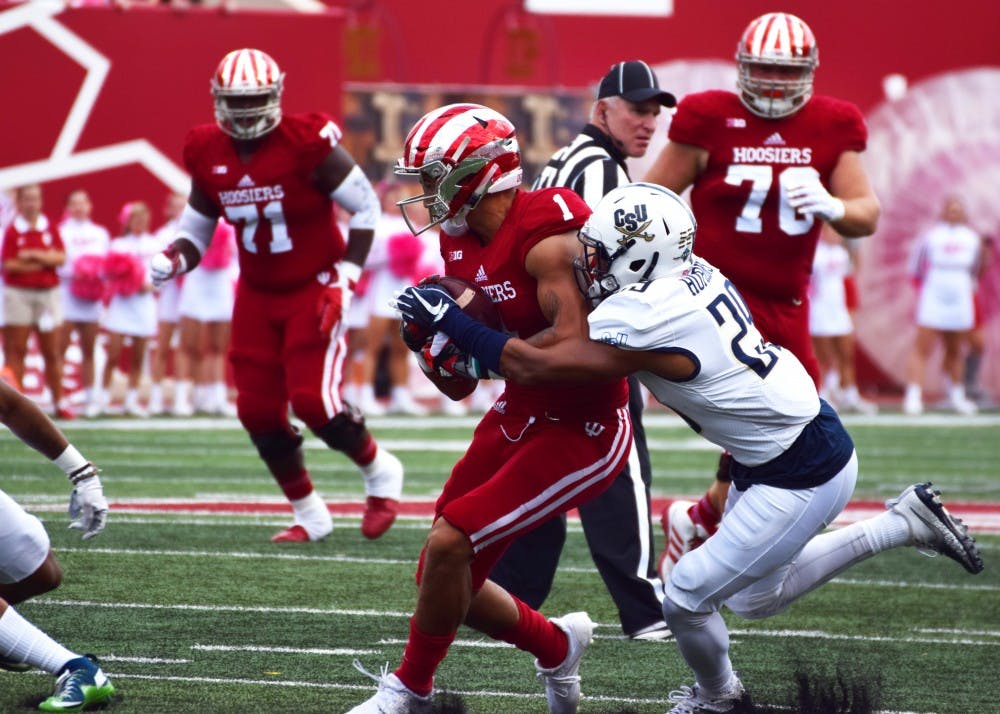 The rain came down in buckets at Memorial Stadium on Saturday.
With the rain, the first five games of IU's season were washed away.
In defeating FCS opponent Charleston Southern 27-0, IU has a clean slate heading into seven consecutive Big Ten games to finish the season.
So far this season, IU has done its job, winning the games it was supposed to win and losing the games it was supposed to lose. Nothing more, nothing less.
Five games into the season, we still don't know what this team is.
The Hoosiers looked like the inferior team against Ohio State and Penn State. That's no fault of their own —those teams are in the running for the Big Ten Championship. The outcomes of those games were expected, as those two games will be the toughest IU plays all season.
On the other hand, beating Charleston Southern, Georgia Southern and Virginia are exactly what they needed to do in nonconference play. Leaving no doubt against teams like Charleston Southern and Georgia Southern was even better.
Winning in college football isn't easy, especially in games against lesser opponents. Executing in those games isn't a given, but IU did. That hasn't always been the case with this program, and there is something to be said about taking care of business.
"But, just always want to take every win and enjoy it and realize that it takes a lot of work to get those," IU Coach Tom Allen said. "It was a team we were supposed to beat and we did."
The Hoosiers looked like a completely superior team Saturday against Charleston Southern as IU notched its first shutout since 1993.
"Shutout was our number one goal," junior defensive lineman Jacob Robinson said. "We talked a lot this week about dominating. That was our one word: dominate. The shutout was huge."
IU's defense was dominant. The Hoosiers didn't give up a single completion and only allowed the Buccaneers six first downs. It was exactly what the unit needed to do against an overmatched opponent.
Charleston Southern never once entered the red zone and the farthest it drove was IU's 31-yard line.
In his first career start, freshman quarterback Peyton Ramsey had an efficient day as he went 32-41 for 321 yards.
"Our schedule gets really tough. Big Ten play is not easy," Ramsey said. "I think it was good to play a team like Charleston Southern, not taking anything away from them, it was good to try some things and get one under my belt."
This wasn't the type of win that boosts IU's national profile, but it helps them gain confidence, especially with a new quarterback.
The defense did exactly what it had to do, while Ramsey showed why he can be successful as IU's starting quarterback.
The table is set for the rest of the season for the Hoosiers.
In winning all three nonconference games, IU has put itself in great position to get to its third straight bowl game. To get there, IU has to find a way to win games against Michigan State, Maryland and Purdue, teams that are on or around IU's talent level.
The easy victories have come and gone. Now, things get significantly more difficult for the Hoosiers.
aphussey@indiana.edu
@thehussnetwork
Like what you're reading? Support independent, award-winning college journalism on this site. Donate here.
A position change, a transfer and three medical non-qualifiers were announced Thursday.
---
3 high school players signed their National Letters of Intent on Wednesday.
---
Five IU seniors saw action in bowl games across the country.
---
---
---