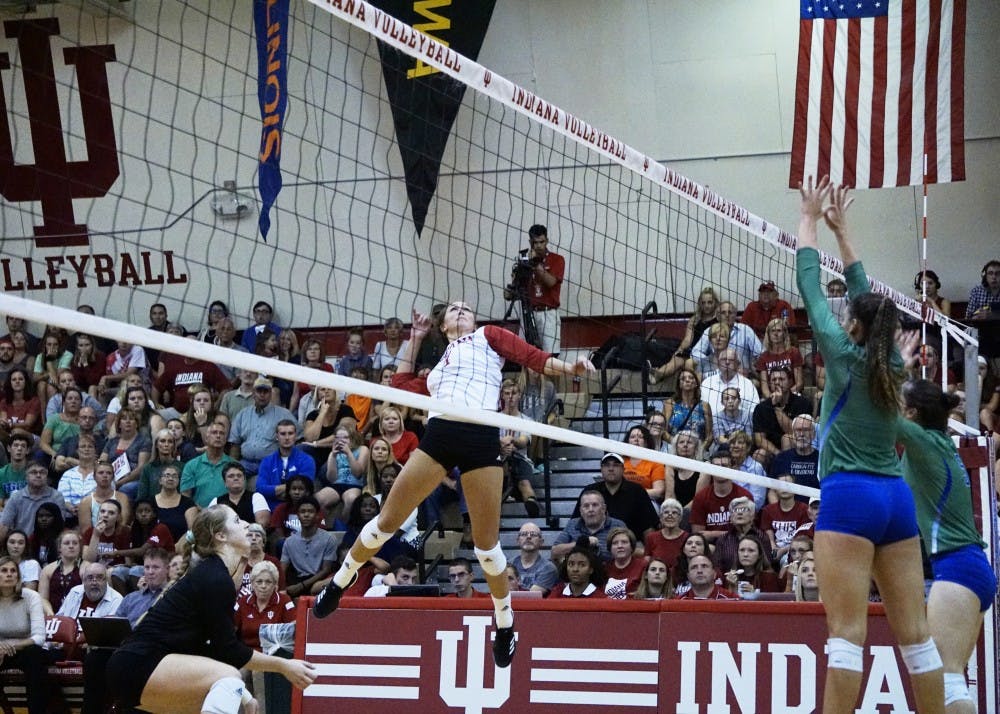 Christmas and birthdays are occasions every kid looks forward to. Children commonly ask their parents and Santa Claus for new toys, except for IU volleyball senior Jessica Leish.
As a kid, Leish would ask her parents to pay for extra training so she could improve her volleyball skills.
Needless to say, the training paid off, as Leish is currently playing in her fourth and final year for IU.
Even though volleyball is her passion now, it took Leish a while to figure out it was the sport she wanted to stick with.
As a kid, Leish tried a number of different sports such as lacrosse, basketball, soccer, softball, swimming, volleyball and gymnastics.
It was originally gymnastics Leish had an interest in. That was until she hit her growth spurt. As her father Jim Leish put it, she would do a tumble and a minute later, her legs would come around.
Standing at six feet one inch, her sports options were limited to either basketball or volleyball. Leish chose volleyball, much to the pleasure of IU Coach Sherry Dunbar-Kruzan.
"Jess is the most positive person you're going to meet," Dunbar-Kruzan said. "She has a great work ethic, and she has put in the work to be good."
Leish was born in Canada, but Leish and her family relocated to Cincinnati when she was four years old. It was there where Leish established herself as a dominate high school player.
At Wyoming High School in Cincinnati, she helped lead her team to sectional and district championships during each of her four years. She was named a First Team All-State selection her junior and senior seasons, and she still holds her high school's record for most career kills with 867.
Leish said she doesn't think she would've gotten into volleyball if her family stayed in Canada.
Each season here at IU, Leish has increased her number of kills, already setting a season high this year with 98 kills.
With all the time and success she has had on the court in the past three and a half years, Leish is no slouch off the court either.
A finance major, Leish interned at Procter & Gamble this past summer in Cincinnati. It may sound nice that she got to intern in her hometown, except that Cincinnati is no longer Leish's home.
Duirng her freshman year of college, her family moved back to Canada. Her parents told her she didn't have to play in college, but Leish was too in love with the game and the IU program to leave.
"It was kind of shock because I was planning on being able to drive two hours and go home on a weekend if I wanted to," Leish said. "Now, I'm ten hours away, but I'm thankful with how helpful and supportive my parents have been."
Procter & Gamble is the same company Leish's dad has been working at for 33 years. It wasn't her dad that got her the opportunity, though. Leish did that part all on her own.
She was sent an email by the IU career center offering her the position, and she went through the difficult process, which included a round of testing and an interview, followed by a second round of testing.
Leish jokes with Associate Head Coach Paul Koncir about how she "adulted" this past summer. Leish did so well that she was offered an opportunity to return there after she graduates.
As far as accepting that position, Leish wants to explore her other options first before making a full-time commitment but said working at a company like Procter & Gamble is definitely something she wants to do.
Meanwhile, she is trying to help the team turn around their season after a shaky first half of conference play.
Four years ago, Leish was the only freshman on the team. Now she stands alone as the only senior on a young team.
"I'm trying to do as much as I can while I'm here," Leish said. "I want to leave a legacy and help the kids for next year."
Not only is she someone her younger teammates look up to but also someone the younger kids in the community look up to.
Every now and then Leish will volunteer at the Boys and Girls Club here in Bloomington.
"It's so refreshing to go there and hang out with the kids," Leish said. "A lot of them are IU athletic fans, so it's nice to bond with them over sports and to just hear about their day and their experiences. Kids just say the funniest things and have a really cool outlook on life."
After each home match, fans have 15 minutes to come onto the court and meet some of their favorite IU volleyball players. Leish knows those kids are watching how they react on the floor and is very self-aware of how she presents herself on the court. This is something her mom Carole saw from her in high school.
"She recognized in high school that the younger kids in the school system would look up to them," Carole said. "I think she looks ahead and knows she can set examples for not only the younger kids, but her teammates as well."
Leish is guaranteed ten more games in her volleyball career, and after that, just five months remain until she graduates. Although Leish might not be asking her parents for extra training for her birthday and Christmas presents anymore, she couldn't have asked for better memories than the ones she has had in her four years with the volleyball program.
"I have made the best of friends that I could ask for and it's going to be really hard leaving that," Leish said. "This has been some of the best four years of my life. Like I said, being able to play volleyball all day and take a few classes, who wouldn't want to do that?"
Like what you're reading? Support independent, award-winning college journalism on this site. Donate here.
IU has no kickers on its roster who have attempted a collegiate field goal.
---
IU's lone goal against Xavier came via freshman midfielder Joe Schmidt.
---
Senior Lilly King and former IU swimmer Zane Grothe led the way for the Hoosiers, each winning three medals.
---
---
---