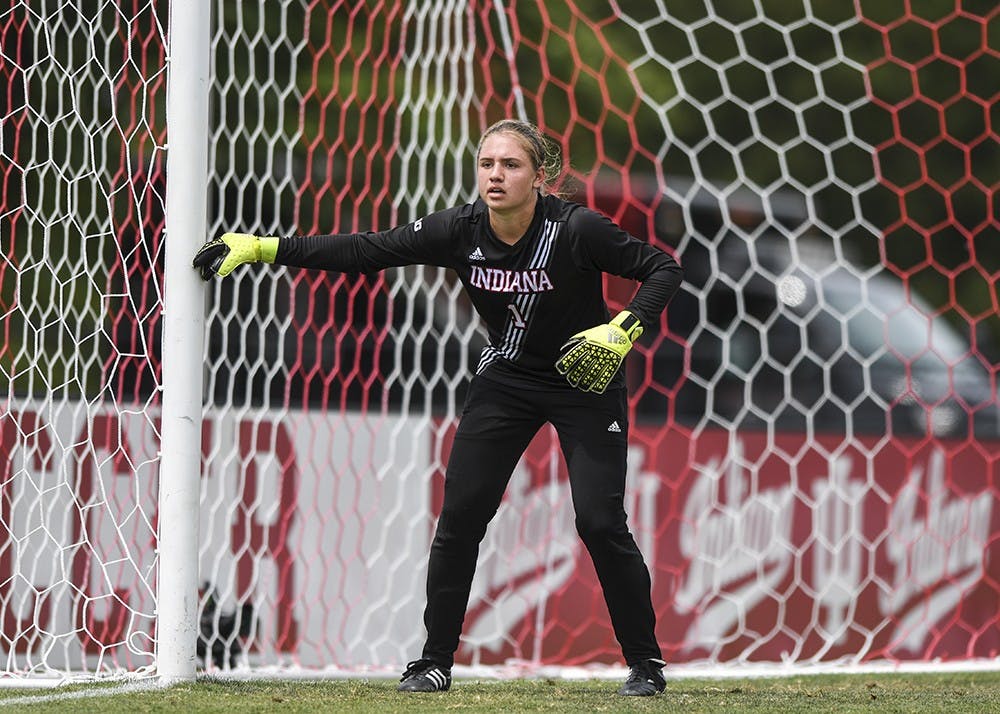 Freshman Bethany Kopel has been on a mission since she was 8 years old. She was forced to be the starting goalkeeper for her youth soccer team because no one else knew how to catch a ball.
Even though it was 10 years ago, she still gets excited talking about it. It was the first time she played goalkeeper, and from there, she picked up the position full-time at age 12.
"I prefer playing defense," Kopel said. "But every time that I was put on the field when I was younger, they'd throw me at forward because I'm not that great at defending people. But for some reason I'm actually good at shooting, too."
It's rare to see freshmen start for their varsity high school team, but Kopel was granted the opportunity to start at goalkeeper for Novi High School in Novi, Michigan, from day one. She didn't waste her opportunity, as she posted a record of 14-4-2 and recorded nine career shutouts for her career as a Wildcat.
According to the NCAA website, only 2.4 percent of high school girls soccer players will participate at the Division I level. Kopel made sure that she was a part of that percentage when she signed with IU on Oct. 18, 2016, as the first signee of the Hoosiers 2017 recruiting class.
With her letter of intent came a sacrifice. Kopel decided to enroll early in the spring at IU to begin working to earn a starting position.
She was forced to miss normal senior-year high school traditions like prom, but as a result she had more time to adjust to college life before her first soccer season as a Hoosier.
"Bethany has been huge for us, but a lot of it is to her credit," IU Coach Amy Berbary said. "She came here early. She made a sacrifice to graduate early. She took this past summer and used every moment to get herself prepared for a chance to win the starting spot and credit to her that she did."
Coming into the spring, Kopel knew she had to compete for her spot and prove her worth, but she was confident that if she worked hard enough, she would earn a starting position.
On Aug. 18, Kopel was given the nod to be the goalkeeper against Cal Poly, and in her first collegiate match, and she earned the win as IU defeated the Mustangs 3-1.
"I was surprised that I was starting at first, but I knew that I just needed to focus for the game," Kopel said. "I already played a couple games through the spring, so I knew that it wasn't going to be much of a difference."
After the first game, IU knew it had its goalkeeper of the future. Sergio Gonzalez, associate head coach and goalkeeper coach, said he has already begun to recognize how special Kopel is.
Calmness and preparation gave her opportunities to succeed early on, he said.
"If games are tight or if teams are putting us under a lot of pressure, she remains calm and is able to organize the players in front of her, which I think gives them a sense of calmness, and I think it just helps the team from top to bottom," Gonzalez said.
Kopel has been quick to make a name for herself as one of two freshman starting goalkeepers in the Big Ten. She currently sits at third in the conference with 51 saves and is tied for sixth in the Big Ten in total shutouts with four.
Her first career shutout couldn't have come at a better time. In her first trip back to her home state of Michigan as a Hoosier, she recorded three saves to help secure a 4-0 victory at Western Michigan.
Kopel went on to record three more shutouts in five games, which included a shutout of then-No. 23 Southern Methodist University and IU's first conference game against Michigan State.
"She's playing like you'd never know that she was a freshman back there," Berbary said. "She has the confidence, she has such a presence and such a good voice, and our backline has confidence, really our whole team has confidence in her. I really can't say enough about her, and she continues to get better every week."
Kopel will have her hands full going forward with the remaining Big Ten schedule with the likes of Rutgers, Wisconsin and Nebraska all coming up.
If IU hopes to fight for one of the eight spots in the Big Ten Tournament, Kopel will play a major part in it.
"I think it's in her hands," Berbary said. "She has all the resources at her fingertips, and as she continues to work, she says that she's on a mission and that she's taking everyone with her. She said that at the beginning of the year, and I think that she's really embraced that statement."
Like what you're reading? Support independent, award-winning college journalism on this site. Donate here.
Dunbar-Kruzan was inducted into the Monroe County Sports Hall of Fame on July 13.
---
The seven-time MLB all-star will serve as the Hoosiers' director of player development.
---
An official starting time will be released at a later date.
---
---
---