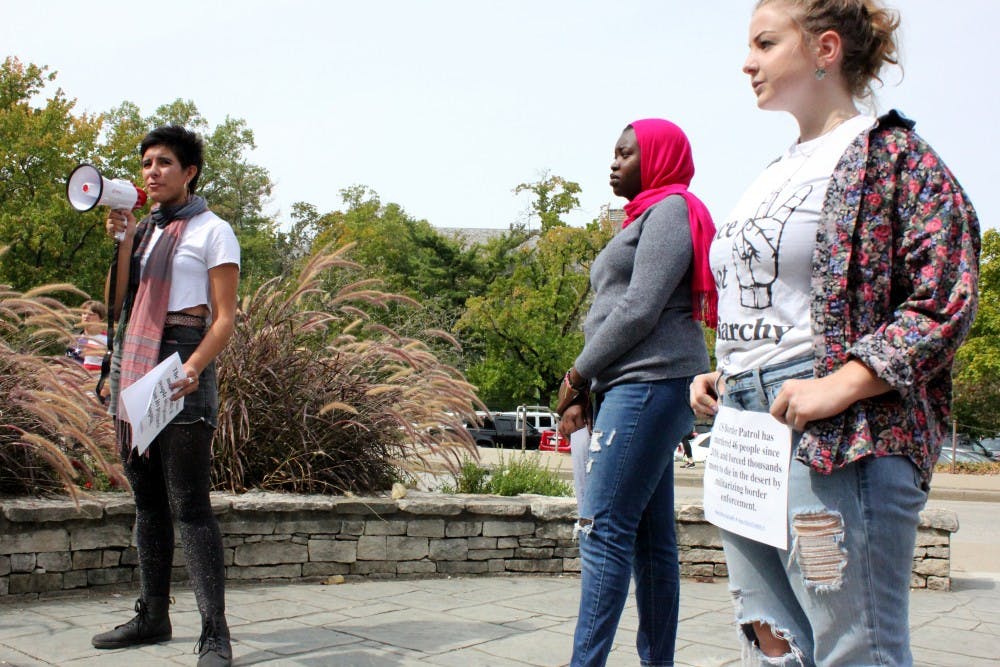 A maze of bodies strewn across the sidewalk Monday outside Woodburn Hall could be seen as students made their way to class.
Some stepped gingerly over them. Others weaved through, looking down from time to time to read a statistic taped to the body's back.
One sign said 75,000 undocumented people were in Houston for Hurricane Harvey and many felt unable to go to shelters because they feared deportation.
UndocuHoosiers Bloomington, a student activist group, organized a Die-In outside to highlight the xenophobia Muslims faced after 9/11 and how this xenophobia still affects them today. Demonstrators laid down with various xenophobia-related statistics taped to their backs, pretending to be dead.
"Get people talking on a day that is politically charged," said Willy Palomo, event organizer and current fundraising chair for UndocuHoosiers.
In the weeks following 9/11 in 2001, the Indiana Daily Student published nine different articles voicing concern for the safety of Muslim students at IU.
Sixteen years later, students are still concerned for their safety on campus and are speaking up about it.
Demonstrator Jennifer Brooks, who is an IU employee, said that she was going to the event to protest recent treatment of immigrants.
"Immigrant bashing is popular right now, and it's wrong, and I stand with all immigrants, whether they are documented or not," she said.
The event began with chanting demonstrators before a speech by junior Esmeralda Martinez, president of UndocuHoosiers.
Martinez began by putting the demonstration in context of 9/11, speaking of respect for the victims of 9/11 but also asking listeners not to forget the people affected by the xenophobia which came as a result of the tragedy.
"We can be the people, we will be the people," Martinez said. "Now, I ask you to die."
At her request, students fell to the ground.
The event remained small and peaceful. Some walking by snapped photos and videos of the demonstrations, took pamphlets from demonstrators, and occasionally stopped to listen to the speakers. No one heckled or otherwise antagonized them.
"By blocking the pass, it makes it so people notice them," onlooker and sophomore Brendan Moore said. "It's important because the repeal of DACA is going to affect a lot of people negatively."
While they demonstrators layed silently on the ground, Palomo read a poem by Martin Espada, "Alabanza: In Praise of Local 100," which means praise in Spanish.
It's about the 43 employees who worked at the Windows on the World restaurant on the 106th and 107th floors of the north tower at the World Trade Center, who lost their lives the day of the terror attacks.
"Praise the dish-dog, the dishwasher
who worked that morning because another dishwasher
could not stop coughing, or because he needed overtime
to pile the sacks of rice and beans for a family
floating away on some Caribbean island plagued by frogs.
Alabanza. Praise the waitress who heard the radio in the kitchen
and sang to herself about a man gone. Alabanza."
Like what you're reading? Support independent, award-winning college journalism on this site. Donate here.
---
---