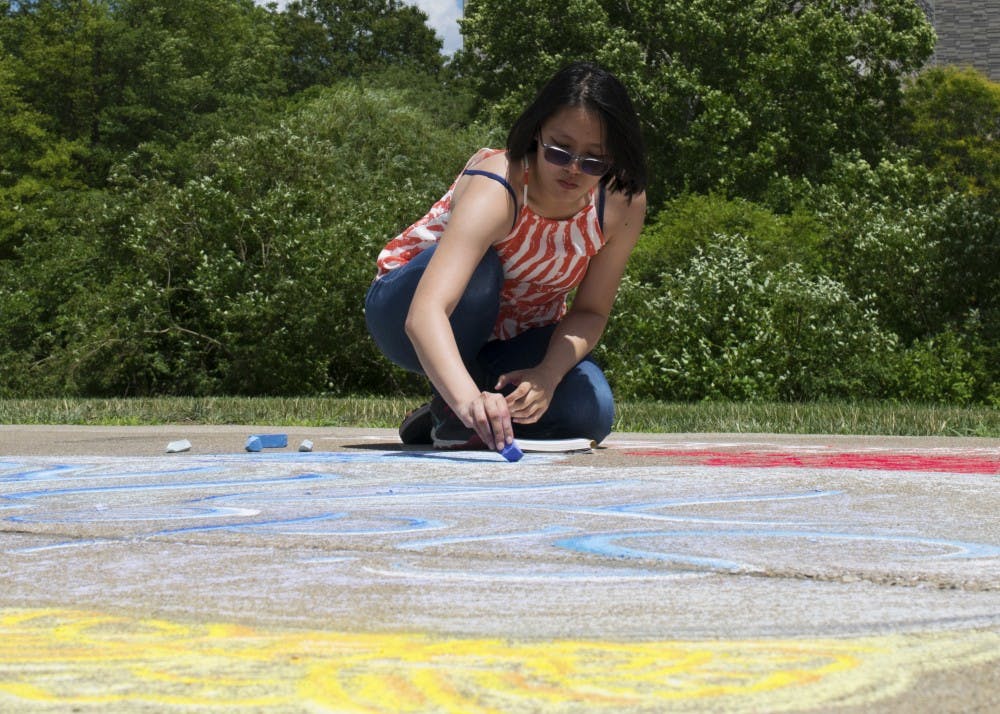 When junior Paulina Wijaya was little, she would draw on napkins and plates with soy sauce when her family went to dinner. Now, she is using her artistic abilities to create conversation about diversity.
Wijaya is the coordinator of a new project, Sidewalk Talks, as a part of this semester's Themester. The Themester theme is "Diversity, Difference, Otherness." Using chalk to create interactive murals, Wijaya said she hopes to provoke conversation on topics that would otherwise remain untouched.
Sociology professor Jane McLeod, head of the Themester advisory committee, said she wants students like Wijaya to use their own mediums to create conversation about diversity.
"Maintaining a willingness to learn from people and ideas different from our own seems especially challenging, and especially important, in the current social and political climate," McLeod said.
Using her chalk, Wijaya created Sidewalk Talks because of the to the popularity of chalk writings on IU sidewalks.
"We see a lot of chalk on campus, but it doesn't usually mean much," she said. "It's just advertising. Usually, the chalk is persuading you to go somewhere, but I want to cut out the middle man and have the interaction right there."
Wijaya has already finished two murals on campus, although she said they have been washed away by rain.
The first mural was a self-portrait that Wijaya divided up into equal sections, drawn outside Woodburn Hall. While she drew the outline, she invited others to color in the drawing however they liked.
At first, Wijaya said that students passing by were too timid to contribute to the mural, afraid that their artwork would not be good enough.
"A lot of people would say, 'No I don't want to ruin it,' but what they created ended up being even more beautiful than I could imagine," she said.
The goal of this mural, Wijaya said, was to encourage the idea that difference is not a burden, but an asset to embrace.
She drew the next mural, a portrait of poet Maya Angelou, using geographical lines and shapes to show the unity between science and art.
"As a fine arts and psychology double major, I was always told that the sciences and the arts weren't meant to be together," she said. "But just because they're different doesn't mean they contradict one another."
In addition to expressing artistic ability, Wijaya said she chose to create Sidewalk Talks because she wants it to be a safe space for students to voice their opinions, no matter how difficult the topic.
McLeod said she shared in the desire to address difficult conversational topics on campus.
"We are enriched by unfamiliar ideas and forms of expression even if they make us uncomfortable," she said.
Although Sidewalk Talks is always accepting mural ideas from students, Wijaya is already planning her next idea. She plans to unveil a mural at the next First Thursdays festival that will act as a dance floor for visitors.
McLeod said that all students, like Wijaya, are encouraged to participate in Themester activites and submit their own ideas throughout the year.
"Students can begin with something familiar and use that point of entry to explore what diversity, difference and otherness mean to them," she said.
Like what you're reading? Support independent, award-winning college journalism on this site. Donate here.
---
---