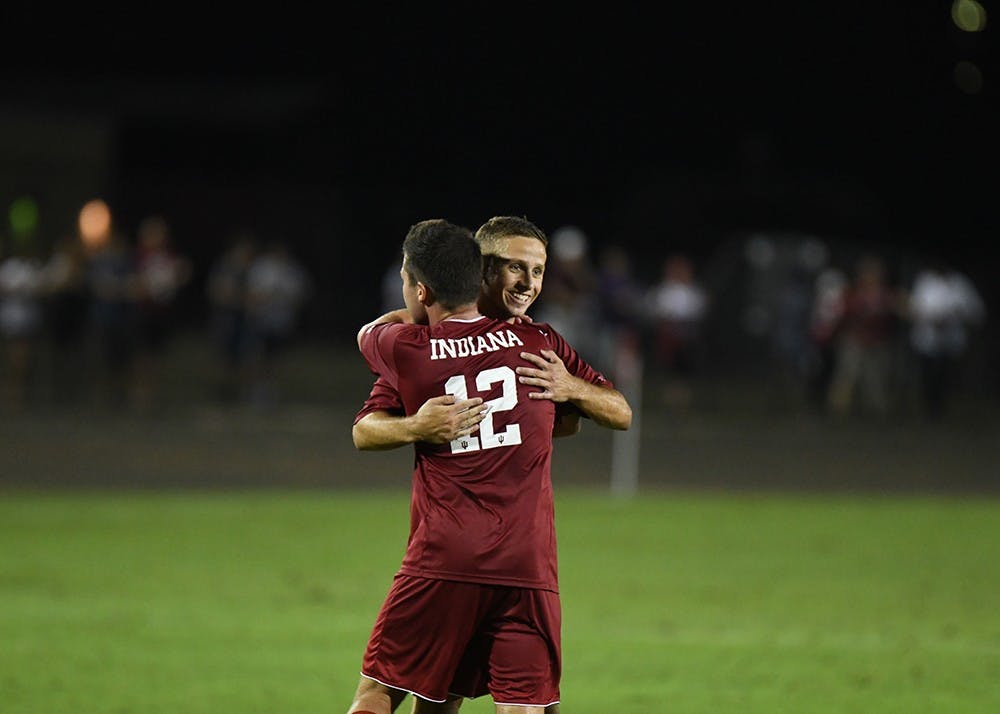 In what was pinned the biggest game of the season, the match between No. 1 IU and No. 7 Notre Dame lived up to the hype.
The match between the two top-10 sides was tight throughout the game, and it was the Hoosiers' depth that was the deciding factor.
Two players off the Hoosiers' bench helped IU score its lone goal in the 1-0 victory.
Freshman midfielder Spencer Glass found some open field ahead of him on the left wing in the 67th minute, and after beating a man to the touchline, he delivered a cross that connected with junior midfielder Austin Panchot to break the deadlock.
"Spencer and Panchot made plays tonight that they are capable of making at any time," IU Coach Todd Yeagley said. "Spencer is one of our best servers when it comes to delivering a cross. We know Panchot is always going to be in the right place to finish a play and those are two high-end skill sets that made a fantastic goal."
The silver lining of the match wasn't the Hoosier defense, which kept a clean sheet for the seventh time this season in nine games. It wasn't IU's attack, either, filled with players who have been recognized on a national level week in and week out. Instead, it was the depth put on display throughout the match.
Every time Notre Dame began to hold possession and control the match, Yeagley would rotate his bench players into the game in an effort to make an impact. And it worked seamlessly.
"We have a really great group, and we're only going to get better from here," Panchot said. "It's nice when you have a guy coming off the bench that can bring something new into the game."
Glass and Panchot were the face of the rotation Tuesday night, but IU has shown how strong its team is as a whole all season long. Two weeks ago, junior attacker Cory Thomas was considered IU's super sub, coming in for the Hoosiers to open up play and create space down the wings as well.
Ever since IU's win against Northwestern, Thomas has started on the left wing and has proved crucial to the team's success down the stretch. Even though Thomas has been named to the starting lineup for three straight games, other players on the bench have found ways to have similar influences, following Thomas' lead.
Glass has been one player who has had that influence, and he put it on display against Notre Dame by giving an assist to the game-winning goal.
"Spencer has loads of ability, and there's a really huge upside to him," Yeagley said. "He's learned to play farther up the field. His best soccer is still ahead, and he's only going to keep improving with the competition that he has in training."
IU used four different subs throughout the match. Glass, Panchot and freshman and senior attackers Thomas Warr and Rashad Hyacenth.
Notre Dame only used two players from its bench all game, and the Hoosiers looked more fresh than their opponent, especially in the second half. Glass said it's nice for the starters to get a little break every once in a while, and he said it helps that the players coming into the game fit into the formation perfectly.
"What separates us is having a lot of players that can come in and push our starters to get better," Panchot said. "Our starters know that if they get tired and need us to come in, we can cover them when they need a little break."
Like what you're reading? Support independent, award-winning college journalism on this site. Donate here.
Senior Cory Thomas scored in the 58th minute.
---
IU field hockey will look to rebound from a 6-13 campaign last season.
---
With a week until its regular season opener, IU field hockey played its Cream and Crimson scrimmage.
---
---
---