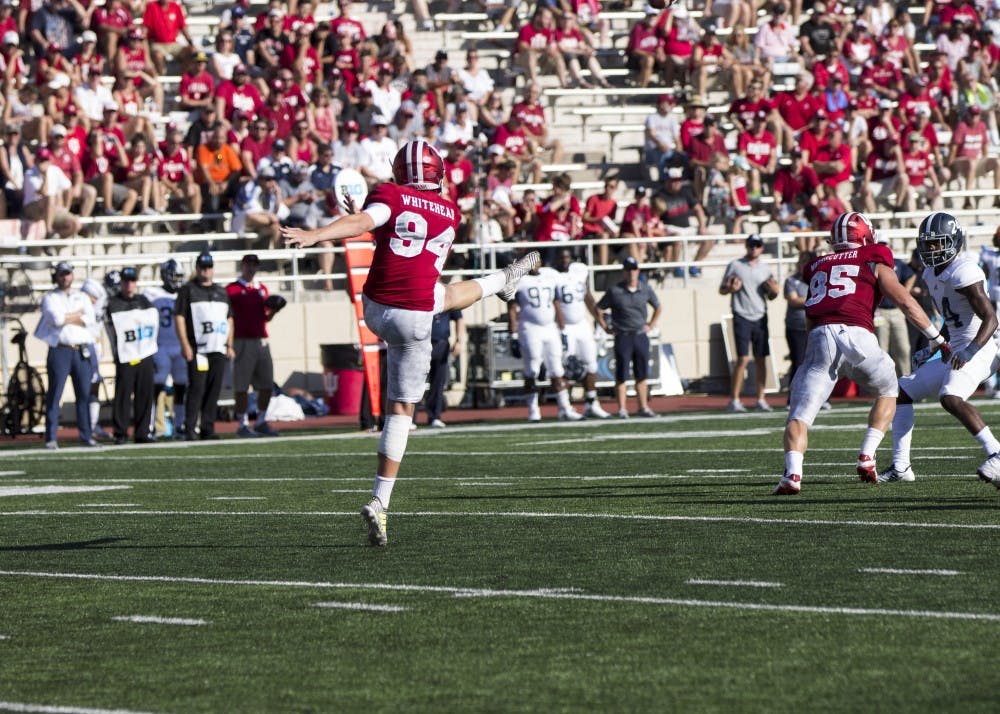 *FINAL: IU loses on the road at Penn State and falls to 2-2 (0-2) on the season. The Nittany Lions beat the Hoosiers 45-14.
*TOUCHDOWN (4:13 - Fourth Quarter): Saquon Barkley showcased his arm on a trick play and found his man, DaeSean Hamilton, for a 16-yard touchdown pass. Hamilton has three receiving touchdowns on the day and earlier became Penn State's all-time leader in receptions. PSU 45, IU 14.
*BLOCKED FIELD GOAL (7:36 - Fourth Quarter): Jonathan Crawford kept Penn State from adding another three points here. Crawford slipped between two blockers on the edge and dove to finish the job.
*END THIRD QUARTER: Penn State scores 10 and leads IU 38-14. The Hoosiers turned the ball over two more times as they continued to get in their own way.
*TOUCHDOWN (3:22 - Third Quarter): McSorley makes it 21 points off turnovers for his squad as he hits a receiver from 24 yards out to extend the Nittany Lions' lead to 38-14. The receiver's great catch looked like it might be negated by an offensive pass interference penalty, but officials picked up the flag that was thrown.
*FUMBLE (4:58 - Third Quarter): IU running back Devonte Williams fumbles at the Penn State 48. It's the Hoosiers' fourth turnover of the game.
*FIELD GOAL (5:50 - Third Quarter): Davis gets another shot and hits a 45-yard attempt to give Penn State a 31-14 lead. The Hoosier defense let the Nittany Lions push from their own 33 to the IU 23 before Tegray Scales and others ramped up the pressure on McScorley and pushed Penn State back four yards.
* MISSED FIELD GOAL (11:39 - Third Quarter): PSU kicker Tyler Davis misses a 21-yard field goal wide right and IU lucks out after a critical defensive stand. It's the first field goal attempt by either team.
* INTERCEPTION (14:27 - Third Quarter): Ramsey throws his first interception as a Hoosier. Penn State takes over at the IU 21-yard-line.
* HALFTIME: IU heads into the locker room down 14 at the half as Penn State leads 28-14, however, the Hoosiers appear to have the momentum right now. IU scored 14 unanswered points in the second quarter and hold the advantage in total yards, 209-145. Ramsey has factored in well in both the passing and running games for the Hoosiers in relief of Lagow, who hasn't found much of a rhythm. Penn State's Saquon Barkley has been held 39 yards rushing on 12 attempts but took the air out of IU on the opening kick when he took it 98 yards for a touchdown. His quarterback, McSorley, has 131 yards through the air along with one touchdown and one interception.
* TOUCHDOWN (0:44 - Second Quarter): IU backup quarterback Peyton Ramsey tosses it 17 yards to Simmie Cobbs Jr. to cut Penn State's lead in half. Ramsey is 4-of-4 for 45 yards and a score so far through the air while Lagow is 7-of-15 for 97 yards an no touchdowns. Penn State is up 28-14 after IU's eight-play, 60-yard drive.
* INTERCEPTION (2:49 - Second Quarter): Jonathan Crawford intercepts a McSorley pass and kills what was a promising drive for PSU. Hoosiers take over at their own 40 still down 21 points after forcing the Nittany Lions' first turnover of the game.
* TOUCHDOWN (14:01 - Second Quarter): Ricky Brookins runs it in from two yards out as IU makes a small dent in Penn State's lead. Richard Lagow and Ian Thomas connected for a 54-yard gain through the air the play before, it's now 28-7. IU went 75 yards on six plays in 1:40.
* END First Quarter: Penn State is leading in all three phases and has a 28-0 lead after the first 15 minutes. PSU has 123 total yards to IU's 63, no turnovers to IU's two and all the momentum in the world.
* TOUCHDOWN (0:41 - First Quarter): McSorley makes it a four-score lead for the Nittany Lions over the Hoosiers, 28-0. He hits a receiver from eight yards out as Penn State makes IU pay for a roughing the kicker penalty on a punt attempt by going the rest of the way for a score. In total, Penn State went 73 yards on nine plays in 4:28.
* TOUCHDOWN (6:48 - First Quarter): IU's J-Shun Harris fumbles inside the Hoosiers' own 20-yard-line on a punt return, ball is picked up by Penn State's Nick Scott and returned 13 yards for a touchdown. Penn State goes up three scores after the PAT, 21-0. Harris walked off the field with a slight limp but under his own power. Harris, who has suffered two serious knee injuries during his time as a Hoosier, was down after the play.
* TOUCHDOWN (11:41 - First Quarter): Penn State quarterback Trace McSorley keeps it himself and takes it in from a yard out. PAT is good. Penn State takes a 14-0 lead less than four minutes into the game. McSorley was 3-of-3 for 30 yards through the air as PSU drove 39 yards in 2:45.
* FUMBLE (14:26 - First Quarter): IU freshman running back Morgan Ellison fumbles after a 18-yard run, PSU's Jason Cabinda picks it up at the IU 43-yard-line and takes it to the IU 39. It's IU's first turnover of the game.
* TOUCHDOWN (14:46 - First Quarter): Saquon Barkley returns the opening kickoff 98 yards for a touchdown, PAT is good. Penn State leads 7-0.
* Coin Toss: IU wins the toss and chooses to defer to the second half. PSU will start the game with the ball.
* IU is looking for its first Big Ten win of the season while No. 4 Penn State is coming off a close win on the road at Iowa.
* Hello and welcome to the IU football live updates page for today's game between IU and No. 4 Penn State. Kickoff is scheduled for 3:30 p.m. from Beaver Stadium in University Park, Pennsylvania.
Like what you're reading? Support independent, award-winning college journalism on this site. Donate here.
Dunbar-Kruzan was inducted into the Monroe County Sports Hall of Fame on July 13.
---
The seven-time MLB all-star will serve as the Hoosiers' director of player development.
---
An official starting time will be released at a later date.
---
---
---