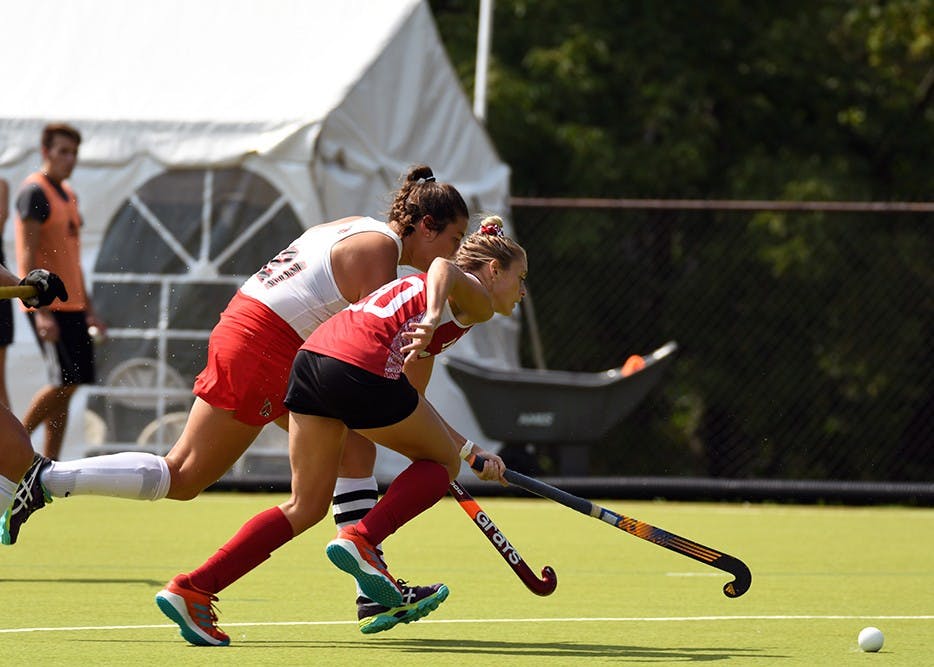 The IU field hockey team has started out its first 10 games this season with a 5-5 record.
While IU sits at .500, the Hoosiers have had a multitude of tough matchups.
So far this season, IU has played ranked teams such as No. 9 Louisville, No. 3 Delaware, No. 15 Wake Forest, No. 9 Maryland, No. 23 Rutgers and No. 25 Monmouth.
Six out of their 10 games have been against teams ranked in the top 25.
Coach Amanda Janney has said multiple times that to become a better program she enjoys the challenges of ranked opponents.
Senior goalkeeper Katie Johnson said she is ready to play against the competition in the Big Ten Conference.
"We are really excited to play Big Ten teams," she said. "We had a lot of non-conference games with teams we haven't seen a lot of before, and with the Big Ten, we are really familiar with everyone. It's a lot of physical play, and I think we have a lot of girls, especially in our center-mids with Kelsey (Giese) and Ciara (Giouard), who can take on those big roles and just be a spark for us"
The Hoosiers have started out Big Ten play against Maryland and Rutgers, and they fell to both by a combined score of 5-1.
Sophomore forward Sam Scire said she was looking forward to the upcoming games.
"I know looking ahead, we have both Michigans here, which is pretty exciting to have a back-to-back Big Ten weekend in our home field," Scire said. "Going on the road to Iowa will be pretty cool, as well. The Big Ten is one of the top field hockey conferences to play at, one of the top levels that's offered in America is pretty cool. The Big Ten is known to be a very aggressive conference, but it really has helped me to know the game."
Despite the disappointing start to the season in Big Ten play, the Hoosiers still have six more Big Ten games to play and are looking to make a statement in the second half of the season.
"It is really important for us to try and finish in the top four of the Big Ten and get the opportunity to host the first-round games," Janney said. "We are playing better hockey every weekend. I think it is not really showing on the scoreboard or in the results columns. A 5-5 record isn't great, but we are only losing to ranked teams and beating the teams we are supposed to be beating."
Like what you're reading? Support independent, award-winning college journalism on this site. Donate here.
Dunbar-Kruzan was inducted into the Monroe County Sports Hall of Fame on July 13.
---
The seven-time MLB all-star will serve as the Hoosiers' director of player development.
---
An official starting time will be released at a later date.
---
---
---