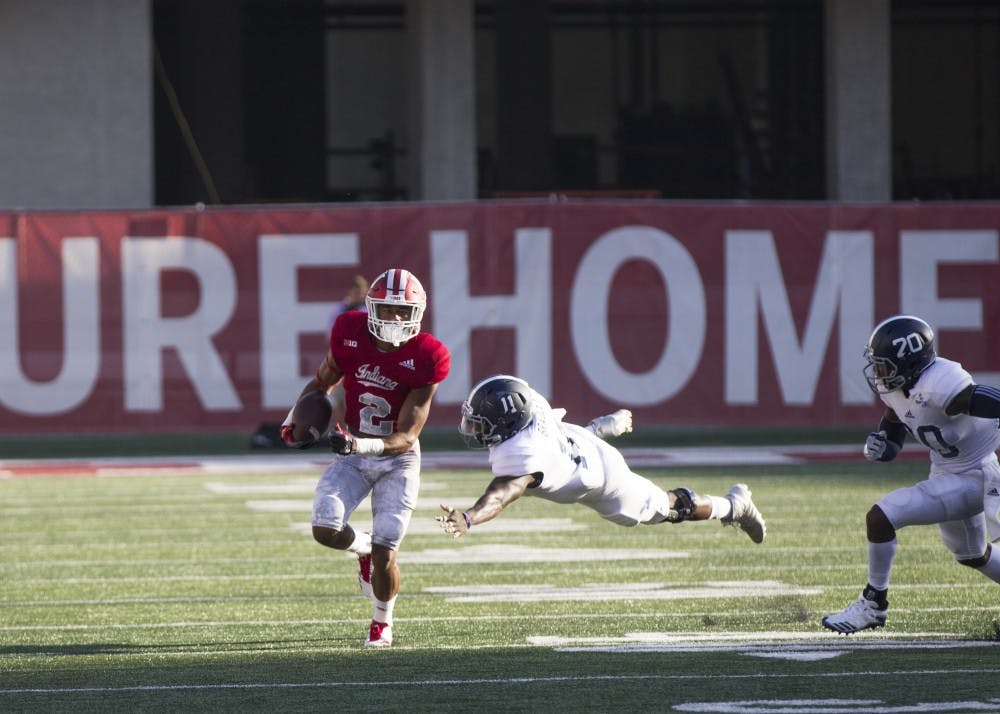 This was exactly what IU had to do.
Against a completely overmatched opponent, IU throttled Georgia Southern, 52-17.
It was never even close as the Hoosiers dominated the Eagles from the opening kickoff to the drawn-out conclusion to the contest. As good as the Hoosiers looked, it really doesn't matter.
The problem with these types of games against lower-level Division I teams is that you don't learn a whole lot about your team. Per a copy of the Georgia Southern game contract provided to the Indiana Daily Student, IU paid Georgia Southern $800,000 to come to Bloomington.
IU got exactly what it paid for: An easy win over a team who will struggle to win games in the Sun Belt conference.
Coming into the game, Georgia Southern was averaging only 9.5 points per game, good for 119st in the nation. The Eagles nearly doubled their scoring average Saturday, but none of those scores came when the game was even remotely in doubt.
IU's running game looked like it finally had life with freshman tailback Morgan Ellison tallying 186 yards. How much of that will carry over against a stronger Penn State defense next week remains to be seen.
That's the biggest issue with playing a team like Georgia Southern in nonconference play. Instead of testing itself against at least an average Group of Five team, IU improved its record, but at what cost?
Did the offensive line learn anything from going up against a significantly weaker defensive line? Did we gain any more insight about how well senior quarterback Richard Lagow can play? Is this defense any better than last year's group?
Those answers are unknowable because there's not much to glean from a 35-point win.
For the fans, there was a lot to cheer for, but not a stitch of intrigue about this game.
There was always going to be a letdown in fan excitement from the Ohio State game, but the buzz around this contest was nonexistent. As the game became a blowout, there was an exodus of students from the game around midway through the second quarter.
This isn't an IU problem, but a general college football problem. The financial model is such that it makes sense to play these types of home nonconference games where the fans have no incentive to attend and stay to the end cheering. With the huge television contracts, IU earns money from this game even if the attendance at the game is lacking.
The teams play these games because they help pad their quests to become bowl eligible and help gain confidence heading into conference play.
What's really gained from destroying a team you should've beat?
$800,000 spent, zero questions answered.
Like what you're reading? Support independent, award-winning college journalism on this site. Donate here.
Dunbar-Kruzan was inducted into the Monroe County Sports Hall of Fame on July 13.
---
The seven-time MLB all-star will serve as the Hoosiers' director of player development.
---
An official starting time will be released at a later date.
---
---
---