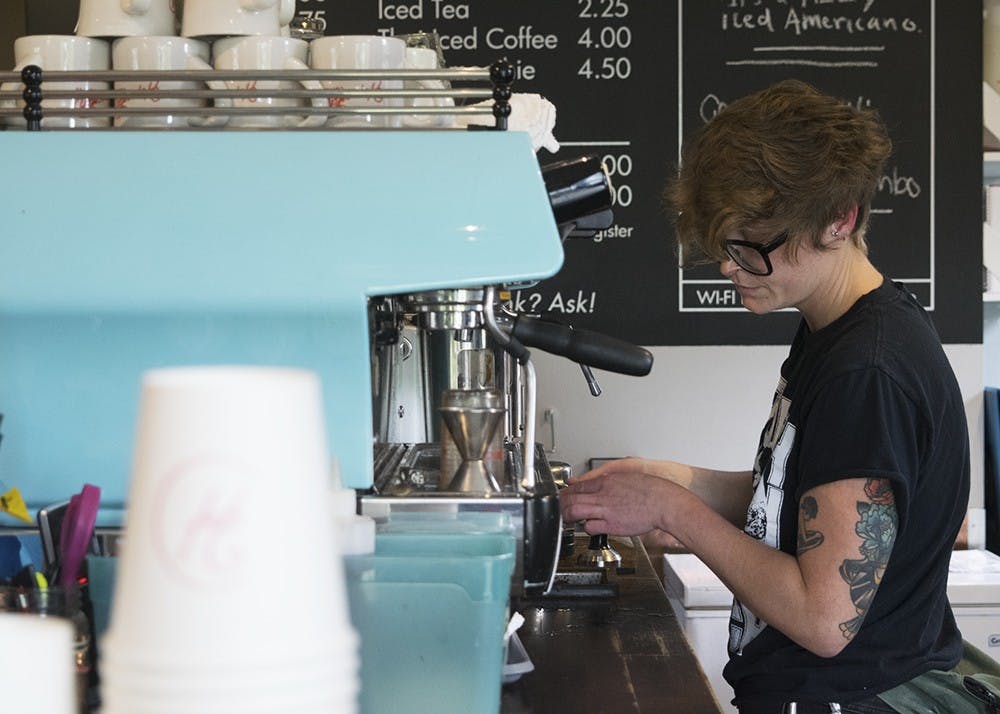 That cup of joe you drank this morning put a pep in your step, but did you stop to consider where the beans used to make it came from? Whether you got the coffee from a K-cup or your favorite coffee shop, the beans that gave life to your espresso or pumpkin spice latte went through a long journey to get to you.
In my quest to become a more informed consumer in all areas of my life, I turned to Professor Clark Barwick, who teaches a class on the coffee trade. Taught by Barwick in both the Kelley School of Business and Hutton Honors College, Black Gold: Coffee, Culture, and Global Exchange aims to encourage students to think about where their coffee comes from. The class also looks at the industry from multiple angles, including looking at human rights, history and economics.
Barwick said one of his motivations for teaching the class was his desire to encourage conscious consumerism among his students.
"Starting that process of asking where my coffee came from opens up the doors to ask those same questions about other commodities," Barwick said. "That might be chocolate, other food products, alcohol, or it might be blue jeans or sneakers."
Not all coffee is created equally because not all coffee is sourced responsibly. The coffee trade is complex partially due to the human rights violations that occur early on.
Coffee can only be grown in the equatorial belt that encompasses zones primarily in Central and South America, Africa and Asia. Some of these countries, like Colombia and Brazil, are also affected by politics that put more emphasis on economic growth than workers' rights, which leaves a lot of room for middlemen or large corporations to take advantage of the people.
"You have primarily people of color and very, very poor people producing this very high-quality product with a lot of stages that's then exported, not exclusively but often largely, to countries where coffee actually can't be produced," Barwick said. "And those countries end up being more affluent and oftentimes whiter."
Coffee beans are a difficult crop to harvest, and it can take hours of hard, manual labor to get a pound of coffee, all while workers are paid just a few cents.
Barwick advocates for direct trade to solve this problem of inequity at the beginning stages of coffee production. For example, companies in the U.S. establish a direct relationship with a farm in a coffee-growing country and can ensure the quality of the product, certifications are being met and sustainable practices are being used.
A local example is Needmore Coffee Roasters, who, according to its website, has direct-trade coffees from El Salvador, Honduras and Nicaragua.
Barwick also addresses the issue of how the coffee trade can be environmentally friendly in his course.
"Coffee is for sure a sustainable commodity when the people on the ground have the right education about the product and do things the right way," Barwick said. "For instance, shade-grown coffee tends to be better for the environment."
Shade-grown coffee is what it sounds like, and growing coffee with shade is one of the traditional methods. It reduces soil erosion, provides pollination services, has fewer weeds, enriches soil and usually produces higher quality coffee than sun-growth coffee.
Barwick said many of Bloomington's local coffee shops are making great strides in the ethical coffee trade.
"The producers for local coffee shops are actually living this, so every time they buy coffee, there's a calculus of 'Am I getting a good price? Am I producing a good product?'" Barwick said. "But also ethically, 'What am I doing? I'm making decisions that impact people.'"
For his course, Barwick and his students go out into the community to work with entrepreneurs at Uel Zing, Hopscotch, Crumble and The Pourhouse Cafe. He likes that in a class like this, students do not have to work only in the abstract — there is a practical application through going out and trying different brews. It is also a chance to experience the fruits of the labor of people who truly care about their craft.
"For me, the best coffee often comes when it's cared for, comes from a small place, and it's something that's meaningful to everyone at every step of the process," Barwick said.
Like what you're reading? Support independent, award-winning college journalism on this site. Donate here.
The show will start at 9 p.m. June 19.
---
The summer-long 'Dance Moves and Movies' series will include 'Dirty Dancing,' 'Step Up' and 'Top Hat.'
---
The Field Day competition takes place throughout the U.S. and Canada.
---
---
---