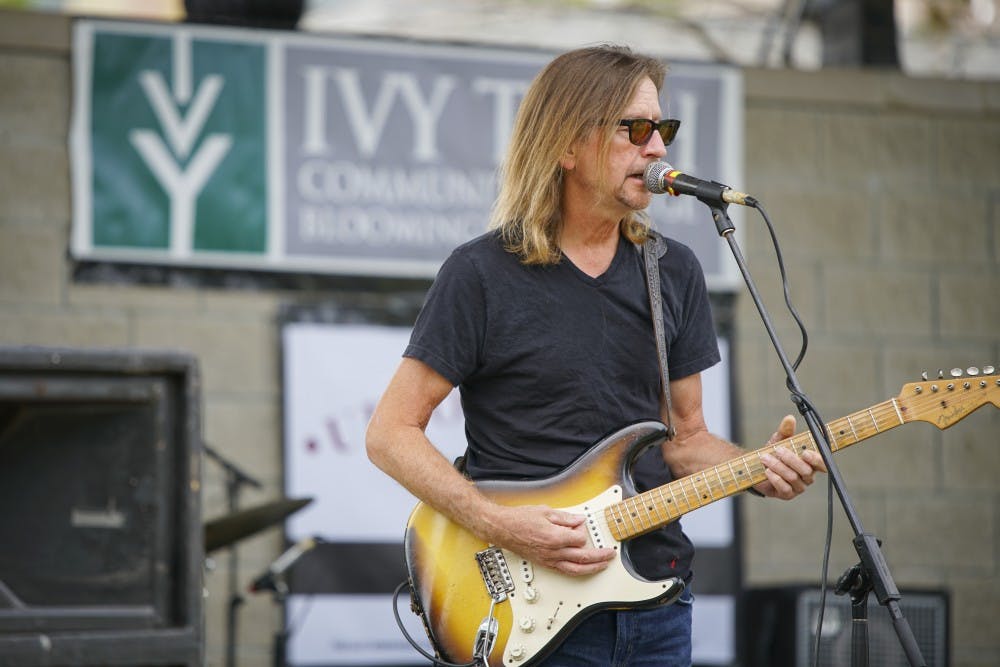 While Bloomington residents browsed the Fourth Street Festival of the Arts and Crafts on Saturday and Sunday, they might have smelled the strong aroma of garlic if they happened to venture near Waldron Hill Buskirk Park. Bloomington GarlicFest and Community Art Fair coincided with the Fourth Street Festival this weekend, focusing on work by local artists, live music and the celebration of making healthy lifestyle choices.
GarlicFest organizer Dave Cox said the event was created specifically to combine food and music.
"It came out of an art fair that needed food and music," he said. "And they didn't know anything about food and music, so I was asked if I wanted to do the garlic festival, which I had talked to people about before so it all came together as a community art fair and garlic fest."
Cox said the festival included about 40 artists and 11 live bands that played over the course of Labor Day weekend. GarlicFest started Saturday morning at 10 a.m. with free yoga and ended Sunday evening around 8 p.m. with live music from the band Kookamongas.
The festival included a local beer and fine wine garden, as well as vendors from Lennie's, Samira Restaurant and Garlic, Inc.
"There's something about having a communal dinner with people you don't know that I think opens everybody up to how nice it can be," Cox said.
Cox said the event also included a kids zone that focused on teaching children about healthy eating and label reading as a way to get them to think about the ingredients in food and what they eat.
Sharon Stefanek, festival volunteer and friend of Cox said that he had been wanting to do the festival for years before the event actually began.
"At the same time that he was really considering starting it, a bunch of local artists also wanted their own art festival," she said. "The Fourth Street Art Festival that had already been going on wasn't including a lot of local artists, and so they wanted to start their own festival."
According to the event website, GarlicFest's only requirement for artists to showcase their work is to pay a small fee. The artists can then attend the festival and sell their pieces to the public.
Cox said the festival has come to Waldron Hill Buskirk Park on Third Street for the past six years and continues to grow and bring the community together.
Although she didn't stay at the event long, freshmen Marie O'Neill said she was shocked at the scope of the event.
"I'm honestly surprised by how many strains of garlic they had," she said. "I thought there was only one: garlic."
Like what you're reading? Support independent, award-winning college journalism on this site. Donate here.
George Dunning's "Yellow Submarine" premiered at IU Cinema on Thursday evening.
---
Recent changes to the Oscars formula stir up controversy regarding blockbuster films like "Black Panther."
---
Start the school year off right by listening to an album from a local musician.
---
---
---