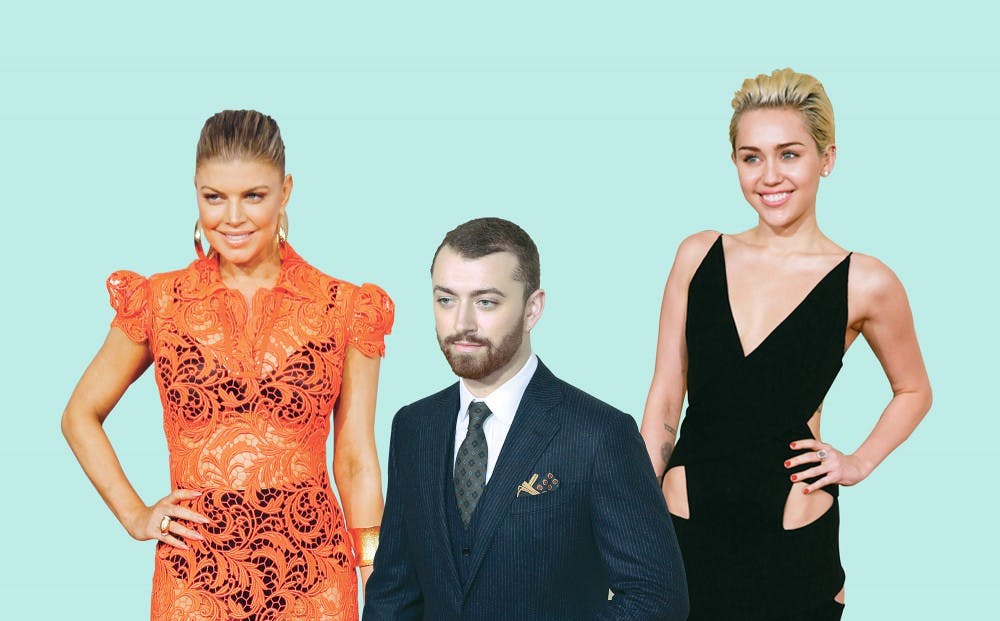 The 60th Grammy Awards doesn't take place until Jan. 28, 2018, but the award show competition has already begun. According to the Grammy Awards website, the entry period to be considered for the 2018 Grammys ends on Sept. 30. Many artists are releasing albums particularly close to this date, making us wonder what musicians already have the coveted award show on their minds. Just like Leonardo DiCaprio wanted that Oscar, there are several artists who are clearly in it to win it. We are breaking down music that has been released or is releasing this fall, and how badly we think these artists want a 2018 Grammy award in their hands.
Taylor Swift - Album: "Reputation" — release: Nov. 10 - the Grammys 2018: 0
While Taylor Swift's latest singles, "Look What You Made Me Do" and "Ready For It," haven't been her best work, we haven't given up all hope on the new Taylor. Just like when artists release a great single then a mediocre album, perhaps Swift's album will contrast from these first bits we've seen. Swift's album releases too late to be considered for the 60th Grammy Awards, but don't be fooled, Swift has intentions for 2019.
Sam Smith - Single: "Too Good at Goodbyes" — release: Sept. 8 - the Grammys 2018: 2
It's almost rude when someone who is as incredible as Sam Smith steps away from the spotlight for a couple years then drops a killer single without any notice. However, because it's the four-time Grammy winner Sam Smith, we're willing to let it slide. This single is classic Smith with a choir coming in on the chorus, but different enough from his other songs that we're intrigued to hear more of Smith's latest direction. We give him a two, just because an album dropping before Sept. 30 seems unlikely, but since he surprised us with "Too Good at Goodbyes" we'll keep up our hopes a little.
Fergie - Album: "Double Dutchess" — release: Sept. 22 - the Grammys 2018: 1
Fergie has her fair share of Grammys, and we all grew up singing "Glamorous" and "Big Girls Don't Cry." However, "Double Dutchess" just feels a little too late. "The Dutchess" came out in 2006, and we understand that it takes time to produce studio albums. However, with "Double Dutchess" coming out more than a decade later, she will have to pull out all the stops to make this album reach the Grammys stage.
Demi Lovato - Album: "Tell Me You Love Me" — release: Sept. 29 - the Grammys 2018: 10
Demi Lovato broke our scale. Not only is her album coming out one day before the Grammys entry deadline, but also in 2015 Lovato tweeted, "I WILL get a Grammy nomination one day." She got her nomination at the 59th Grammy Awards for Best Pop Vocal Album for "Confident," but we know she doesn't want to stop there. If the rest of Lovato's album is as good as her single, "Sorry Not Sorry," she may just get that golden gramophone.
Miley Cyrus - Album: "Younger Now" — release: Sept. 29 - the Grammys 2018: 3
The fact that Miley Cyrus' album releases the day before the entry deadline for the Grammys makes us suspicious that she wants some recognition at the 2018 award show. However, her catchy single "Malibu" showed us a more laid-back Miley than we've come to know in recent years. Perhaps she really just wants to drop a couple tunes to please her fans.
Beck - Album: "Colors" — release Oct.13 - the Grammys 2018: 0
Beck has already taken home album of the year at the Grammys, so he's in no rush to get back in the award show arena. Beck promised this album last fall, but this time we think he will actually deliver. The singles he has released in the past couple of years are radically different than his stripped-down, folk album "Morning Phase" in 2014. Each single has its own personality, but this new album looks like an ode to electronic pop but with Beck's alternative, grunge past to tone it down.
ODESZA - Album: "A Moment Apart" — release: Sept. 8 - the Grammys 2018: 3
ODESZA has yet to even solidify a nomination at the Grammys, but we think they still have their hopes up. You've probably heard some of ODESZA's songs while out at the bars, at a party or maybe just while shuffling through a playlist. ODESZA, the duo behind the popular songs, "Sun Models" and "Say My Name," has finally returned with their third album, "A Moment Apart." If you were a fan of the last album, you'll probably be a fan of this one. ODESZA hasn't strayed far from their past album, but in a good way.
The National - Album: "Sleep Well Beast" — release: Sept. 8 - the Grammy 2018: 5
This will be the the National's seventh album, and they've only been nominated once for Best Alternative Music Album at the 56th Grammys. We think they're going to keep trying until they win it. The band's latest album explores familiar themes of broken relationships and self-loathing sung in Matt Berninger's baritone voice. While the National stays true to their established sound, they add more electronic elements to this album, including the use of synthesizers.
The Killers "Wonderful Wonderful" — release - Sept. 22 - the Grammys 2018: 5
This isn't the band's first time at the rodeo, as they've already locked down five Grammy nominations in years past. The band is back after a long hiatus and looking for gold. Their new album, "Wonderful Wonderful," is their first in five years, following the release of 2012's "Battle Born." The band has already released three songs, "The Man," "Run for Cover" and title track "Wonderful Wonderful." The songs "Run for Cover" and "Wonderful Wonderful" aren't a far departure from the band's last album, but only the full release will reveal whether the Killers will be able to please fans who are still longing for something more similar to their breakout album "Hot Fuss."
Like what you're reading? Support independent, award-winning college journalism on this site. Donate here.
The conference will focus on musical improvisation from the Middle Ages onward.
---
Tickets start at $35 and go on sale in August.
---
The group will make its way to Bloomington for a show at 9 p.m. tonight.
---
---
---