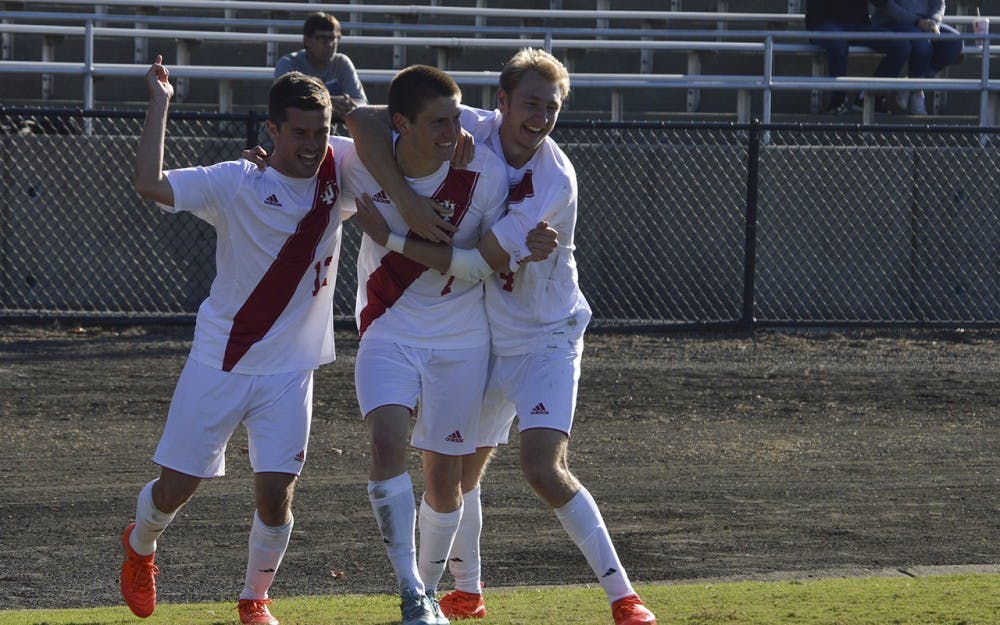 This season when IU takes the field, there will be a new No. 10 on the roster and a new No. 10 on the field.
IU freshman forward Justin Rennicks is the new No. 10 on the roster. But on the field, that No. 10 position will be played by a guy who knows the former No. 10, in both facets, very well.
The former No. 10 is midfielder Tanner Thompson, who now plays for the Indy Eleven of the North American Soccer League. Taking Thompson's now-vacant position on the field will be IU junior midfielder Trevor Swartz.
"I actually grew up with Tanner since I was about 9 years old, so there's no pressure," Swartz said on taking over for Thompson. "He's been really supportive when I talk to him. He's been helping me watch game film and stuff like that."
Both Swartz and Thompson are California kids. Swartz hails from Cameron Park, California, while Thompson is from Loomis, California. Google Maps puts it at about a 37-minute drive between the two cities, but that depends on California traffic.
Thompson left the Hoosiers after graduating this past year. He accounted for eight goals and three assists a season ago and was the heart and soul of IU's attack in the midfield. He pulled the strings and guided the Hoosiers' offensive attack.
The Indy Eleven midfielder said Swartz was someone he recommended IU Coach Todd Yeagley recruit out of high school. Now that Swartz takes over the position Thompson vacates, it seems like the advice was well taken.
"He is very versatile and can play anywhere on the field," Thompson said via Twitter message. "He has found a good spot at the 10 role, and I think he'll be successful in leading the attack from that position."
Yeagley made no qualms about it. He said it's a big role that Swartz is taking over.
"Tanner's been our go-to player and our attacking quarterback," Yeagley said. "The nice thing about Trevor is he's always been tactically one of our better players. He's been a great understudy for Tanner and he's played a lot of roles. Because of that, he has a good feel for a lot of our attacking movement."
Swartz comes off a sophomore season in which he was second on the team in goal scoring, with five goals, and tied with Thompson with three assists. Though, with Thompson playing in the center of the pitch, Swartz was pushed to the No. 8 role.
For Swartz, transitioning to the No. 10 role will bring on a bit more responsibility. Yeagley talked about Swartz being a good leader on the team even though he isn't one of the three captains. He has the chance to be a big playmaker for the Hoosiers this season. Yeagley also mentioned he'll be a bit closer to goal this year, which could spike his goal total.
"It's definitely been a good transition coming from playing the eight last year to the 10 role," Swartz said. "It's definitely been smooth and I'm still learning a little bit, but I have a good grasp for it."
Even with Thompson gone from IU, the two midfielders still talk, and there's a good chance they'll talk again very soon. In California, only a few miles separated them. The same holds true today, with Thompson up the road from Bloomington in Indianapolis.
Thompson said he is confident in the ability Swartz brings to the Hoosiers with the enhanced role on the pitch.
"He has a good concept of the defensive roles of that position as well, so it's shaping up well for him," Thompson said. "Expect him to be on the stat sheet more this year after working really hard to come off a disappointing injury to end last season"
The Hoosiers will be looking to Swartz to pull the strings this year in the midfield. He'll have playmakers around him to help ease the burden on himself, but according to Yeagley, Swartz should be able to take on whatever they throw his way.
"Anything we give Trevor he can accommodate and do so," Yeagley said. "He's a different type of player than Tanner, but effective in different ways. We're excited to see what he can do for the group."
Like what you're reading? Support independent, award-winning college journalism on this site. Donate here.
Senior Cory Thomas scored in the 58th minute.
---
IU field hockey will look to rebound from a 6-13 campaign last season.
---
With a week until its regular season opener, IU field hockey played its Cream and Crimson scrimmage.
---
---
---