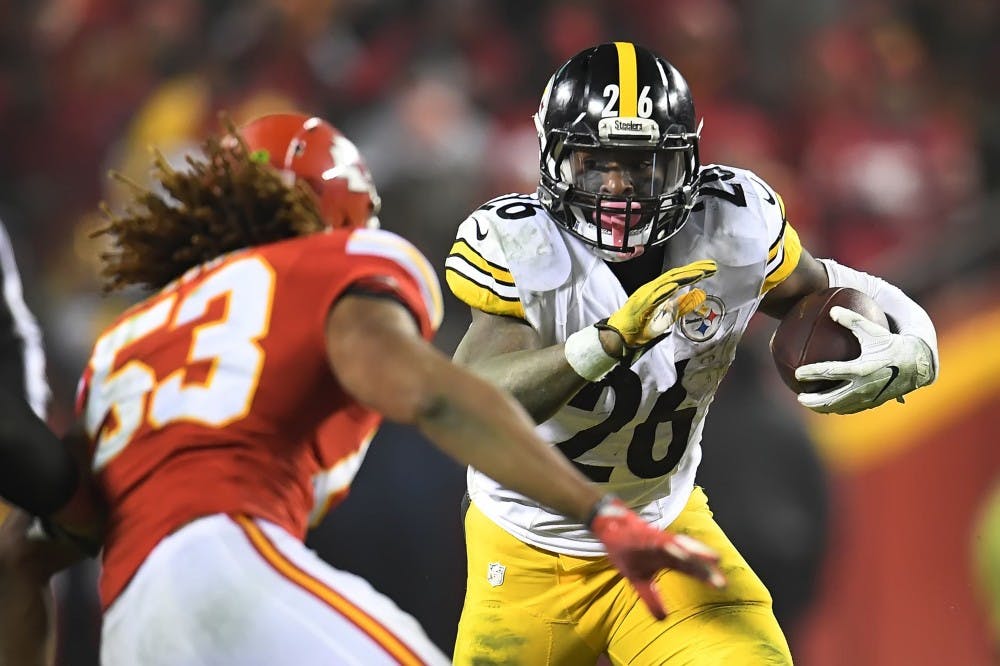 In an industry run by billionaires, Pittsburgh Steelers running back Le'Veon Bell is taking back control.
For undoubtedly the thousandth time you have heard this overused cliché — professional sports is a business. The National Football League is potentially the most cutthroat of them all with no guaranteed contracts, like players in the NBA and the MLB enjoy, and an average career length of 3.3 years according to the NFL Players' Association.
Factoring in the revolving door at the running back position in the NFL and the recent decline of importance of the actual individual lined up in the backfield — nowadays it seems like anyone plugged in at tailback offers only a marginal difference in performance compared to his predecessor — Bell's defiance to conform to the norm is admirable and necessary.
Bell, who is listed as a running back, is the most versatile offensive weapon in the league.
The Pittsburgh Steeler lines up both in the slot and on the outside as a receiver, in addition to his usual post near quarterback Ben Roethlisberger in the backfield. In just 12 games last season, Bell racked up 1,884 yards from scrimmage. Those videogame-like numbers were good enough for third in the league overall from scrimmage, while his 616 receiving yards were bested only by Arizona Cardinals running back David Johnson, who played in all 16 regular-season games.
Bell's insane average of 157 yards from scrimmage per game topped the league by an incredible margin. Rookie phenom Ezekiel Elliott came closest to bridging the gap, accruing 132.9 yards per game. That's 24.1 yards fewer on average. Twenty-four!
In fact, Bell already secured a spot in the NFL record book, as he has averaged more yards from scrimmage per game in his first four seasons than any player ever has.
His prowess in the multiple positions he lines up at is central to the issue currently brewing in Pittsburgh. Well, technically Miami, which is the problem. With two weeks until the NFL season gets underway, Bell is still living and training in Miami instead of practicing with his teammates and getting reps during preseason games.
"My feeling is there's nothing to be gained by a holdout," Steelers General Manger Kevin Colbert told the Pittsburgh Post-Gazette. "The situation won't change; it can't really change from our part on a long-term deal. So it hurts him not to be here.
"It hurts him because he's not working with his teammates, he's not getting the conditioning work that he's going to need to have a great 2017 season. And he's not working with his teammates to get acclimated to the offense – every year is different."
After failing to agree on a long-term contract, the Steelers placed a franchise tag onto Bell, preventing him from becoming a free agent and therefore negotiating his true financial value.
The conundrum lies in that Pittsburgh tagged Bell as a running back, meaning his franchise tender is worth $12.12 million. Had Pittsburgh tagged Bell as a wide receiver, it would have paid him $15.68 million for the season.
Understandably, there isn't a set tag figure for a hybrid player like Bell. But that's because there has never been a player as dynamic and successful in different roles as Bell has been.
"I feel I should be valued as a player, not so much my position," Bell told ESPN.com's Jeremy Fowler. "I make plays in the passing game, blocking, doing everything. I'm arguably the top running back in the NFL and the No. 2 receiver on the Steelers, even though I play running back. Their career receiving total versus mine, they don't have more yards than me."
He's right.
In the 25-year-old's four-year career, he has more catches — 227 — and more receiving yards — 2,005 — than anyone on the Steelers' roster not named Antonio Brown.
Football does not bring with it a long shelf life, so I support Bell's decision to hold out and refuse to sign the tender to return to the team. There's no reason to risk an injury and future contract for meaningless games while earning a salary that is not equivalent to the production of the player.
Although he hasn't signed the tender, Bell has taken the high road throughout the offseason by not criticizing the franchise publicly and even tweeting his support after the team extended head coach Mike Tomlin's contract.
Bell said he accepts the Steelers' perspective.
"I understand from their side it's not personal against me — it's all business," Bell said. "It's not personal with them, either. I'm trying to do what's best for me and my family. I like the position I'm at right now. I'm going to play football."
It's incredibly difficult to excel at any particular position. Bell excels at two skill positions. His over 75 receptions in two of the past three seasons have solidified his legitimacy as a receiver. He should be paid like one.
spjdavis@umail.iu.edu
Like what you're reading? Support independent, award-winning college journalism on this site. Donate here.
Senior wide receiver J-Shun Harris II is working his way back from a third ACL tear to be a shining light to others.
---
Guyton averaged 16.4 points per game for his career at IU.
---
The Crossroads Classic could be improved by being less exclusive and including all the Division 1 teams in the state.
---
---
---