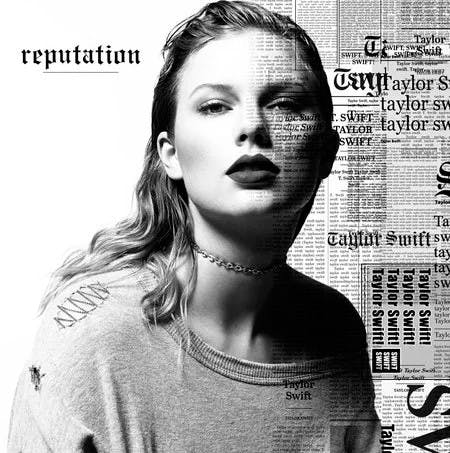 Taylor Swift's new single "Look What You Made Me Do" is currently sitting pretty at number one on Apple's Top Songs.
Swift has been doing some post-spring cleaning lately, clearing out all her social media accounts and her website in preparation for her new album, "Reputation."
On Aug. 21, she released the first teaser for her new album – a series of videos of snakes. She then tweeted a simple album release announcement on Twitter with three photos without captions.
The last of the three said, "first single out tomorrow night," which made the internet implode with theories. Many people tweeted that it could be about 'Kimye' or Katy Perry.
Her new "era" sounds interesting, sure, but it doesn't sit well with everyone.
"I think she's trying to be edgy, it's like she's having her adolescent rebellion at 27, it's a little weird," Taylor MacDonald, an associate instructor, said.
The album cover has Swift's face half covered in headlines about her. She is wearing a simple sweater with a few rips at the shoulder, which has been compared to Kanye West's clothing line Yeezy.
Though her style seems to have changed, the the most important shift Swift has made concerns the complete uprooting of her musical style. This single is perhaps the most edgy Swift song in history, and there's no way to tell how it compares to the rest of the album, which releases Nov. 10.
"I thought the new song was kind of her putting out a fake persona of like, strength and defiance and not caring about what people think about her reputation," junior Kyla Jackson said. "I thought the song was not her and so was underwhelming and felt wrong coming from her voice and her background."
Personally, I have never been a huge 'Swiftie' myself. Her last album, "1989," displayed a different side to Swift's musicality that I found intriguing and I listened to it pretty steadily for a few weeks.
Taylor Swift has ditched the ballet flats and dresses and has decided to go for more of a spiked-belt-from-Hot-Topic vibe.
The lyrics themselves, "Look what you made me do," implies she is doing something different than ever before, yet the single seems to be about the same old plot– someone crossing Taylor Swift once again.
The chorus also sounded like Right Said Fred's 90's one-hit-wonder "I'm Too Sexy," which honestly just reminded me of "Shrek 2."
While the single itself lacks originality, there's no way to tell what the rest of the album will bring, though many are thinking it will be on the darker side.
Before releasing his latest album, Kendrick Lamar followed the same social media strategy as Swift. She wiped all of the "Old Taylor" from all her internet platforms in order to advertise her new album.
"I understand it, because she's still a young adult and she's still finding out who she is," said Corinne Levy, a sophomore who also said she is excited for the new album. "I think it's unfair to be mad at her because people started following her when she was 15."
It's been rather clear for a while now that Swift's appearance in music and in person has been evolving for years, yet this latest single truly shows how far she has come from her days on the country-pop scene.
"I'm sorry, the old Taylor can't come to the phone right now."
"Why"
"Oh, 'cause she's dead!" Swift said in the new single.
Swift made a bold statement with these lyrics, but quiet frankly many listeners are still hoping old Taylor's line is only temporarily disconnected.
Like what you're reading? Support independent, award-winning college journalism on this site. Donate here.
The Welcome Week Block Party is presented by Union Board, RPS and RHA.
---
Acts include a unicycling juggler, drag queens and burlesque performances.
---
Brian Stack and Ryan Murphy are nominees for the Emmy Awards, which will take place in Los Angeles.
---
---
---